You know me, just living for all things French Girl… Especially [Equestrian] French Girl (see my tutorial post here of how to dress like an Equestrian French Girl!) The French word, "Cavalière" (ka·va·lyé) means horseman, knight, equestrian. I love pulling from other lovely languages to rock a horse girl vibe without blatantly wearing a top that says "HORSE GIRL…" see my Fille Cheval pieces I made with DappleBay as reference!! Well make some room in your closet for this Cavalière Mock Neck Short Sleeve Top by The Urban Strides; it's the perfect addition to chic equestrian style goals for a few reasons: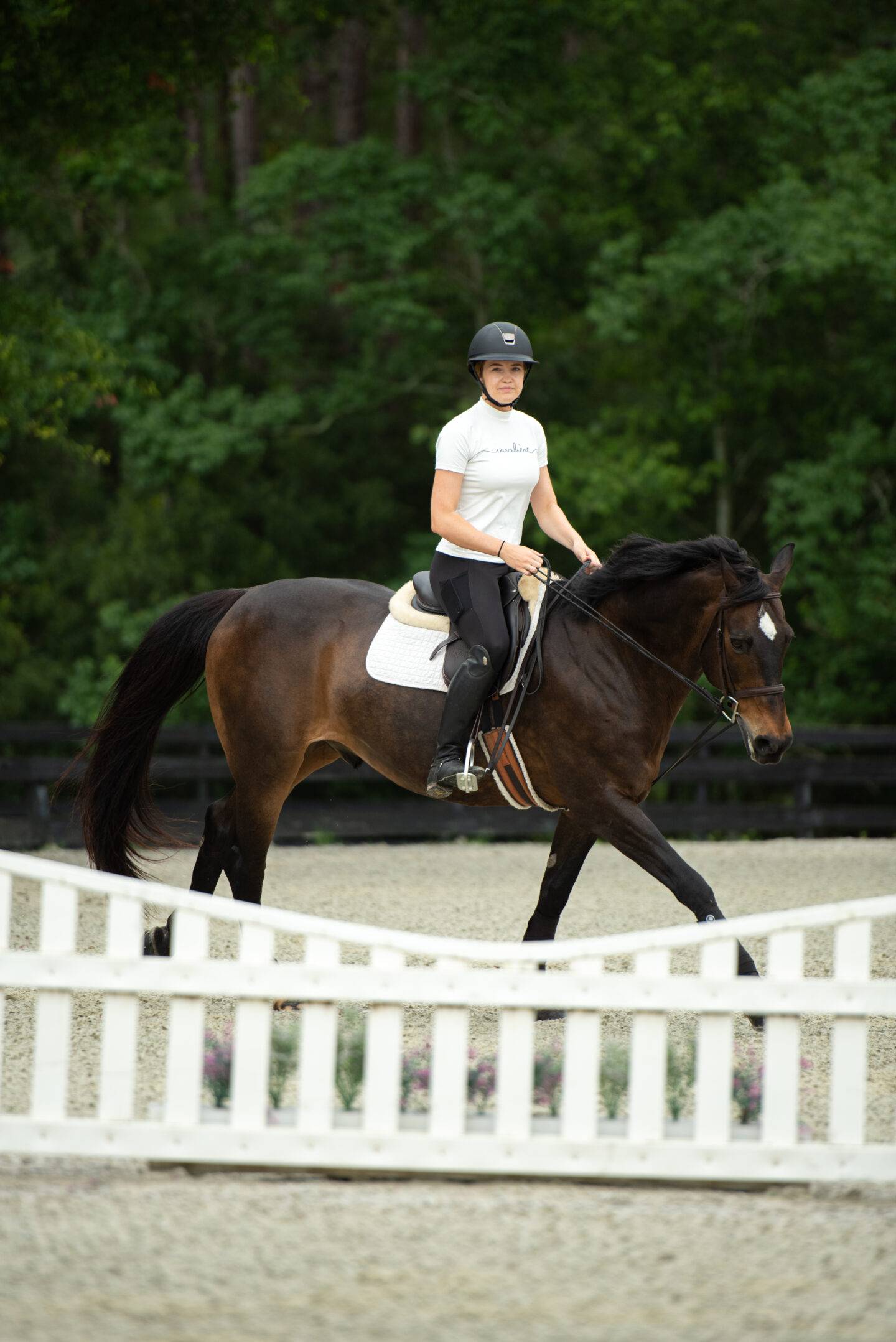 Reason #1 : It Goes with Everything
This Cavalière Mock Neck Short Sleeve Top literally matches everything. Not only does it work with any color imaginable, but would also look amazing paired with any pattern- think a striped cardigan, plaid shacket, tweed pants, floral skirt, the MES Stirrup Scarf, etc. etc. etc.! These are the kind of basics everyone needs in their closet. While it isn't completely plain, this mock neck top offers the perfect amount of interest with the black graphic script across the chest without overpowering your outfit.
Reason #2 : You Can Wear it Multiple Ways
I think it's hard to find a top that looks equally great untucked and tucked in. This one sits at such a nice length that I honestly don't know which way I like it to wear it better! Piggybacking off of Reason #1, it also looks great under stuff like an oversized cardigan, tucked into a skirt, or under a vest for a ride. Call me crazy, but I do think you could rock it in a jumper class, too!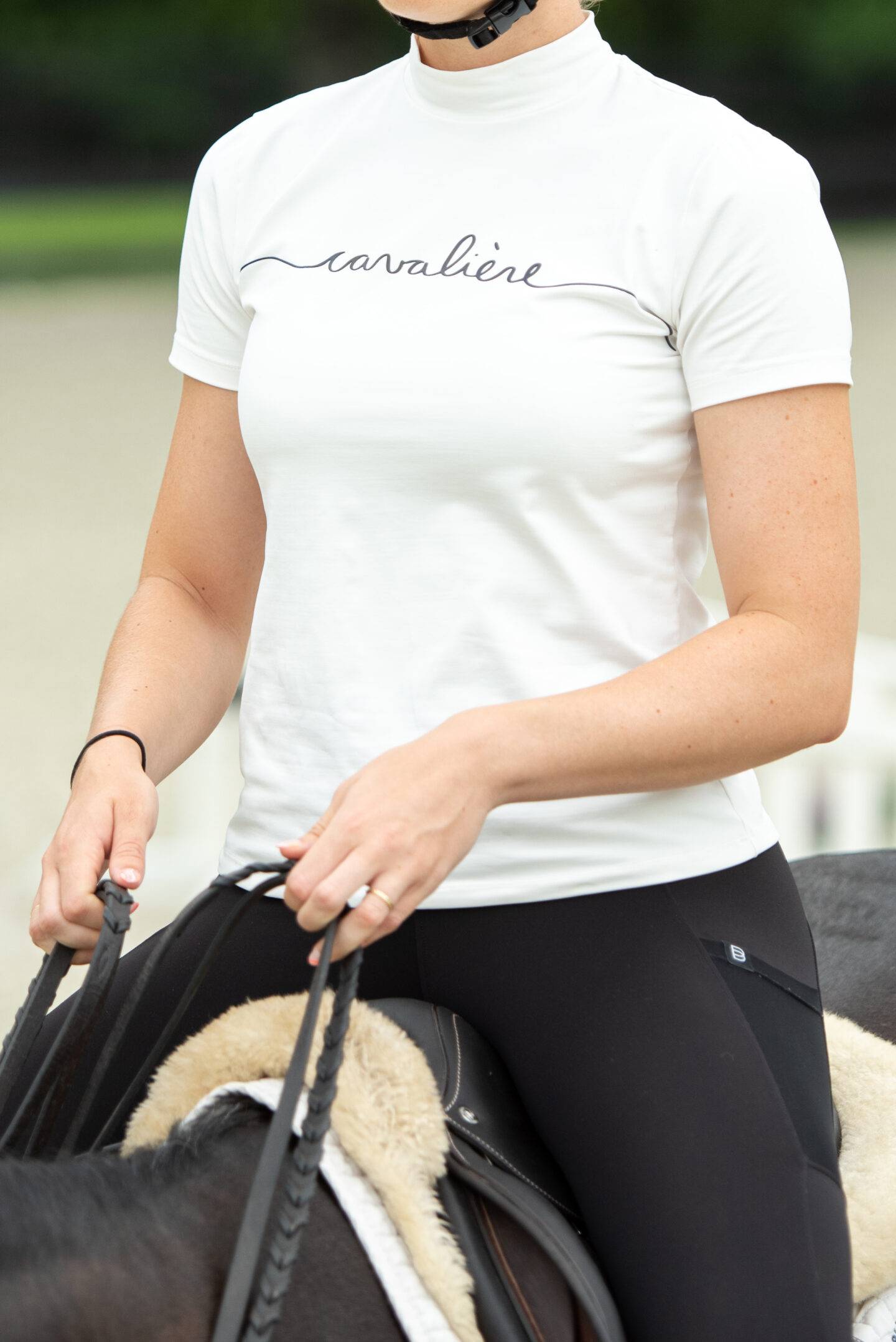 Reason #3 : Looks Great Stable to Street
This is always a huge reason for me when I am looking to invest in an equestrian piece. At an equestrian price point, I truly think a top needs to be versatile. I think this Cavalière Mock Neck Short Sleeve Top looks so cute with a skirt and sneakers or a pair of high waisted pants. It could totally work for the office as well. Heck, you could wear it to the gym (but I'm getting ahead of myself talking about the quality material…. see Reason #4!)
Reason #4 : Quality over Quantity
I have a lot of clothes, don't get me wrong, but I am constantly tweaking, purging, and reinventing my closet. The pieces I've had for years are the ones that stand the test of time in quality. This Cavalière Mock Neck Short Sleeve Top is made of the softest and stretchiest polyamide and spandex combination, making it feel like butter and move so effortlessly with you.
Reason #5 : It Tells a Story
Chances are people are going to ask you what your Cavalière Mock Neck Short Sleeve Top means. I've gotten lots of questions for sure! I think it tells such a lovely style for us equestrians where we can really talk about our love for horses and this beautiful sport and lifestyle we are part of. It's just a wonderful reminder of how fortunate we are, and I think that is so very important to tell a story in this way with our clothing pieces.
So, is that reason enough for you!? Grab a Cavalière Mock Neck Short Sleeve Top while you can- and I'll sweeten the deal – The Urban Strides were kind enough to extend us a 15% off promo code so make sure you use code :
They have some absolutely stunning styles like their Colorblock Sunshirts and equestrian-inspired Espadrilles! Stay tuned for when I highlight my next favorite Urban Strides piece…. the softest, monochromatic, embroidered sweatshirt of my dreams…. more on that later. Until next time!
xo, B
SHOP MY FAVES FROM URBAN STRIDES