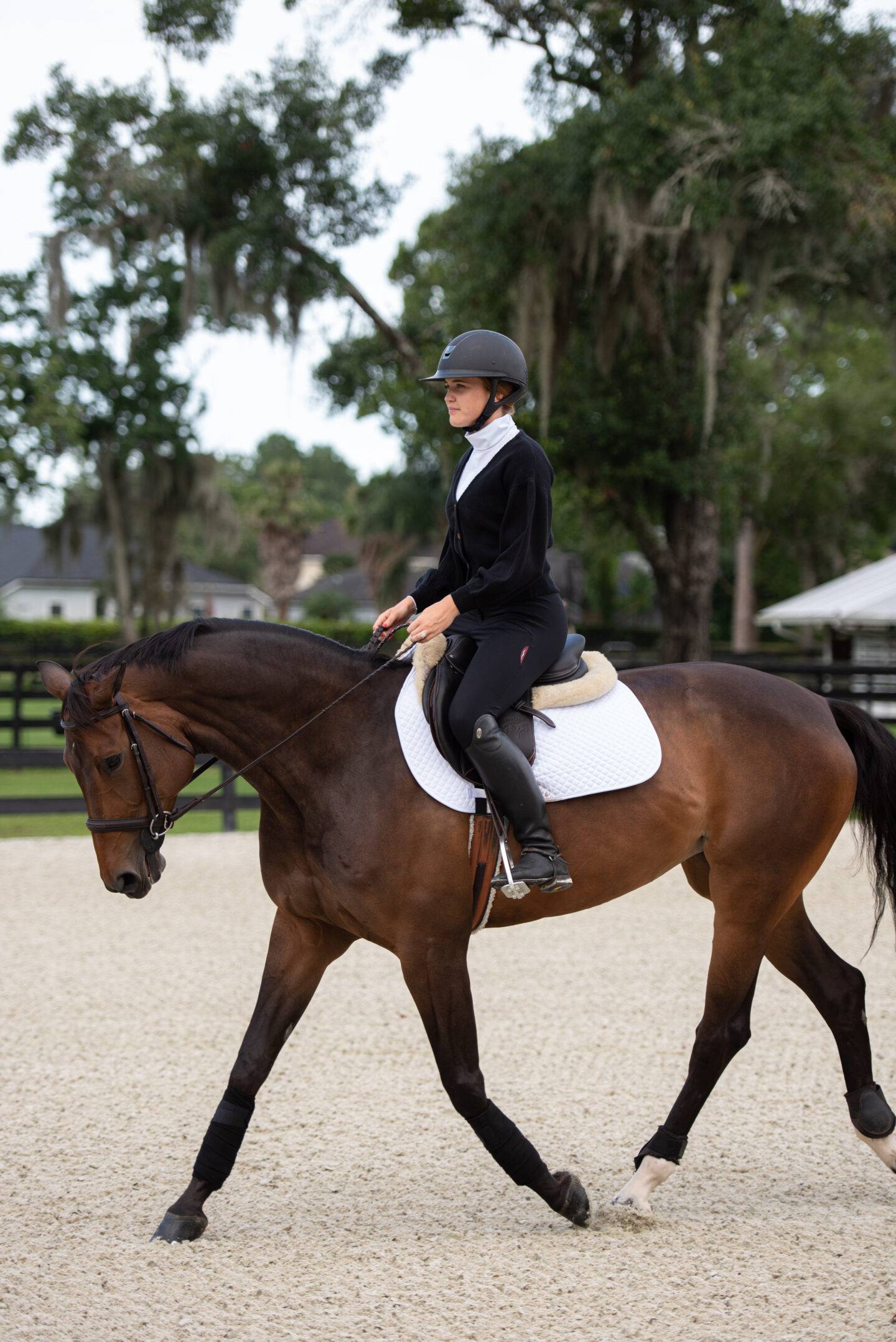 Do you have those pieces in your closet that are just always working for you? No matter what event or situation comes it's way, do you have tried-and-true pieces that never let you down? Well, much like that notion is the theme behind clothing line Solid Citizen Equestrian by the brilliant Megan of @meggoleggos25 on IG. Megan lovingly named her brand based on those horses in our lives that are just so loyal and show up for us day after day. Solid Citizen is the result of over a decade of experience in the fashion industry; Megan has worked countless hours as a fit model and consultant and truly understands fabric, fit, and design. It's a no-brainer that she now comes out with cult-favorite clothing line right out of the gate with Capsule I! After the raging success, Solid Citizen is now offering its second capsule that I can't stop obsessing about. I'm telling you this because I love you…. but Solid Citizen always SELLS OUT. Usually, once it's gone, it's gone, so you need to take a look and jump on it while you can!
Capsule II of Solid Citizen is just as gorgeous as Capsule I, with more of a feminine and dreamy vibe you'll notice in the details. The billowy blouson sleeves in the waffle knit Elle and cardigan Grace add the perfect amount of extra interest. While the color palette stays true to Solid Citizen's neutral aesthetic, there's the additions of navy and pinot and buckskin that really welcomed me in. Even though the beauty of the pieces are apparent, the X-Factor of Solid Citizen Equestrian lies in the fit of each item. Let's dive into Solid Citizen Equestrian : Capsule II! If you wanna get my FULL thoughts on each piece, watch my full try-on video here. Get the gist under the video:
Watch the Full Solid Citizen Capsule II Try-On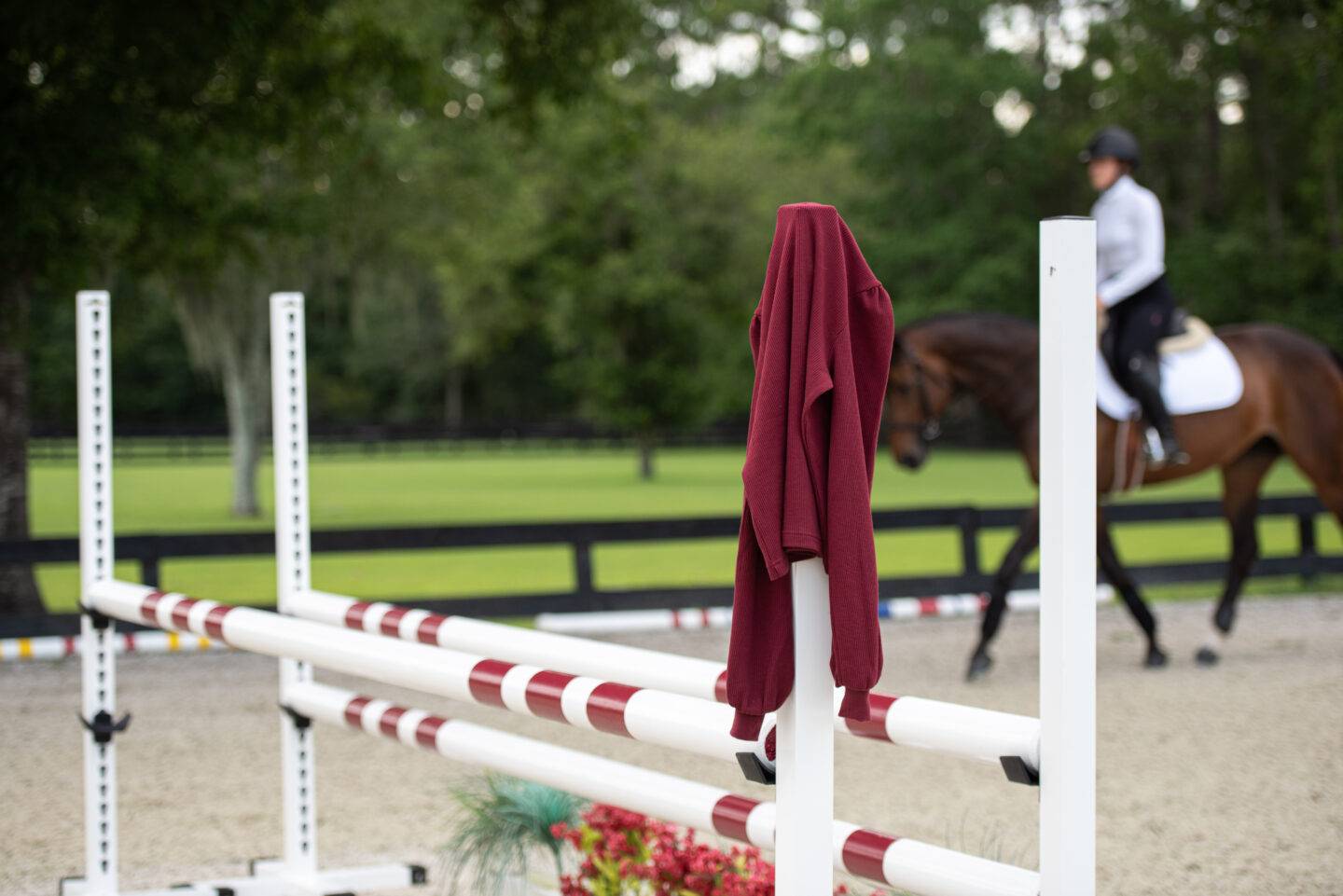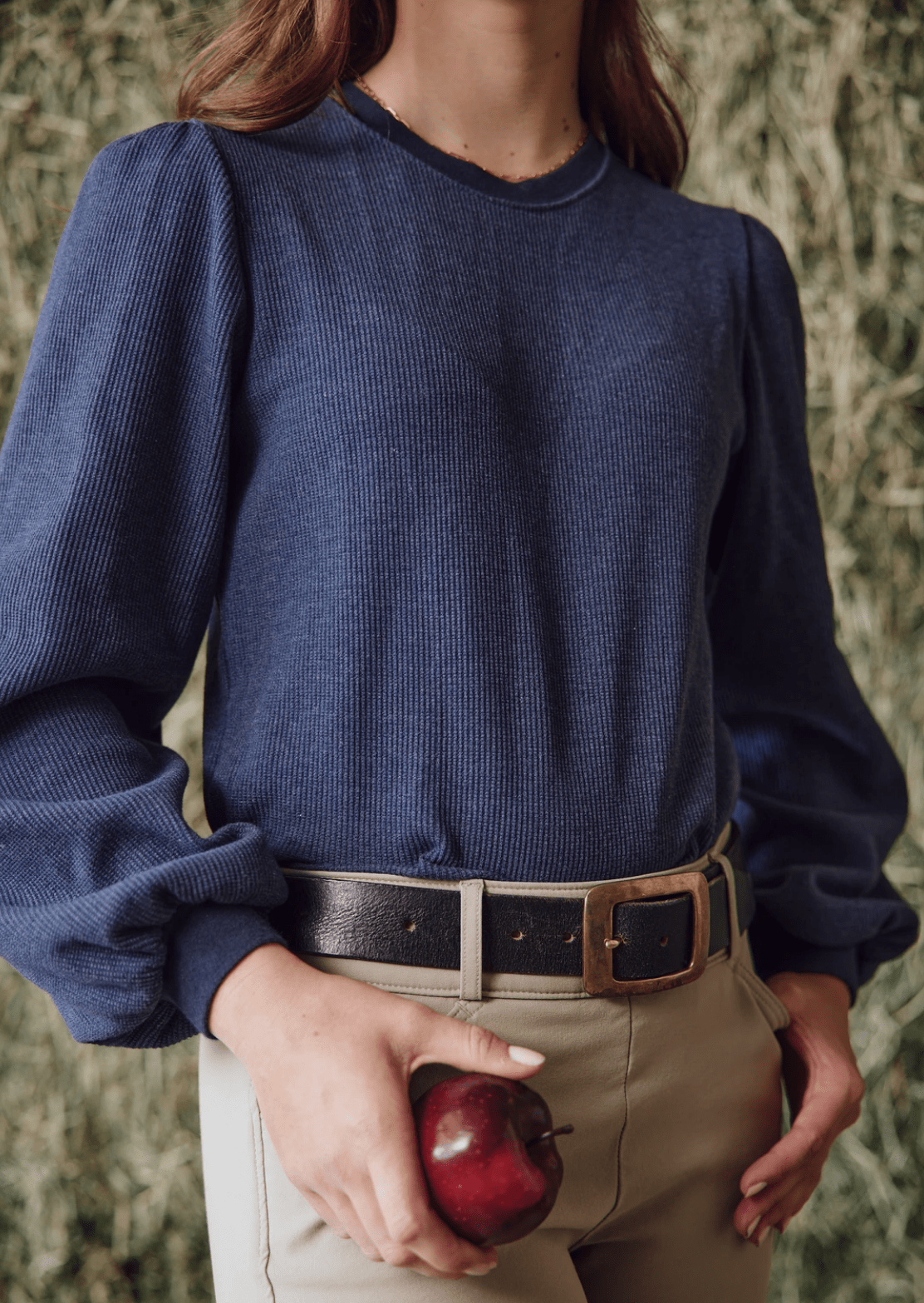 This crewneck long sleeve thermal top is as versatile as they come! Looks fantastic on it's own but is equally amazing layered over a riding top. The blouson sleeves are adorable and feminine but won't get in they way of your riding. The navy color is stunningly versatile and matches with nearly everything, including black! A detail I really love about the Elle is the length of the torso. Do you have any riding tops where the torso is so long, it is impossible to look smooth tucked in? The Elle tucks in perfectly but also wouldn't get in the way if you went for a more casual vibe untucked. I am wearing a size small in my try-on video so it's true to size, but feel free to size up if you're wanting more of an oversized look.
Buy one here – you're gonna love it!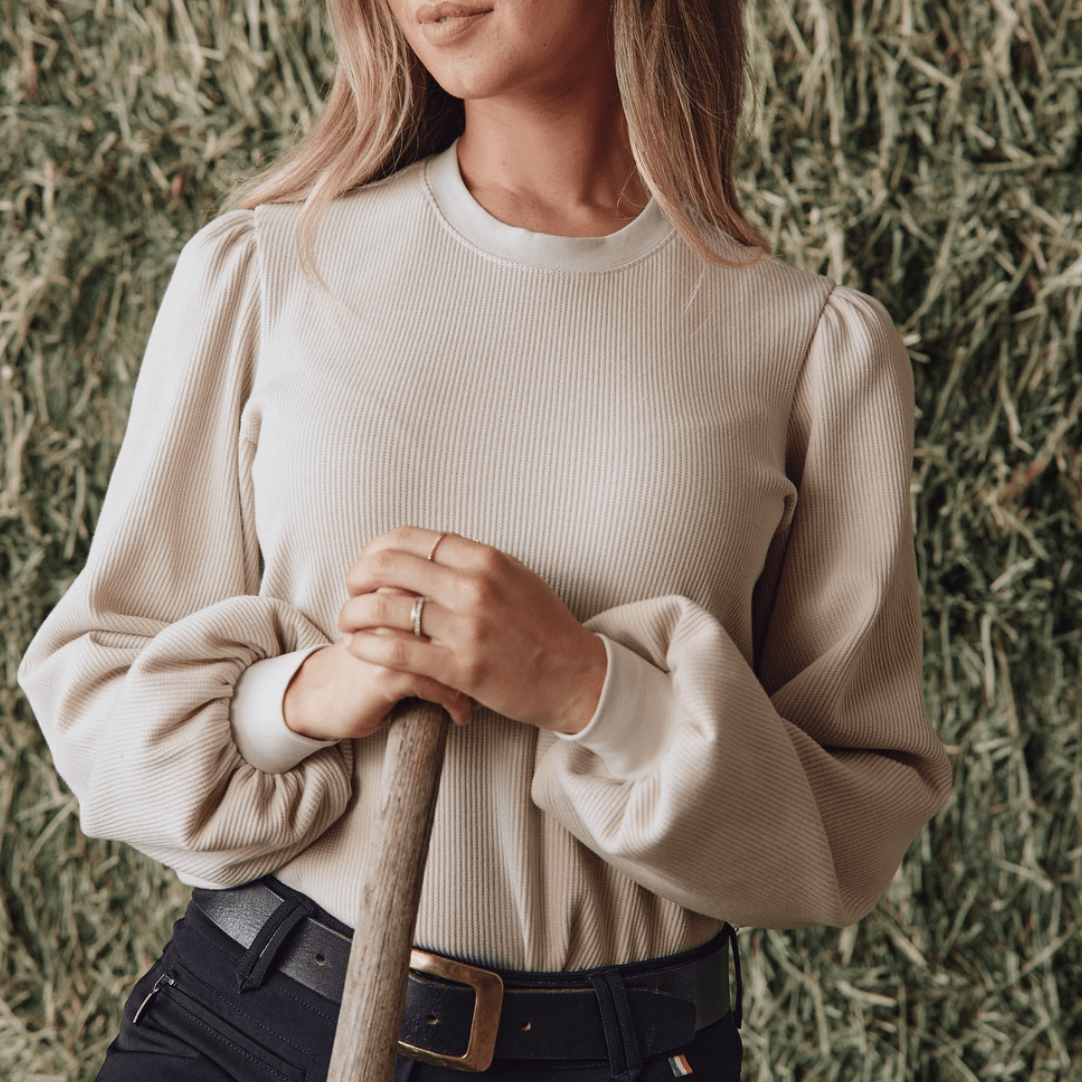 All the amazing qualities as above, but in a perfect light tan color that will seriously complete any outfit. I was also wearing a small in this Elle! It's obviously stunning in a riding ensemble, but I think it looks so cute tucked in pair of high-waisted jeans, skirt, or shorts.
Buy one here – this color is to die for!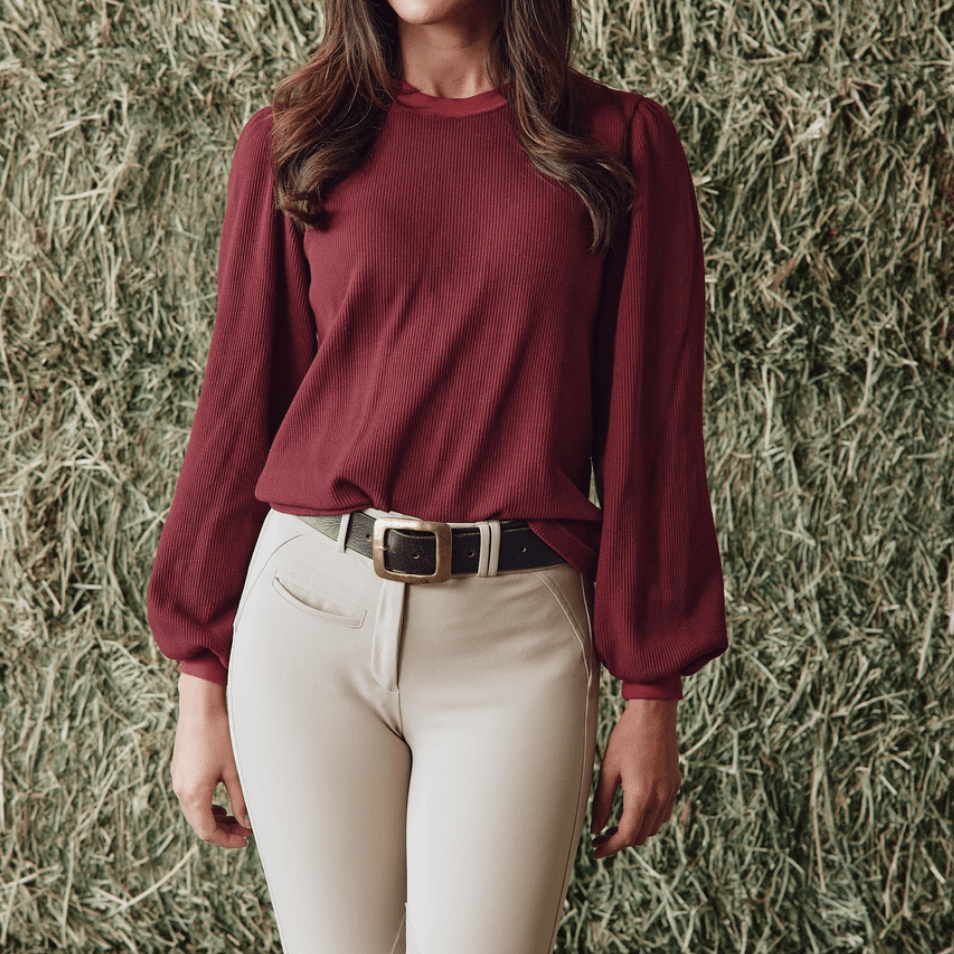 Again with the killer color! I talked about this in my video, but when I saw this color online, I was thinking, "Wow, this is a great color for fall or winter," but it's honestly perfect year-round when a light layer is needed. This rich wine color is so romantic and elegant; it's the ideal deviation from the "neutral color palette" that still works with every color you own. Sporting a small with this one and I loved it with tan, navy, black, and white… also looked so cute with a pair of cream-colored jeans and sandals for a summer evening dinner.
Buy one here – it's gonna be your go-to!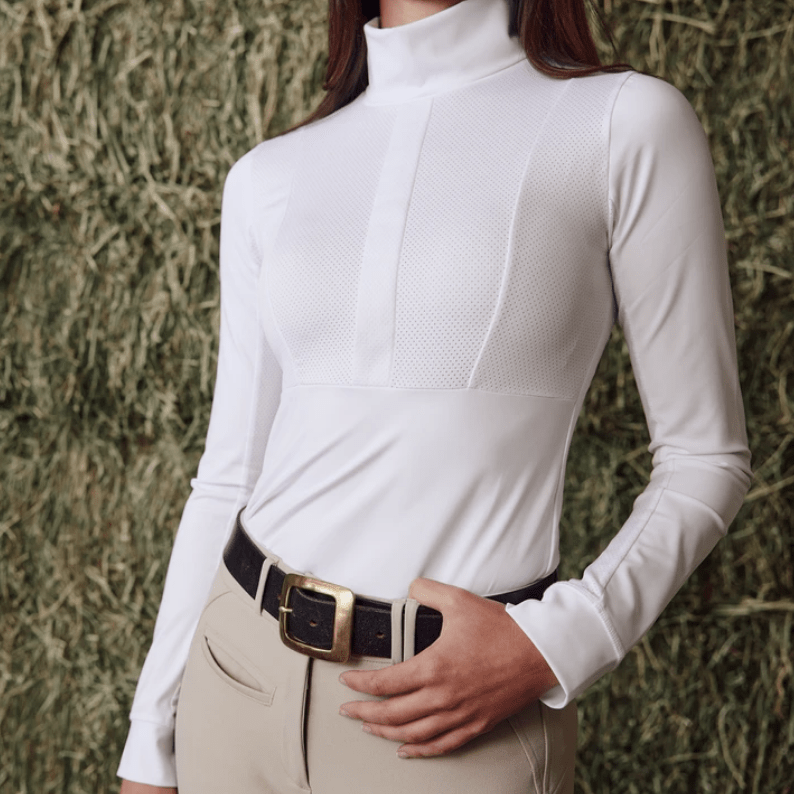 Technically, Haley is from Solid Citizen's Classic line, but she is so perfect, I just had to share her with anyone I come in contact with! Talk about perfection. Amazing UV defense, protective and versatile neckline, perforated bodice detailing, venting… the works. What is really so striking about this riding top are the details. This shape to the bodice is OH SO FLATTERING. I love the little cut-out detail on the sleeves and the back has these vertical lines that really accentuate your figure. This is a fabulous new take on a show shirt and I am so here for it. I am wearing a medium in the video which I think looks pretty similar to how it looks on this model to the left, but read about the Haley in Black for my little sizing experiment!!
Buy one here – it's as classy as they come.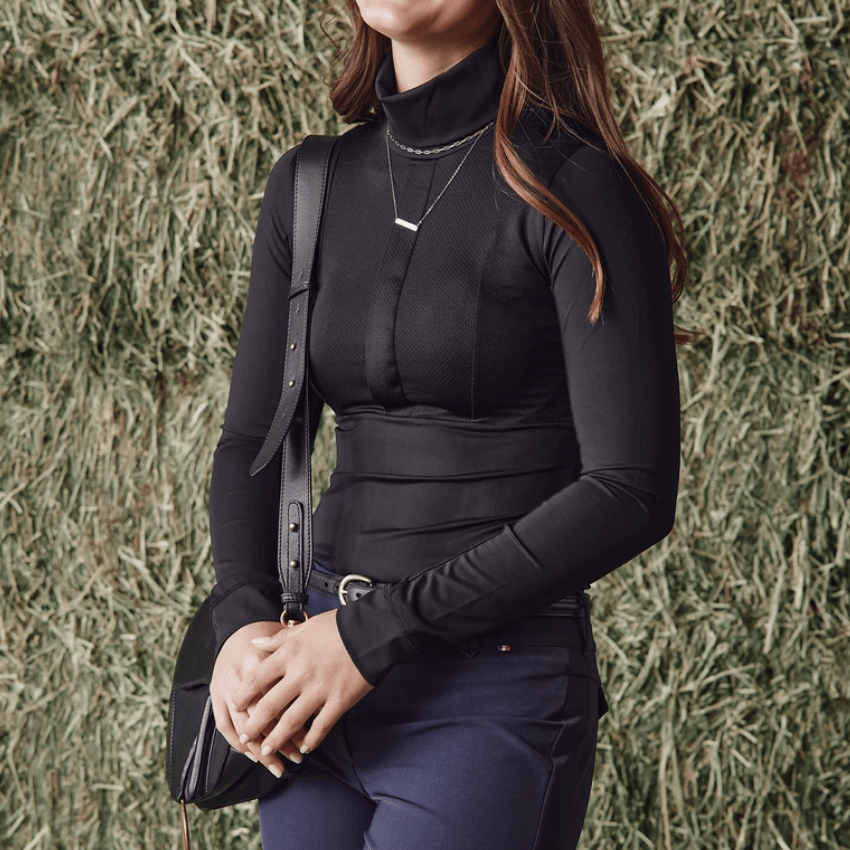 So I did a little experiment. I'm normally a size small in tops. I've been told that one of the cool things about some of the Solid Citizen pieces is that you can kind of play with sizing based on what kind of look you're going for. So I got an XS aaaaand a M and compared them in the video! Honestly… I couldn't really decide which one I liked more! I think the M fit well, but the XS was this second-skin perfection that literally made me feel like Cat Woman! I loooooved the XS, so if you're wanted to rock this fitted look (kind of like the lovely model to the left) you will not be disappointed! The lines on the bodice literally act like a push-up bra and an Equifit Shoulders Back all in one. It's so hard to explain without feeling it for yourself, so just take my word for it!
Buy one here – you're gonna feel like a superhero!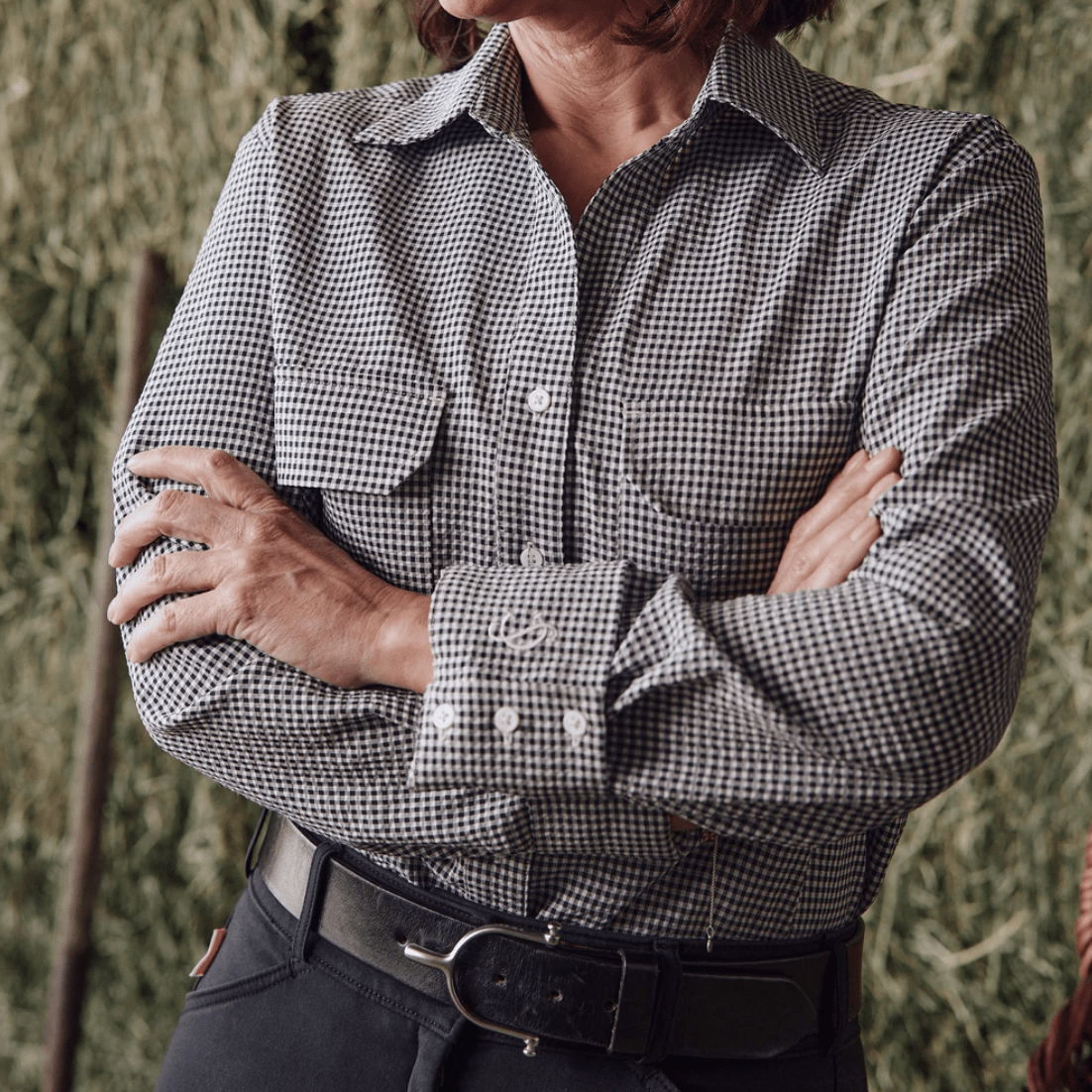 JESSICA II in Navy Mini-Gingham
I have a lot of favorites in this capsule, but I think because I loved the OG Jessica in cream (now sold out) from the Classic line, this one is just above and beyond. I love the mini-gingham pattern because you can literally make it look navy or black. When I pair it with black breeches or layered over a white tee and black leggings, some kind of sorcery takes place and it transforms into black gingham. I am wearing mine in medium for a little more of an oversized look. I think the small would have still been a touch oversized too, so this is another item in Capsule II where you can really play with multiple sizing depending on the look you're going for. My suggestion would be to go true to size or one size down for a more of a tucked in style, or true to size and sized up for an oversized street style take that still looks good tucked into breeches, but a more effortless kind of feel.
Buy one here – there's a million and one ways to wear her.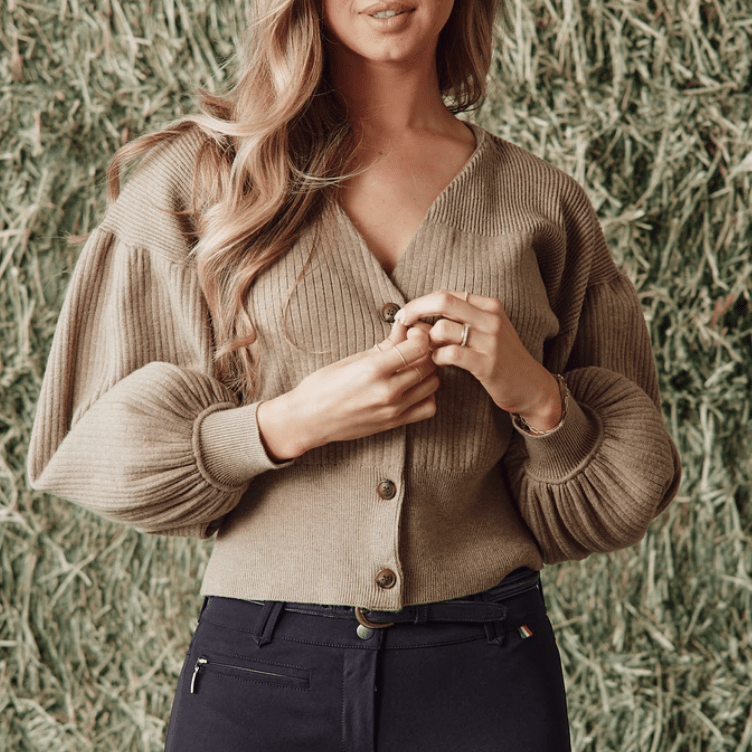 I am so obsessed with this cardigan. One, it's so so soft. Two, this rich dark tan is insanely beautiful and pairs nicely with tan breeches (a trait I find kinda hard to come by when it comes to trying to match tan colored tops to tan breeches!) And three, I think it is super unique to sport a cardigan in a riding outfit- if you look around, there isn't much out there in the equestrian cardi department! I have the Grace in a small and I think she's perfect true to size. The length of the torso again is amazing for sitting at the belt line, but I've also unbuttoned it and threw it over a sundress.
But one here – it'll be good to have one on hand!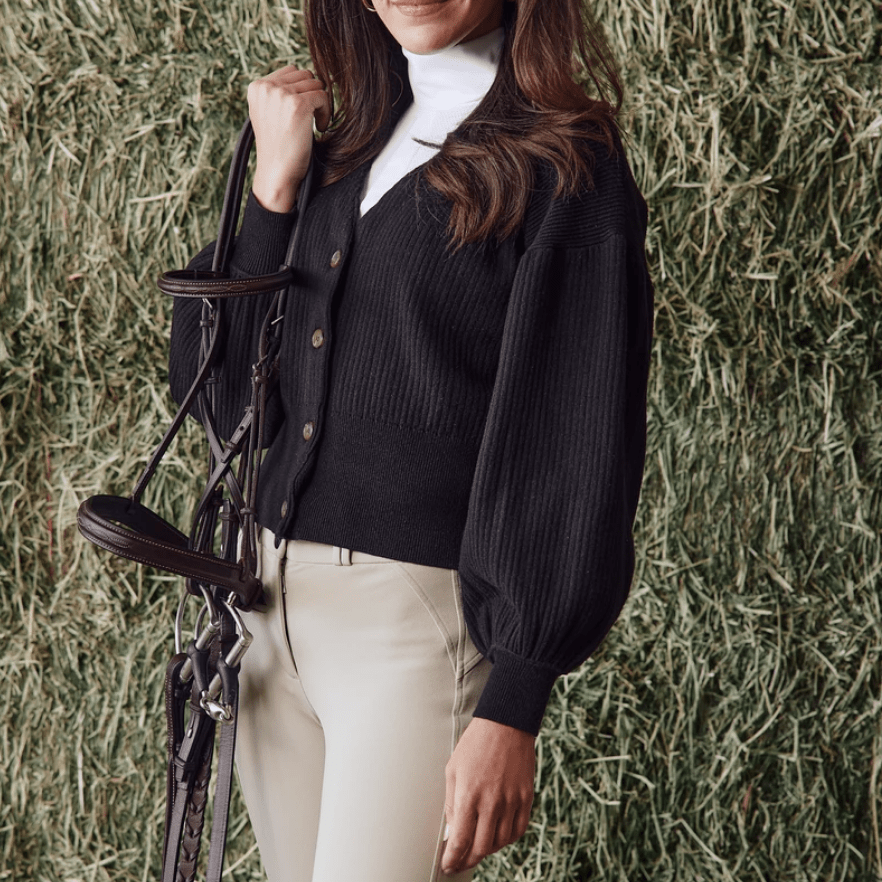 Just like her buckskin sister, this Grace in jet black is just so stunning. You know me- I am happy as a clam to be sporting all black everything all day everyday. So this Grace fits the bill but has that perfect amount of interest to be something different in your closet. Love the blouson sleeves and the neutral buttons. Wearing a small for this one as well- I love how she looks layered over the Haley like the photo on the left!
Buy one here – it'll be your fave cardi.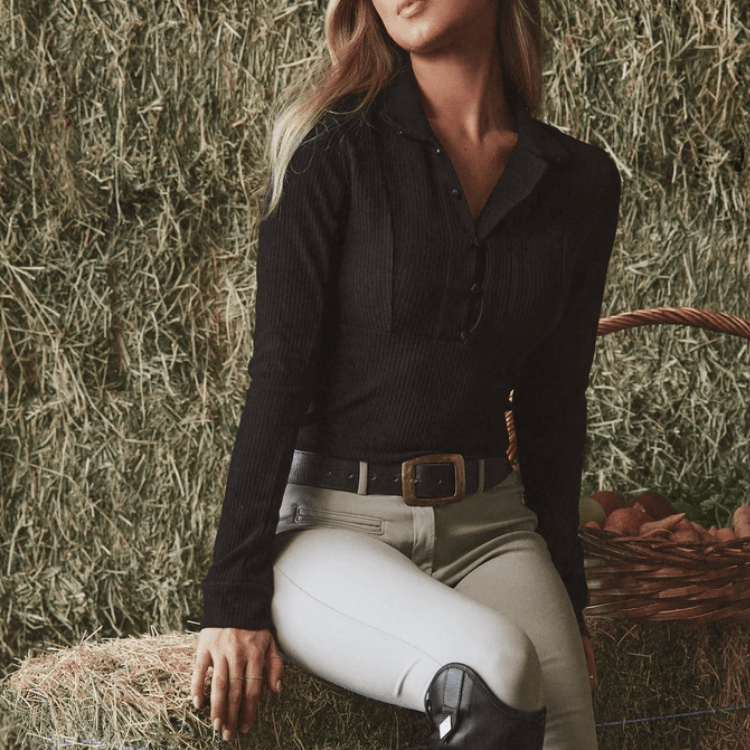 Did I just save the best for last?? I was really looking forward to trying out the Kori. It intrigued me because Kori is the name of Megan's new horse and I just am so happy for their partnership! I was also curious to give it a try because I just didn't know what to expect. Is it a pullover? Is it a riding top? Is it just for cold weather? Well turns out, it's anything you want it to be! I can't believe how pretty this top is. It is the updated Haley with this super chic button detail that allows you to wear multiple ways. I love how when you leave the Kori unbuttoned, there is still that extra piece of material that really keeps the look polished. The material is ribbed but stretchy. I honestly think you could easily wear it over a compression-style riding top or under a sweater, vest, or jacket. She has the pretty lines that the Haley offers but just a bit more versatility. You can also easily size up or down depending on what you wanting out of it!
Buy one here – I low-key think it's the MVP of the collection.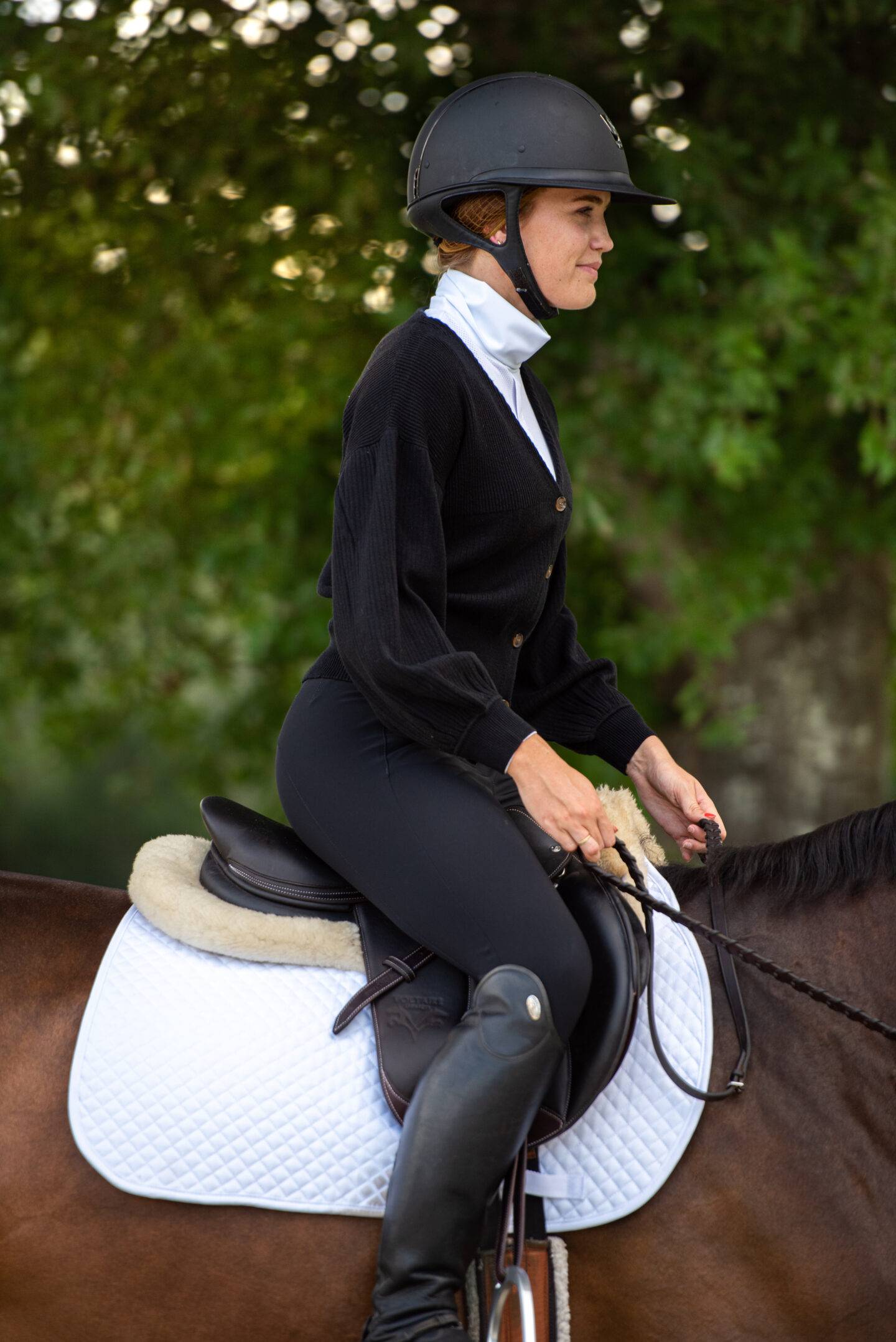 Overall, the Solid Citizen Equestrian Capsule II went above and beyond my expectations – which were already high after Capsule I. I think with the creativity in the details while still holding true to classic silhouettes, Capsule II is really going to up-level your wardrobe. Arguably the best part? All of the pieces are under $100- you just don't see much of that in the equestrian space these days, especially when the pieces feel like they should be priced 3x that! You gotta give Capsule II a try. Feel free to message me with any questions on the pieces, otherwise Megan is a true professional when it comes to fitting- so give her a holler, too!
xo, B