Happy September! I just love Fall. The weather starts gives us a cool little break, school is back in session, and the leaves start changing. There's just something about fall that really up's the fashion game! By the end of Summer, I'm kinda done with shorts and flip flops and ready to rock my boots, layers, and warm colors again.
Lucky for you, TKEQ just dropped a new edit today and the pieces are going to seriously WOW you. You may have seen sneak peeks on the TKEQ website this past week, but the colors are Fall perfection. TKEQ almost always sells out of their stuff, especially when they do a drop like this. So grab them while you can! You can shop my favorites from the Fall Edit right here on this blog post.
---
You know the TKEQ Kennedy Tops are my go-to's when it comes to everyday riding, but this stunning chocolate brown hue is a huge step up in my riding top wardrobe. I think you can really play the Espresso off tan breeches like I did here, but it also looks amazing with black, grey, navy, burgundy, or rust breeches for that ultra Fall vibe. (Sharing my favorite burgundy and rust breeches here soon!) Another think I love about the Kennedy Long Sleeve Espresso Top is that is seamless and layers perfectly for cooler days. Here's where my other two favorite TKEQ Fall pieces come in!
---
This Crewneck Sweater in TRUFFLE will be your new Fall/Winter Favorite.
I have a the TKEQ Essential Crewneck Sweater in Black and I wear it all. The. Time. So when I saw this TRUFFLE color from the Fall Edit, I had to jump on it fast! When I got it in person I about died. The color is perfection!!! It's like a warm grey-ish, brown, tan concoction that is just the definition of a neutral: it goes with everything! I tried tan breeches- awesome. Black like I did here- so stunning (especially layered over the TKEQ Quinn Competition Shirt in White) or even in NEW Espresso Quinn Competition or Espresso Kennedy…. slay me dead.
---
The Color-block Fall Sweaters of your Dreams are Here (until they're sold out at least).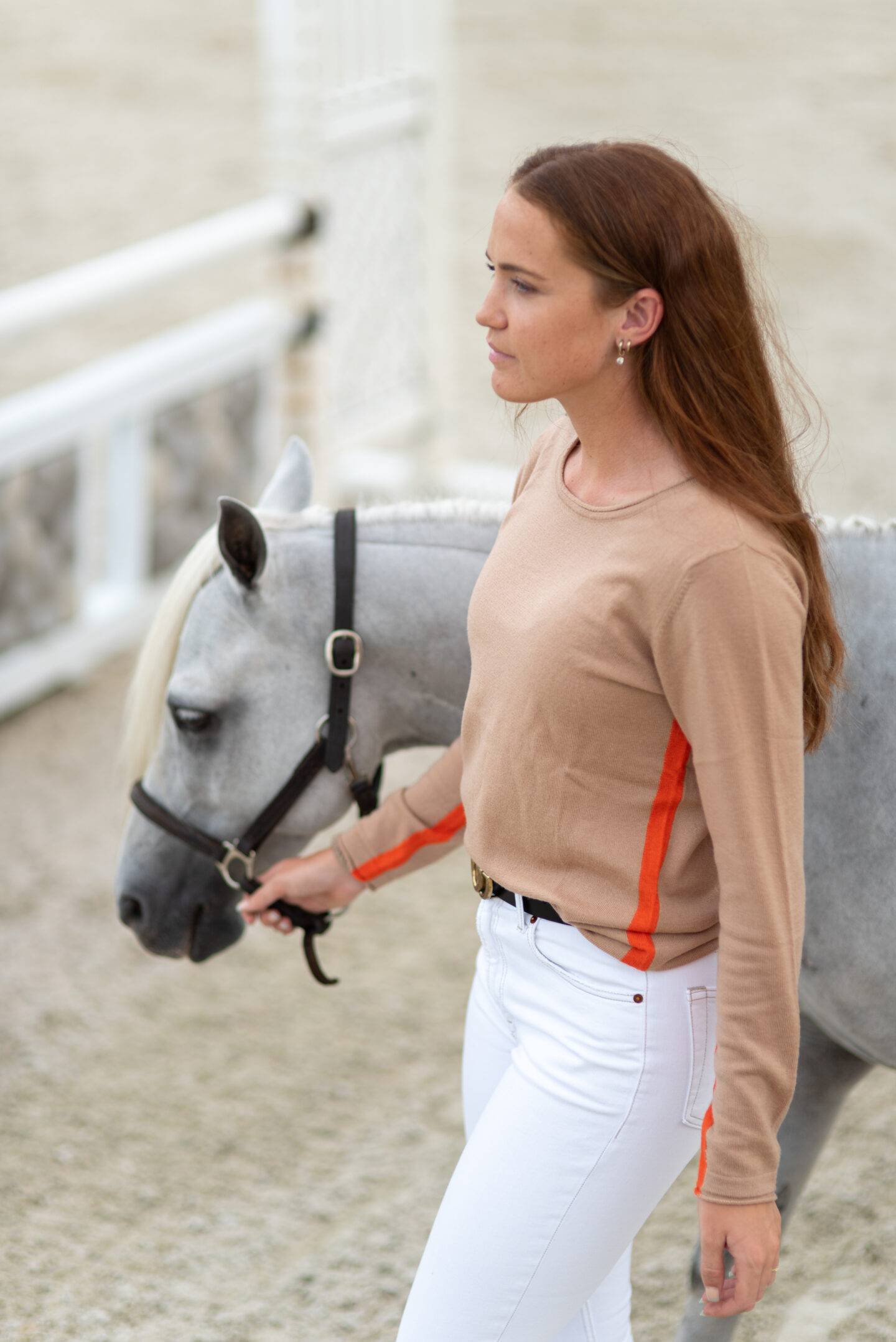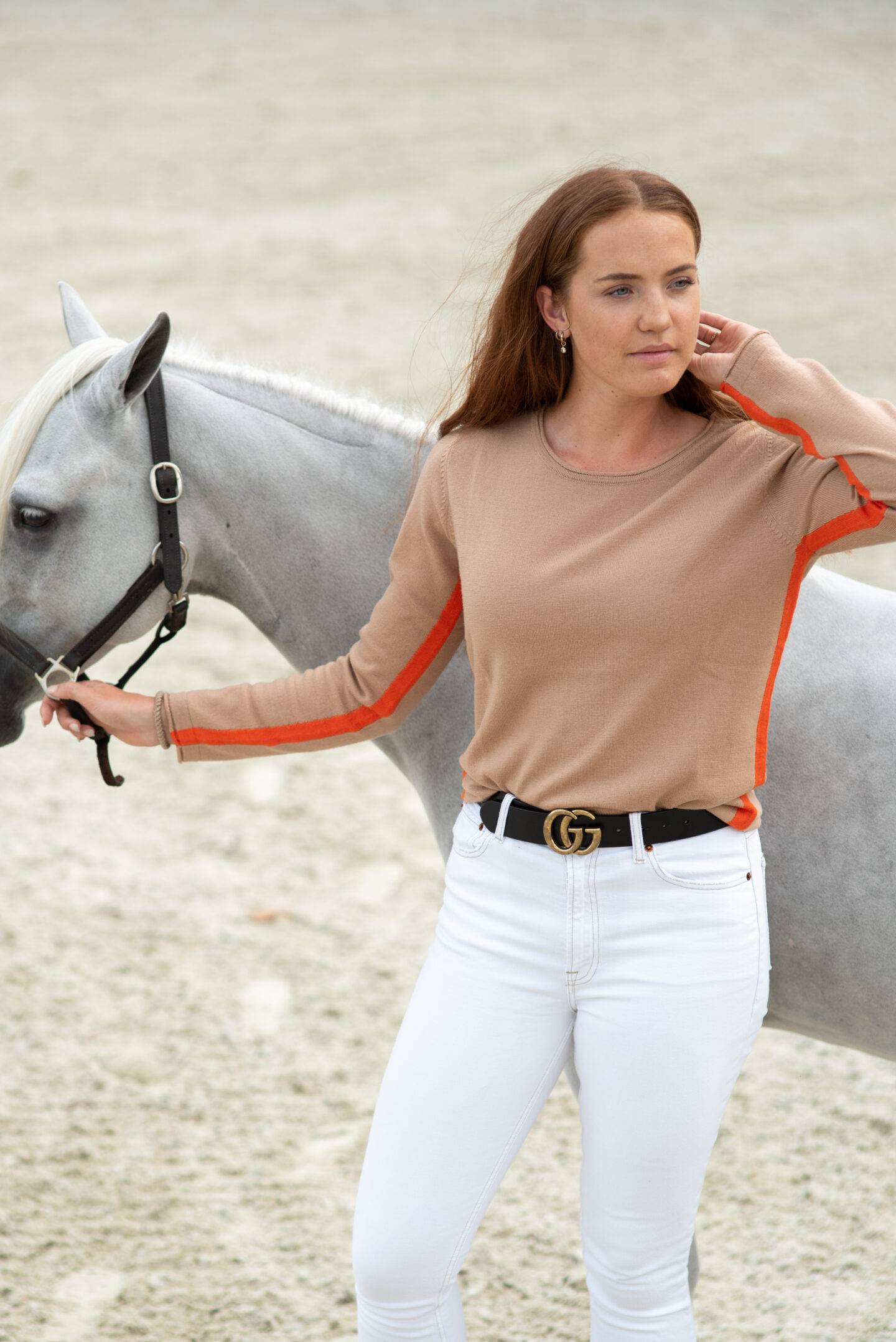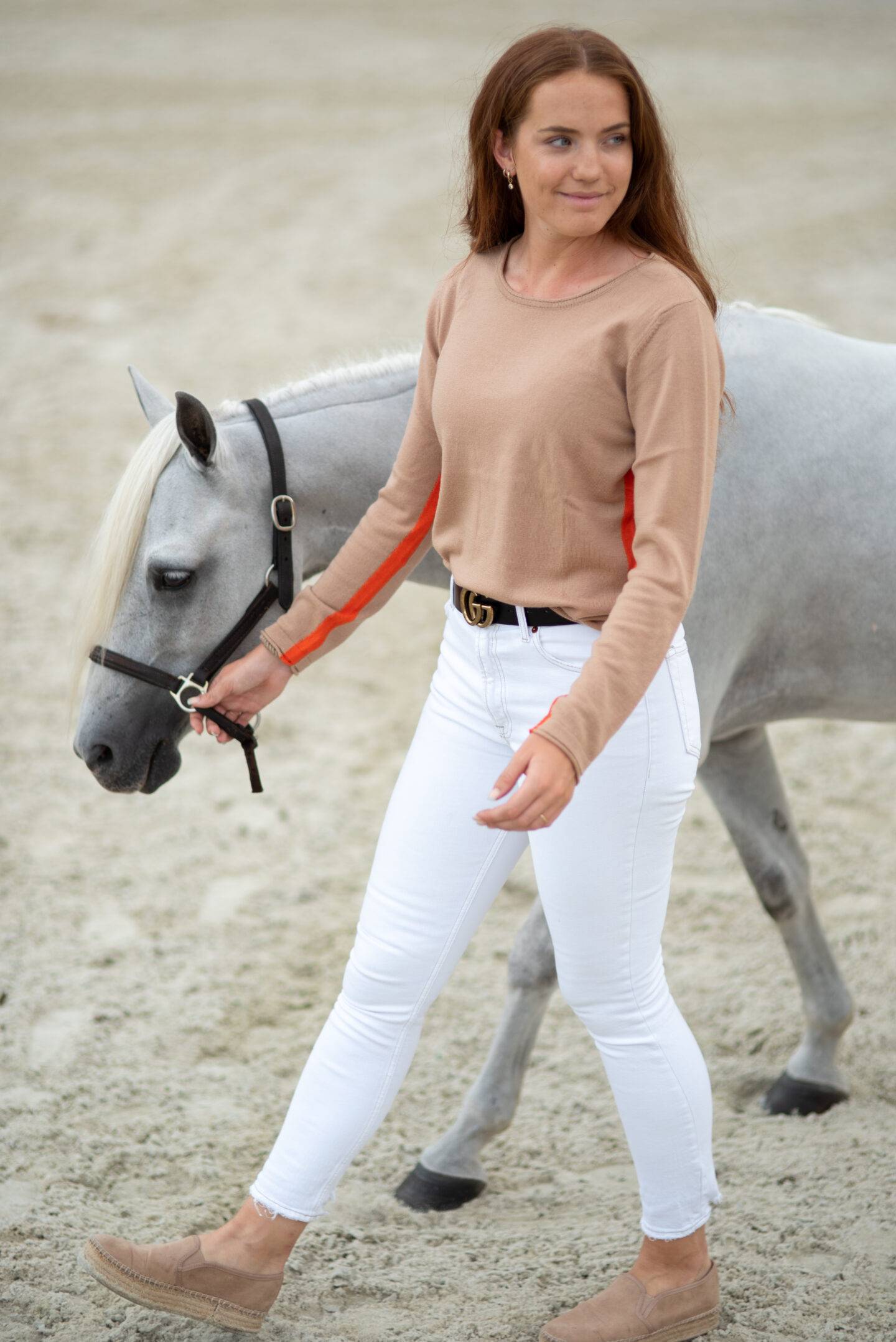 This Ochre Cassidy Sweater is so pretty. The camel tan base is such a year-round staple color because it looks great paired with summery pieces or layered in the Fall/Winter. The bright orange stripe of color is so fun, not to mention placed in such a cool and unique spot. I love this color combination, but it also comes in a really cool grey/black version that has my name written all over it. Besides for the Cassidy Sweater, the Fall Edit also dropped these amazing Arm Band Color Block Sweaters in the thicker knit. Here they are below!