One of the most important traits I look for in a riding apparel is how well it would layer. Now don't get me wrong, I love oversized, chunky hoodies and jackets, but if a garment is too thick or bulky in the wrong places, it is just not a great layering option. Two of Aztec Diamond Equestrian's newest pieces are the epitome of layering essentials: The Show Sweater and the Performance Bodysuit.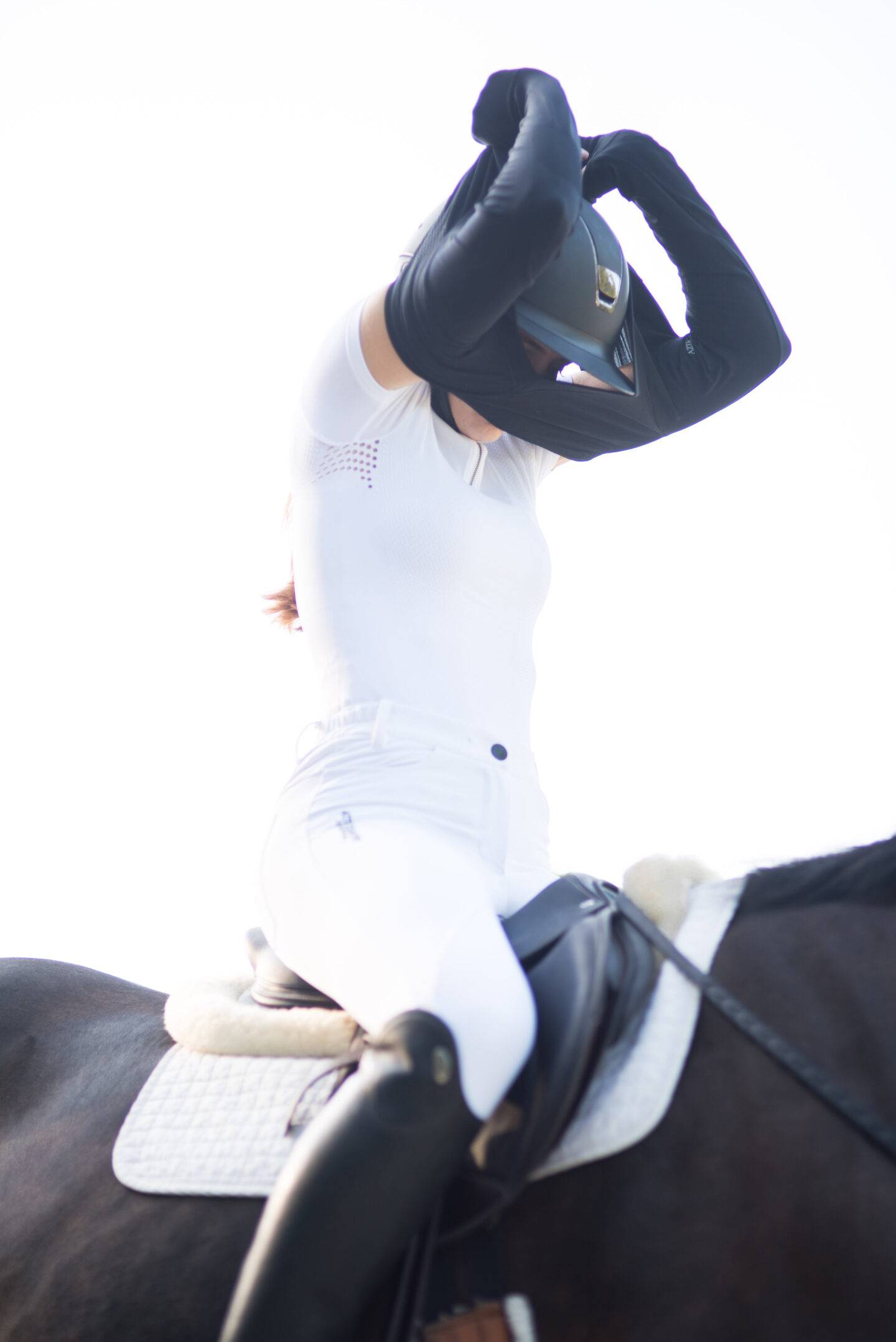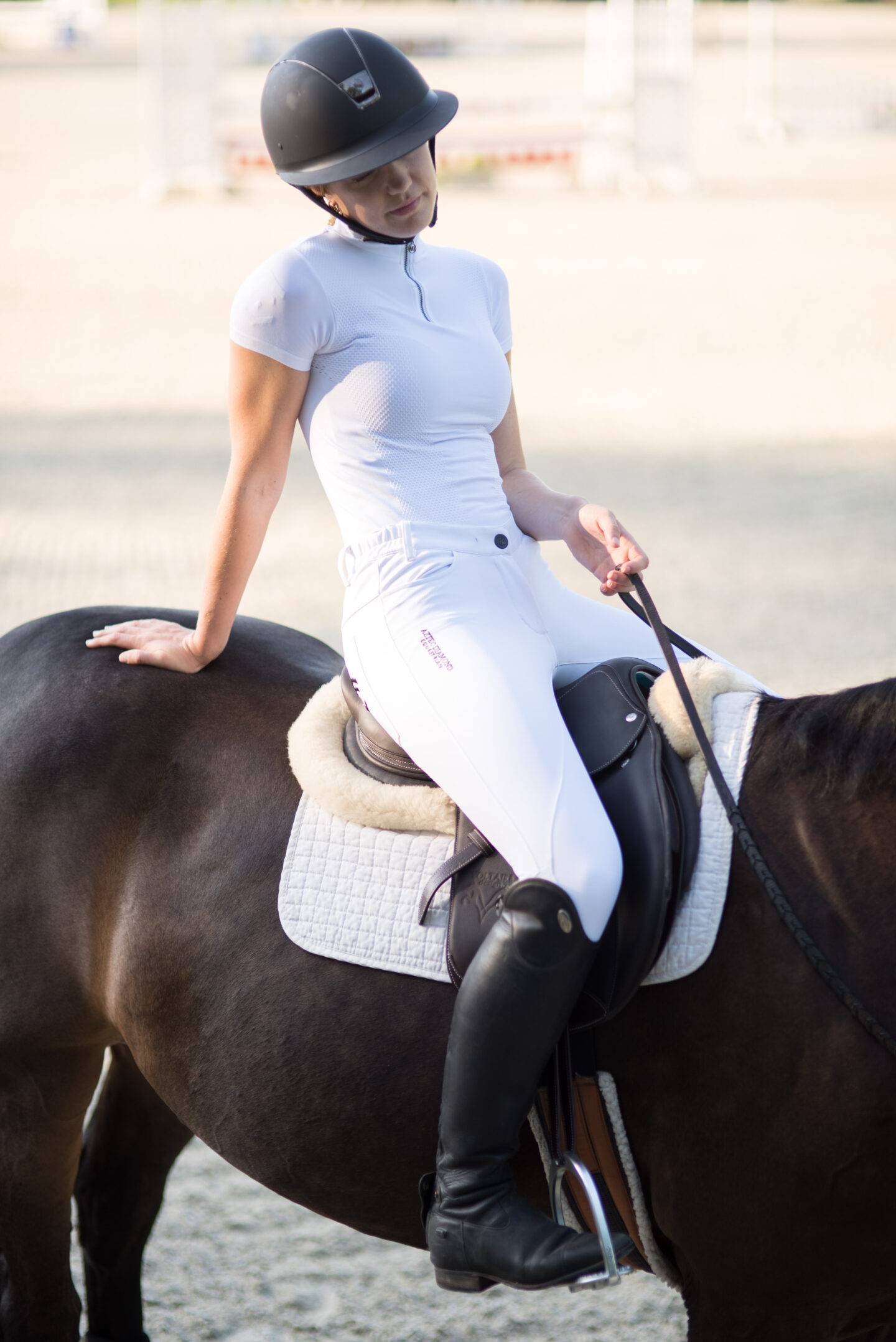 Let's start with this BODYSUIT.
Wow, is it the perfect combination of comfy and flattering! The AD Performance Bodysuit comes in both black and white and truly moves with you like a second skin. I am wearing a size small and I would say they run true to size and similar to the sizing of their famous base layer tops. The bodysuit closure allows this smooth tucked-in look without having to constantly check and adjust. I used to feel hesitant about riding in a bodysuit- "Would it be uncomfortable?" I always wondered. Once secured with the snap closure, the AD Performance Bodysuit is the most comfortable and doesn't bug you while you're in the saddle whatsoever. Some other features are venting under the arms, a 1/4 zip closure that looks great zipped all the way up or all the way down, logo on the sleeve, breathable, super 4-way stretch, and quick drying. It's a must for the summer months… but then also a must as the ideal base for layering in the cold months!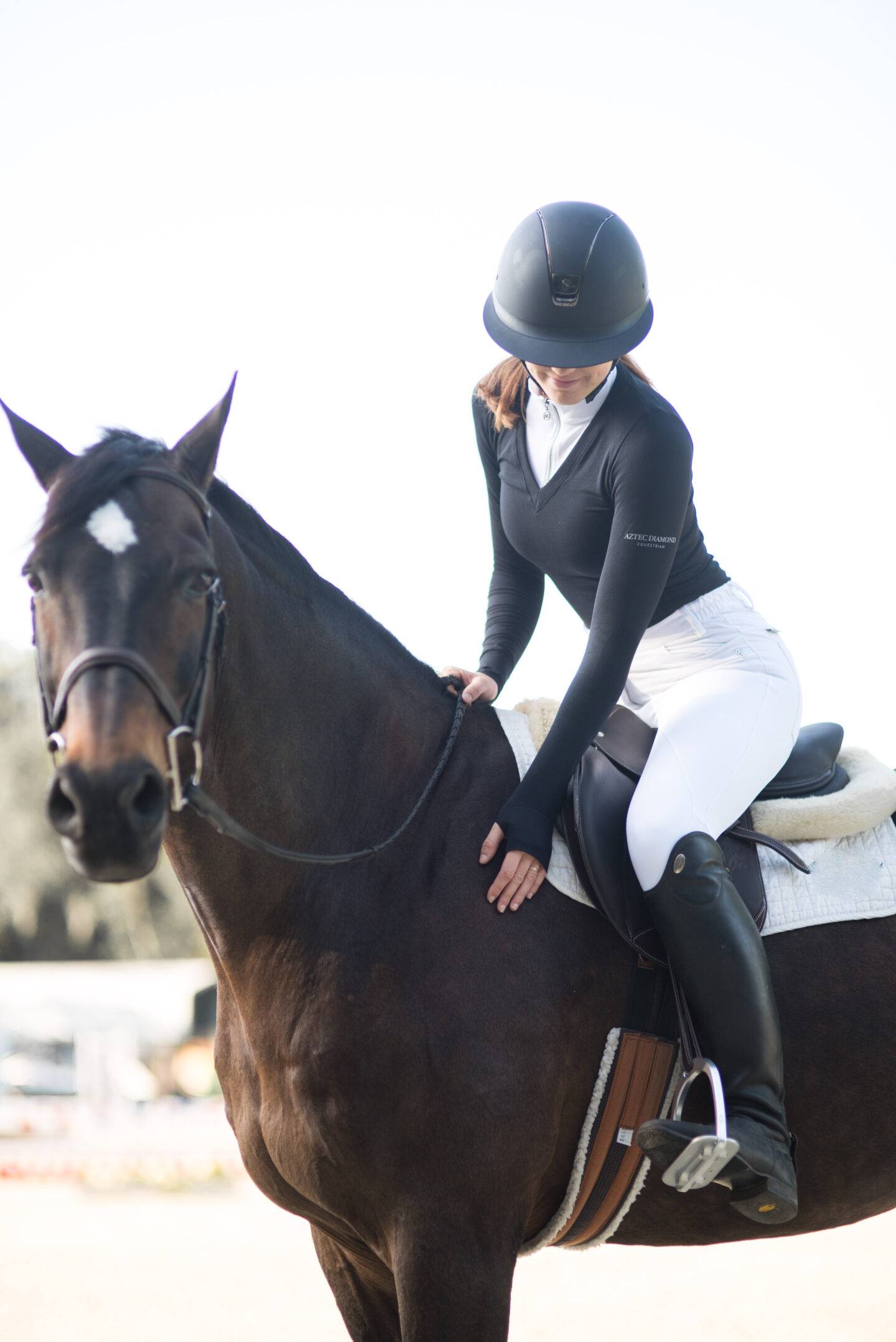 I know what you're thinking… A Sweater in the SUMMER?!
Hear me out.
This is not your ordinary sweater. This is an ATHLETE'S sweater! The AD Show Sweater uses their amazing 3D knit material that is breathable, sweat wicking, and incredibly stretchy so that you can add a layer over your show shirt, but once it gets hot, it will keep you cool. How crazy but revolutionary is that? Now that I've ridden in the Show Sweater it seems like a no-brainer… Riding sweaters really should be able to act as a warm layer in the mornings and a breathable layer in the afternoon. Another incredible feature to note: because of its 4-way stretch, the Show Sweater easily fits over your helmet. So no more dismounting or having to take off your helmet to remove your sweater! You have to try it on to truly believe and appreciate it, because I'm telling you, this is the first of its kind! I am wearing a size small and- again- runs similar to the base layer sizing, keeping in mind it is meant to fit like a second skin. The Show Sweater also comes in a gorgeous navy.
SHOP MY FAVORITE AD PIECES HERE