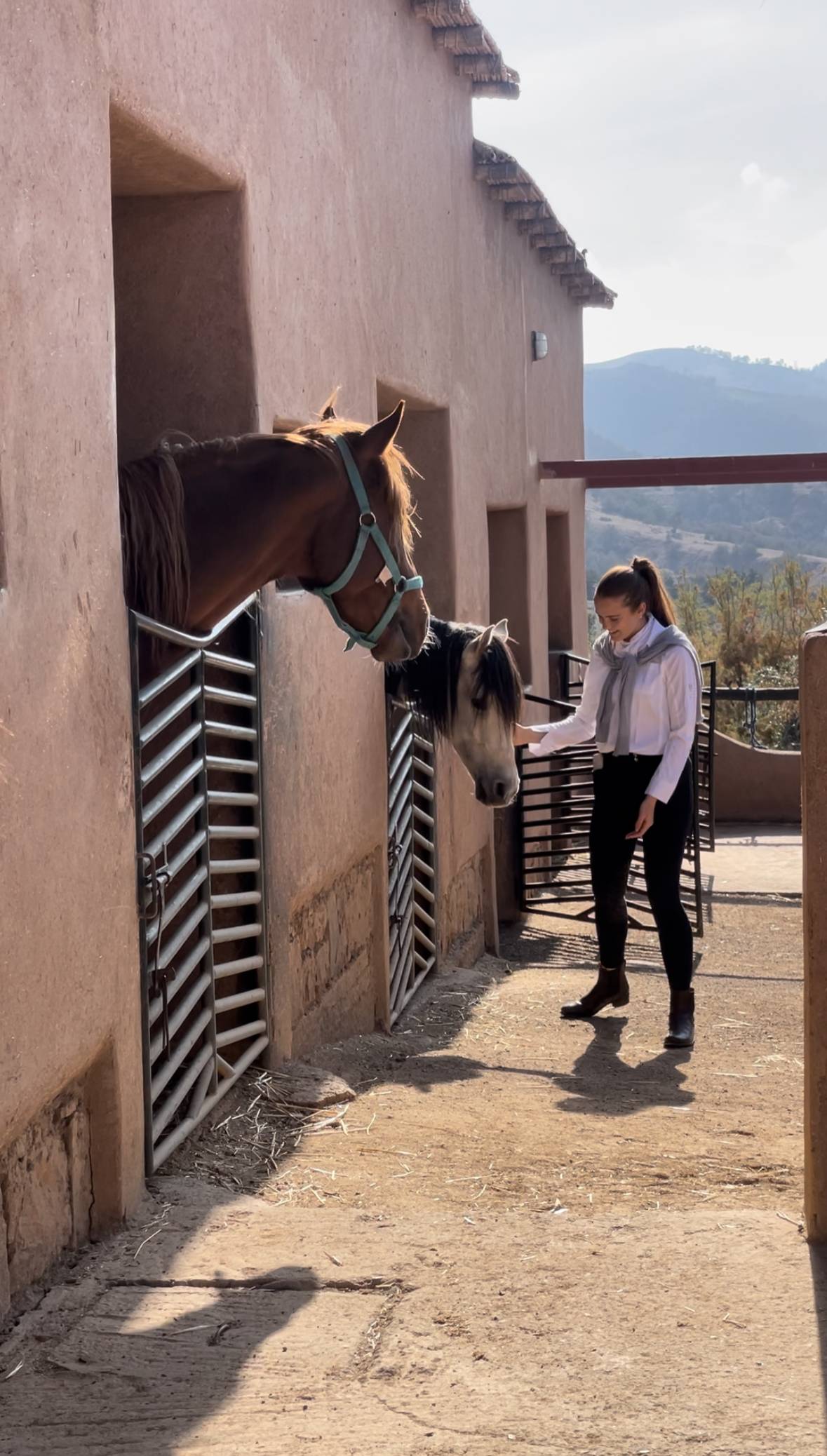 I have ridden horses for my entire life, but I have never gone on a single horse-related excursion while on vacation. I've always been that girl that goes to a town and sneaks mints from the reception desk of a restaurant of feed the carriage horses parked outside or feels bad for riding horses in fear that they are overworked, underfed, or not well-cared for. When I met Wendy Hofstee, founder of equestrian tourism company, Unicorn Trails, I instantly knew she was like me. (Well, I'm not a veterinary surgeon like Wendy is, but you know what I mean!) She truly lived and breathed horses, whether that was caring for them, being on the board of the BHS (British Horse Society), ABRS (Association of British Riding Schools) and associations such as the Royal Geographical Society and Long Riders Guild, she is traveling all over the globe in search of the perfect riding destinations. Wendy has personally been to nearly all of the 300+ riding trips that Unicorn Trails offers.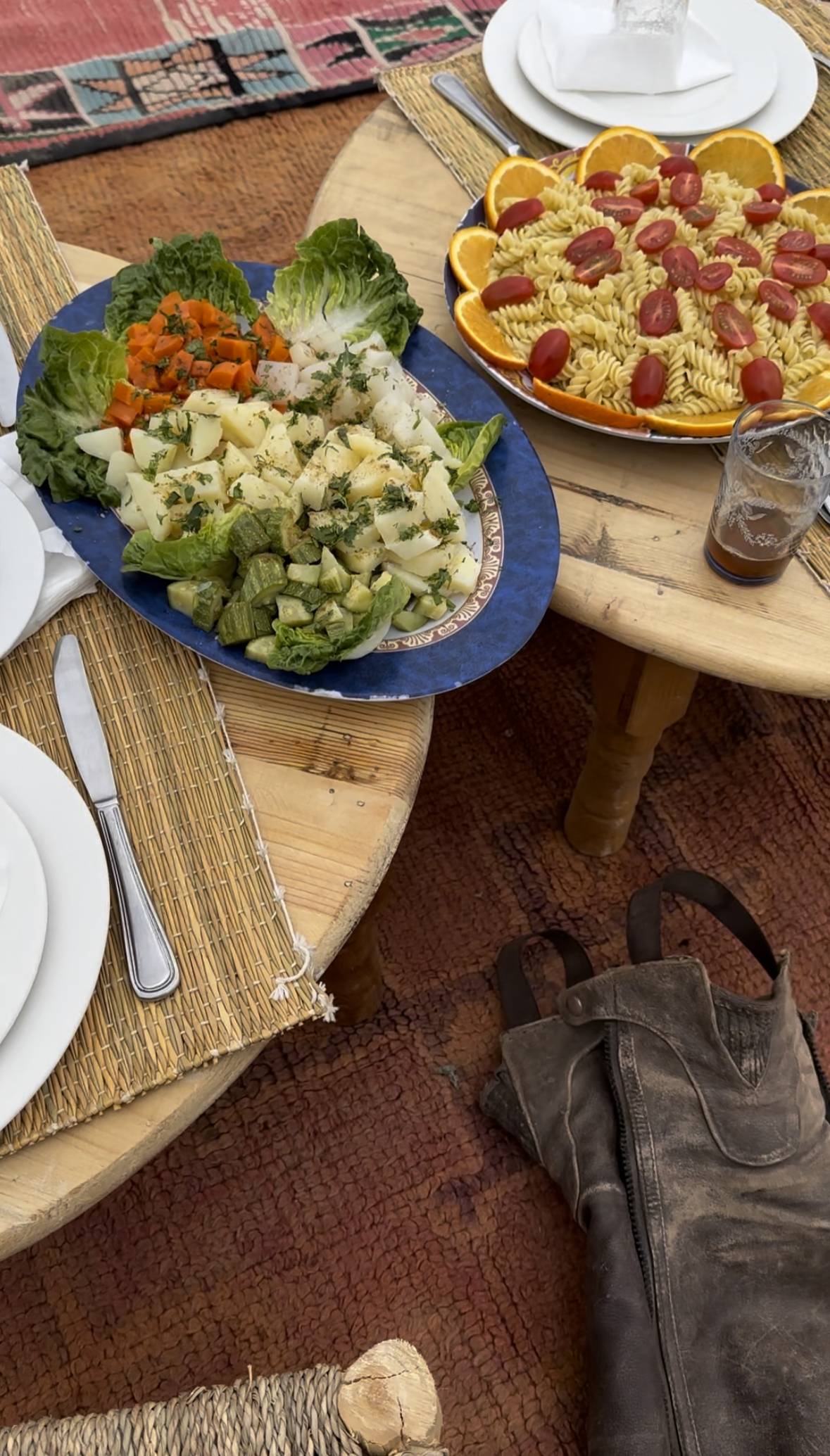 Unicorn Trails has a thorough vetting process to make sure horses are in a healthy stable and environment and trail terrain is not only horse-appropriate but realistic for tourists with varying levels of riding experience. Wendy hand-picked our trip to Marrakech, Morocco based on how long we could get away, what type of lodging experience we wanted, and our riding levels. We happened to already be in London right before this trip for a family event and had never visited Morocco, so it was currently at the top of our list when Wendy had mentioned some of her favorite trips easily accessible from the UK. We also wanted a bit of a cushy living situation to relax after long days on the trails. Lastly, I am a professional, but Ethan had only been on a horse one time… the week before the trip I gave him ONE walking lesson!!
So after a few calls with Unicorn Trails, we had everything planned out. They really took care of everything- from the transportation from the airport and excursions, to the meal reservations and recommendations. We felt like we really had a full trip of riding while also incorporating a few iconic Moroccan excursions to really get a good feel for the country. The video will show it all, but I want to talk a little more about the riding!
We stayed at Terras d'Amana about 45 minutes outside of Marrakech. We got in late at night but there was an entire group of staff that waited up for us to show us around our villa and even cook us dinner! We were blown away with their hospitality. The next morning we walked to another part of the sprawling property to the stables. There was a beautiful open-air facility with about 12 stalls, an arena, several paddocks, a feed and tack room, and a spacious office. It was really fun to see what the horses were fed, what bits they used, and other similarities and difference this barn had to mine back at home. These horses were lean and fit and really well cared for. They were all shod all the way around and the farrier came about every 8 weeks. Our trail guide, Abdel probably got tired of me asking so many questions about how they got the horses, how they train them, how often they work, etc. but I was so intrigued! He said they are ridden 5 days a week but not ridden more than once per day. They get one day off and then the first day of the week the trainers ride or lunge them depending on the horse. I got to pick my horses and Abdel selected a horse named Atlas for Ethan since he was the easiest one to ride. It turned out to be a match made in heaven both days we rode with Abdel!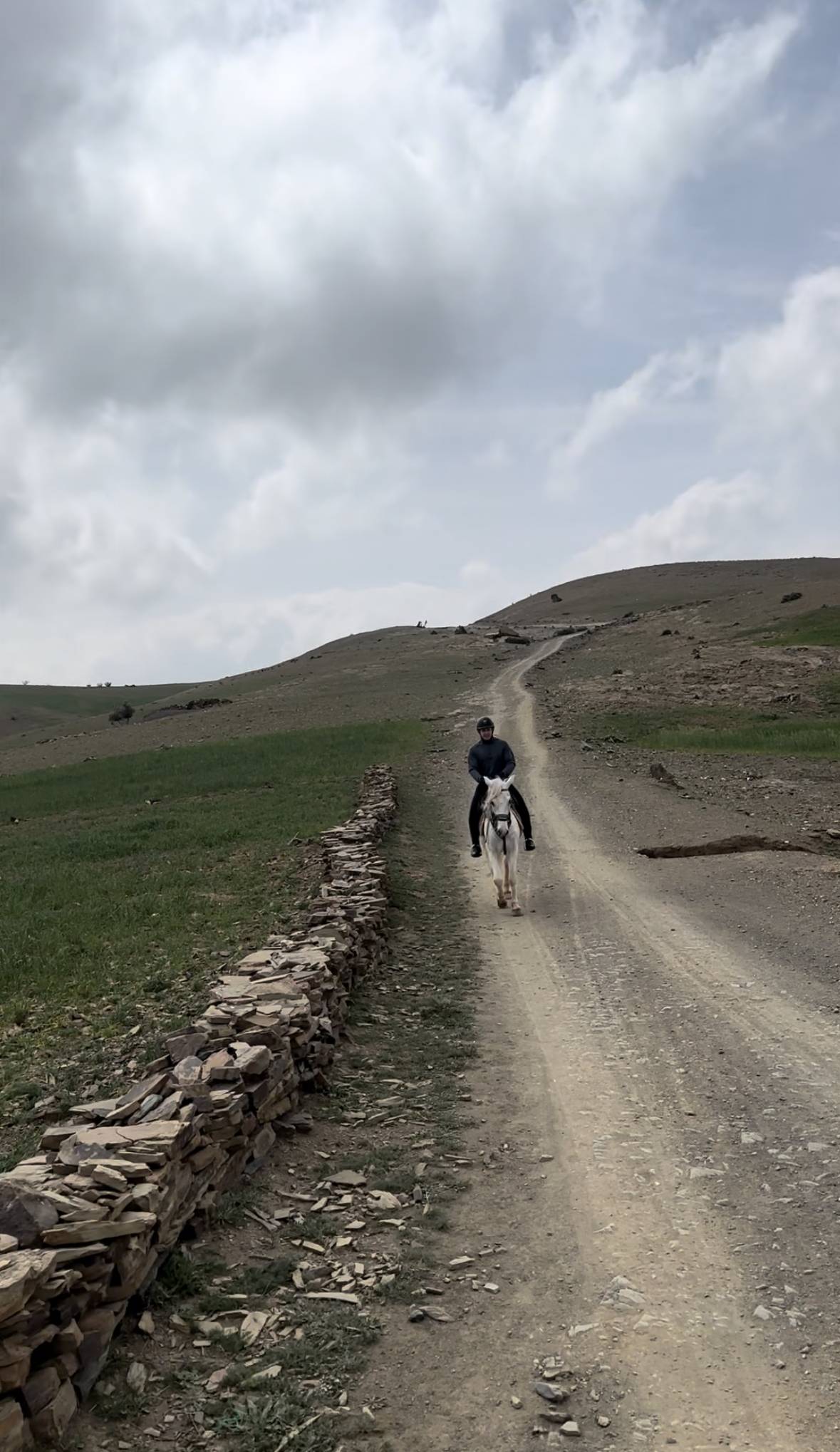 I got to ride two different horses and I really love how that came to be. The first day I rode Farmage- a really spirited Arab x Berber stallion who was so much fun. We went on a 6 hour trail ride which is definitely the longest I've been on a horse! We stopped 3 hours in at the top of a lookout and the team made us a massive lunch and cooked and prepared the whole thing right there! We had a fire and hot Moroccan tea which has fresh mint and is absolutely incredible. The horses quietly grazed in their halters as we ate and then we made our way down the mountain another way to get back to the stable. The next morning we went to the barn to get ready for a two hour ride and the barn hands mentioned to Abdel that Farmage was a little slow to eat his breakfast that morning so they decided to turn him out for the day. I really admired their transparency and willingness to put the horse first in that situation! I rode an Arabian gelding on the second journey and had an incredible time! Abdel was an outstanding guide showing us stunning sites and giving us insight to the country and culture of Morocco. The horses were so brave and didn't bat an eye and herds of sheep passing by, rustling bushes, steep terrain, etc. that my horses at home would probably have meltdowns over! By the end of the second day, Ethan was easily trotting and cantering- something I would have never expected just because of the fact that he had spent 30 minutes in the saddle before this trip. I never felt worried or scared or in danger.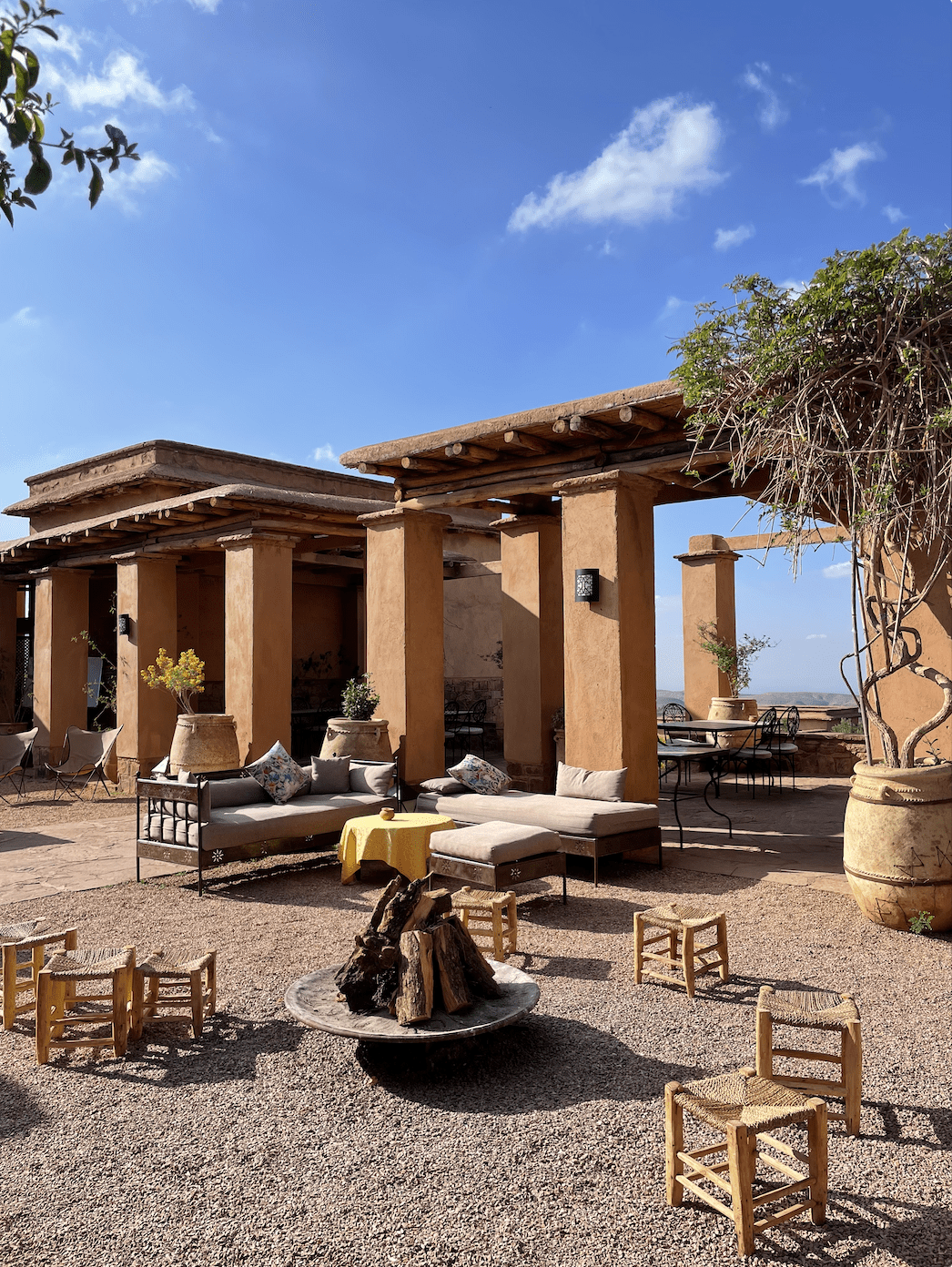 We finished the trip closer to the city after a little detour in the desert for an iconic camel ride and sunrise hot air balloon tour! Unicorn Trails told us where we should go and then brought us to Marrakech to stay in a traditional Moroccan riad. Riads are old home right in the city center that have been renovated to several single rooms with a beautiful common courtyard space, often open air and with a pool like ours! We had a guide with us everywhere we went, including the souks where you could find spices, food, souvenirs, rugs, shoes, oils, bags, and more.
Overall, we had such a lovely taste of Morocco and had the most incredible time riding through the mountains, streams, woods, and grassy landscapes with happy and healthy horses. It exceeded all of my expectations and we are already planning our next trip with Unicorn Trails and are inviting you to come with us…. so who wants to go on horse-riding Safari trip with me!? I think it will be absolutely amazing and I can't think of a better company who has already done dozens and dozens of horse safari trips to organize our next journey! Be on the lookout for our future Unicorn Trails trips!
xo, Bethany