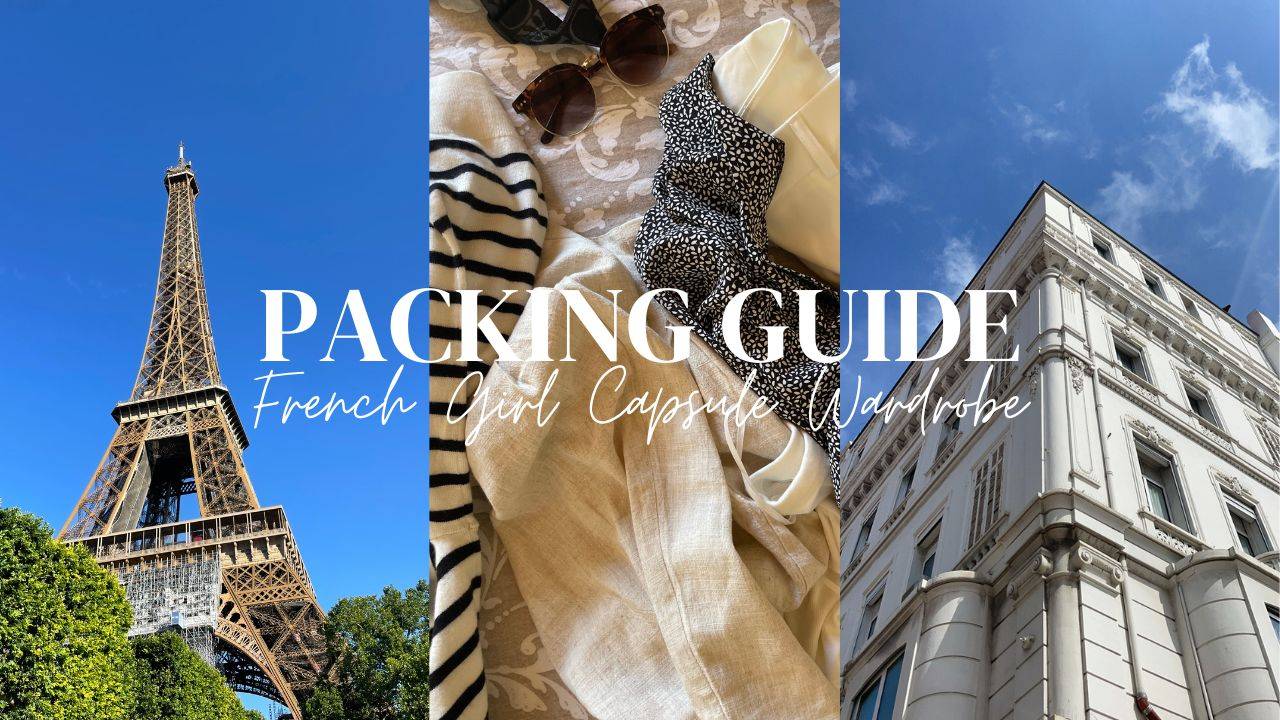 Just got back from the South of France and it was ABSOLUTELY stunning. I'm a sucker for beautiful architecture, amazing views, and great food and this trip to the French Riviera was all that and more. We flew into Nice and spent a few days there as well as Eze, Villefranche Sur Mer, Cannes, Antibes, Porquorolles, and Saint-Tropez and then drove up to a little town outside of Toulouse for a family wedding. After that, we flew up to Paris for 24 hours before I flew home! It was magic. It was such a perfect trip for me because it was a combination of beauty, architecture, ideal weather, and insanely yummy food. Oh and relaxation! I can't tell you the last time I read a book cover to cover in a span of 2 days.
The biggest challenge was packing for this trip. Ethan and I were mostly traveling with his parents and the four of us had to fit in a small European rental car. That, and we took several budget airlines for our trip that a ton extra each leg of the trip for checked bags. We were also hitting so many stops, so the idea of lugging around a checked bag and a carryon seemed like a ton of extra hassle to me. So to make things easier, I sacrificed my checked bag and did the entire 10-day 7-location trip…
IN. ONE. CARRY ON!
Yep, I'm as shocked as you are. I am so happy I made this work because it really forced me to not pack in access (which I ALWAYS do… are you also the person who comes home from a trip and realizes you didn't wear half of what you packed?) I obviously was so excited to dress for this trip, so I decided to make a French Girl Capsule Wardrobe to really embody the looks I was going for in a way that involved the most versatile pieces possible for minimal packing!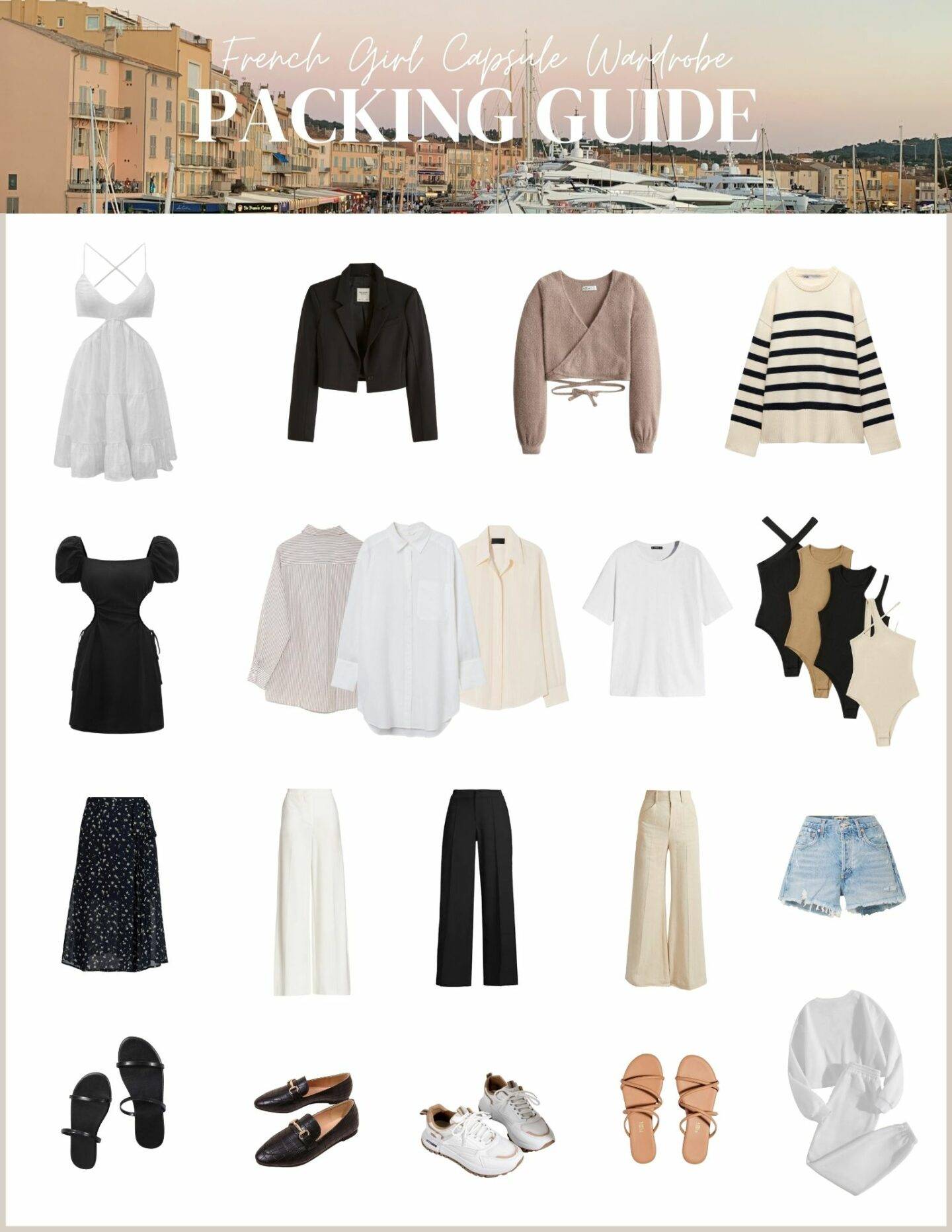 THE CAPSULE WARDROBE UNPACKED
This is it!!! I honestly have purged so much of my closet because this capsule wardrobe is what I wear on repeat when I'm not in breeches. So while this was originally my packing list for the South of France, it is what I plan on wearing all Summer and Fall. What I love about this capsule wardrobe is the items are so neutral, interchangable, and buildable and the perfect canvas for adding a splash of your personality with a statement piece or accessories. The prices of everything are so good, too (I think everything is around $30 or under). Below are little examples of just a couple ways I put these pieces together, but the number of combinations is truly endless. Nearly everything linked is from SHEIN and while they didn't ask me create this post, I was just really impressed with this last order and wanted to share all the affiliate links with you. Also feel free to use my code for an additional 15% off! >> CODE: SSV3364 <<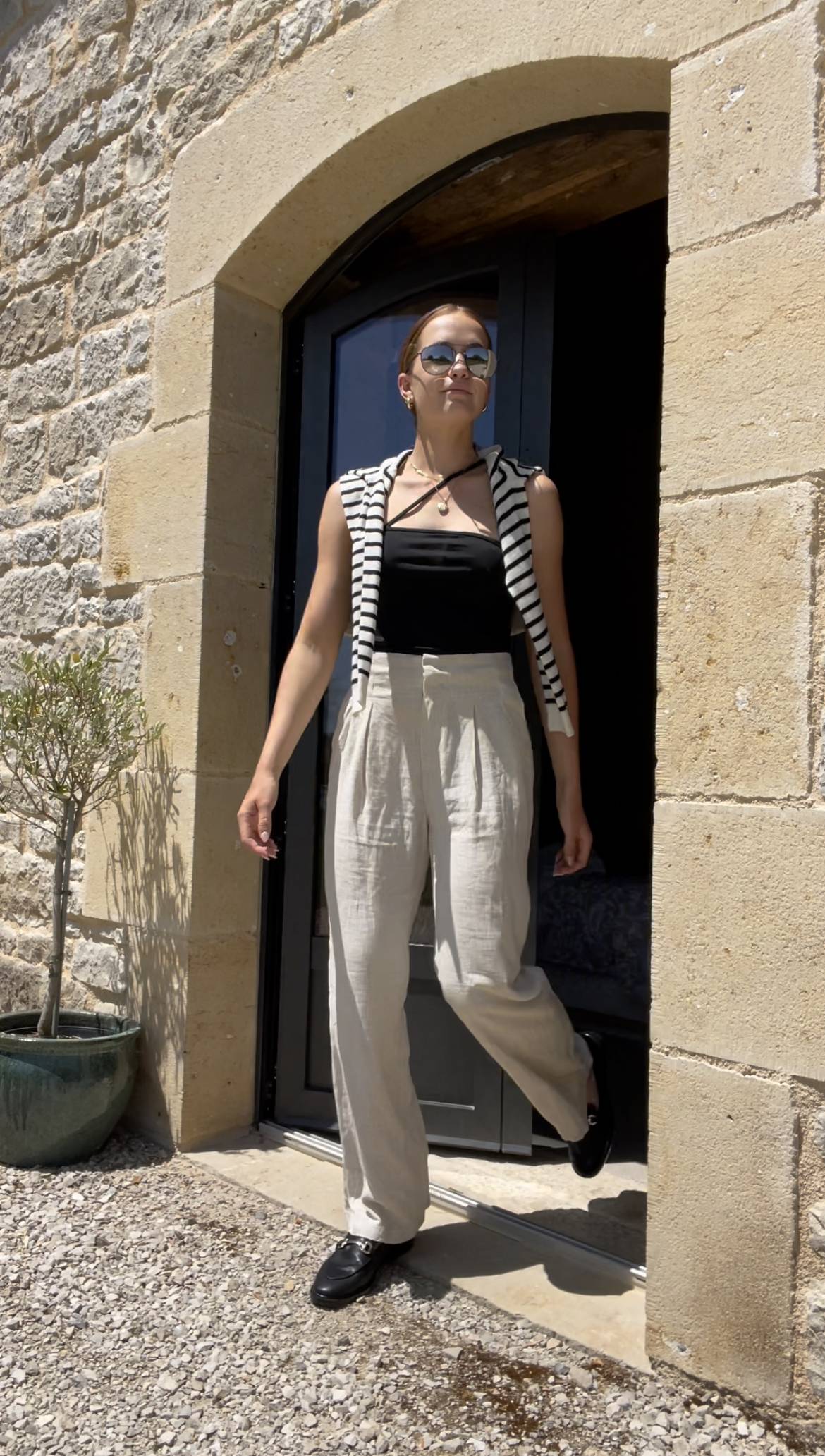 Okay, this look just made me feel fabulous, not gonna lie. I could (and attempt to) wear these beige linen pants everyday, both on vacation and now that I'm home. I also love this cropped tank that is essentially a tube top, but this added little crossover strap is the chic detailing I didn't know I needed in a basic. Finally, nothing screams French Girl Fashion than the striped sweater.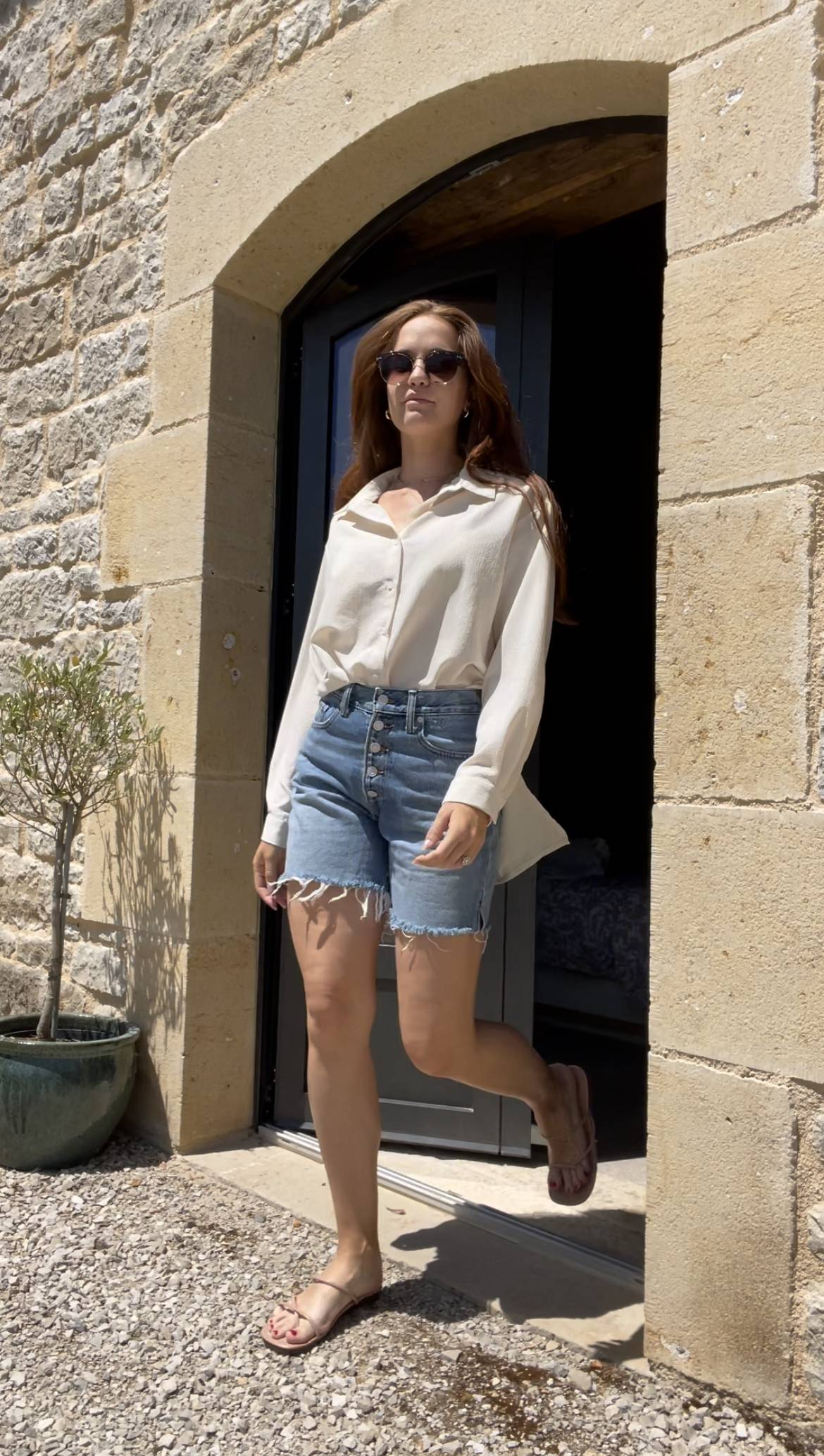 The go-to everyday look. SO easy, so chic, so sophisticated. I really like a longer short cut to slim the leg. This top is extremely versatile, too. It actually comes with a matching set of wide legs pants that are literally monochromatic goals. I wanted to show this top in other ways other than the obvious matching counterpart, so this way with the denim is probably my other favorite!
SHOP: Button up blouse $26 (part of a pant set, one of my favorite pieces) | Shorts $17 | Sandals $15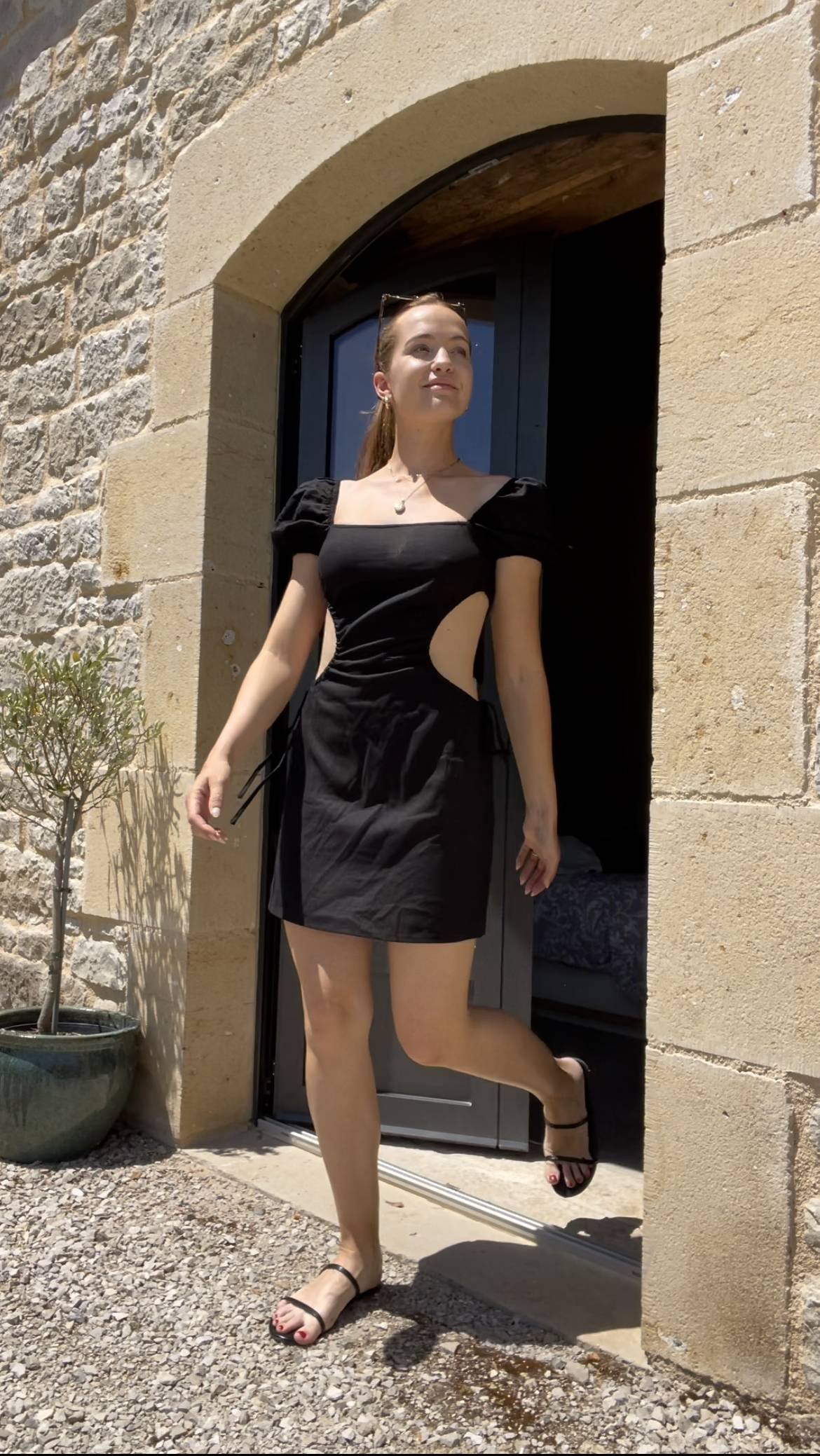 I'm in love with this black linen dress. The square neck is modern, the puff sleeves are girly, and the cut outs are edgy and sexy. It is definitely such a versatile piece- back home I plan to wear it for date night but also happy hour with my girlfriends and then also with sneakers and a denim jacket for an everyday style. That is the definition of a good capsule LBD (lovingly known as little black dress!)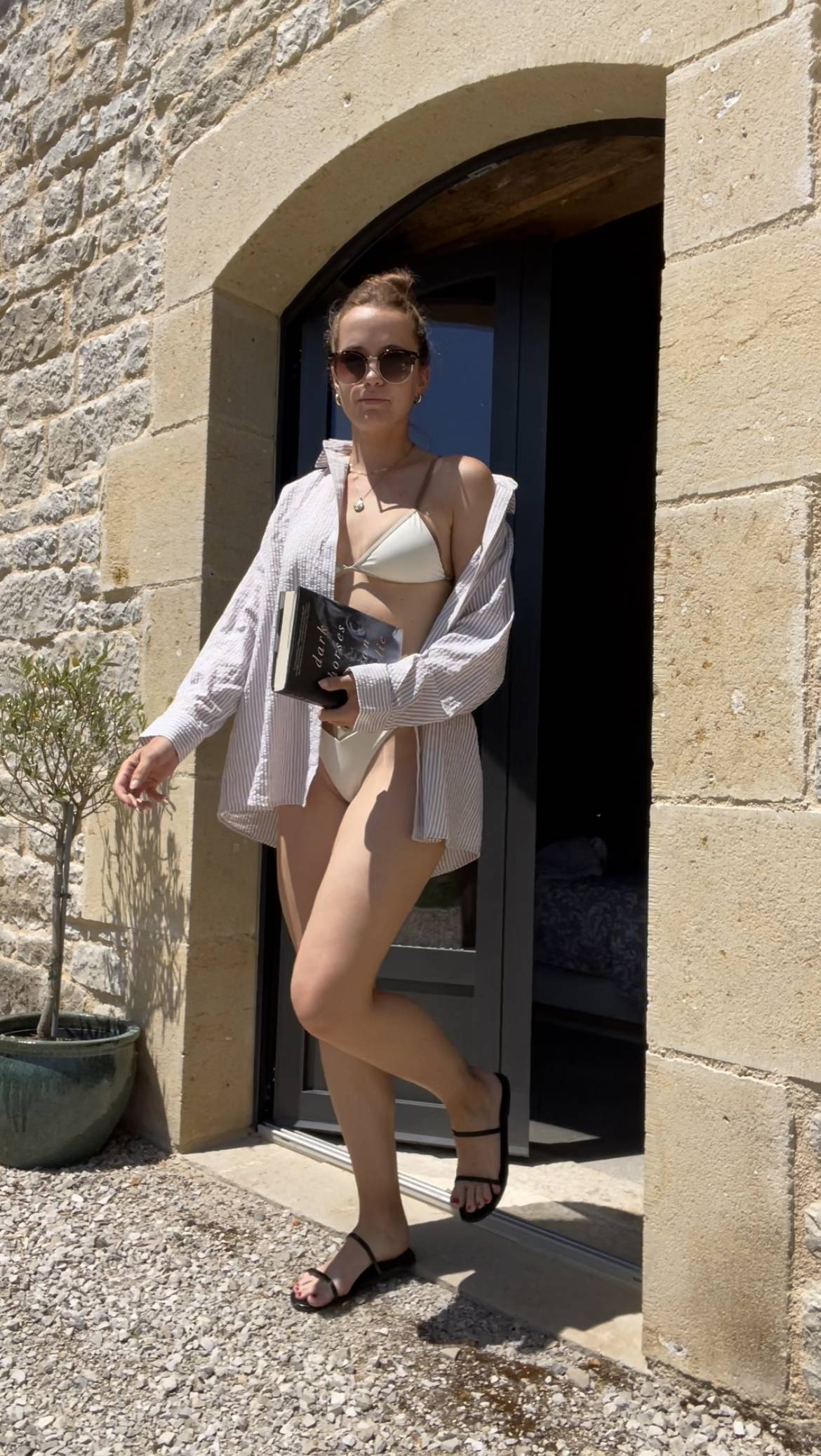 What is it about a oversized button up as a cover up that is just so effortlessly elevated? This one is gorgeous with the thin tan and white vertical stripes. Goes with everything but the subtle pattern is just the right amount of interest. I could go on and on about the sandals but as you can see, I am wearing them in almost every look and will continue to until they wear through the soles, in which case I'll buy another pair.
SHOP: Button Up Top $17 | Sandals $15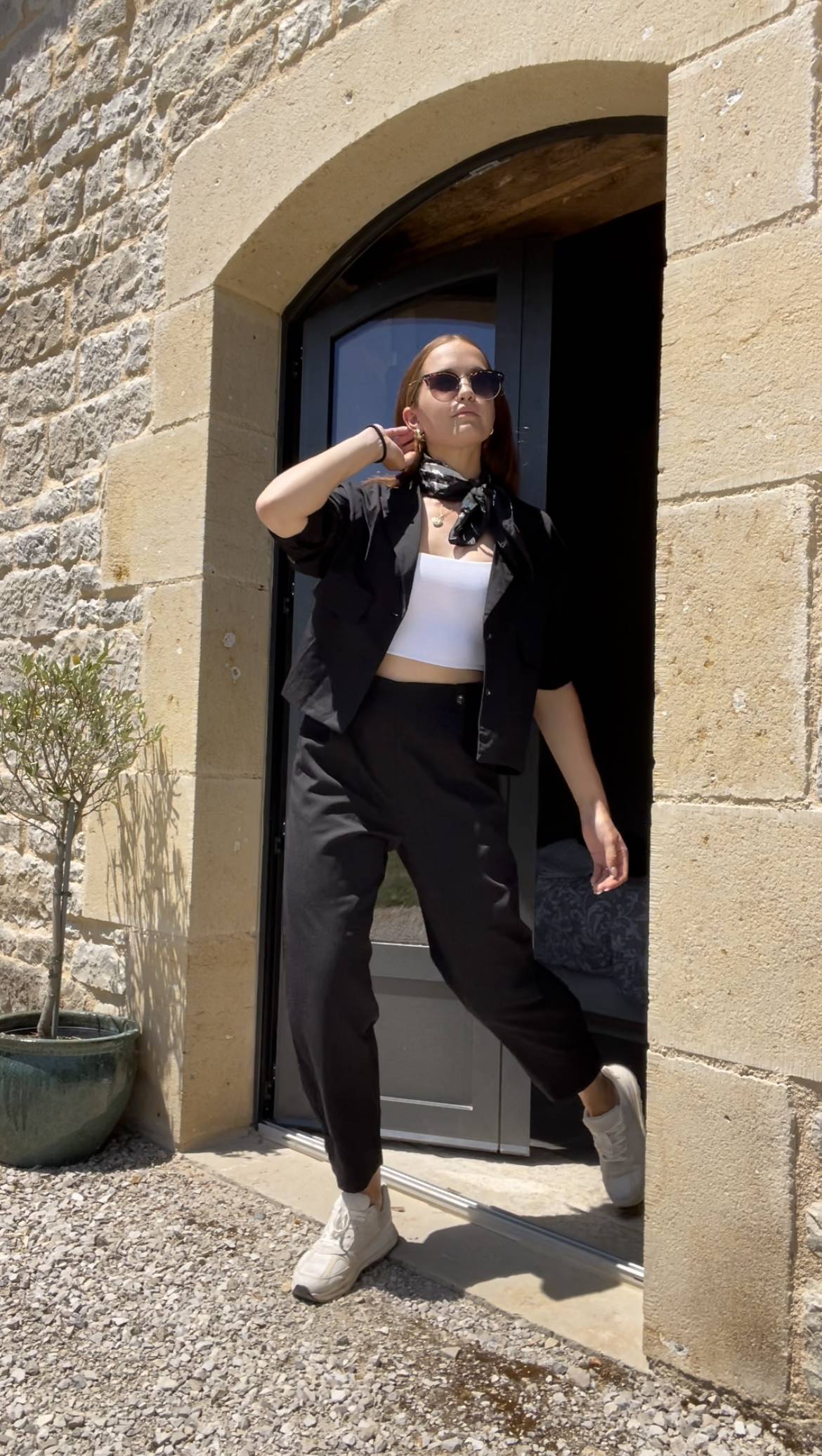 Here is yet another example of a perfect matching set that is amazing and totally on-trend together, but so easily styled separately. I just kept the cropped blazer open, added the SASxMES silk scarf and a cropped tank and sneaks and I'm ready to see the world.
SHOP: Pant/blazer set $34 | Scarf | Sneakers $32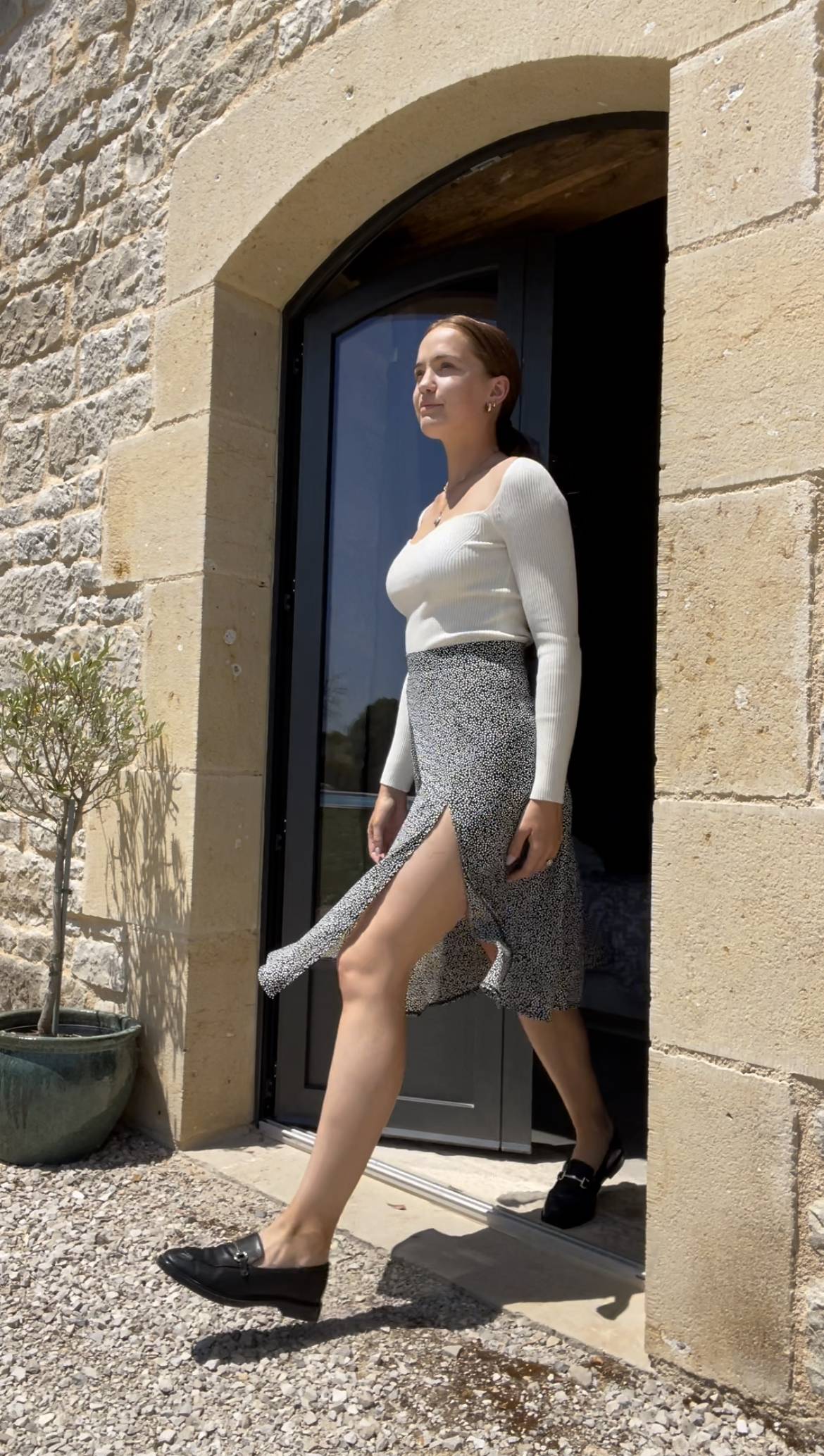 This for some reason made me think of what a modern day Belle from Beauty and the Beast would wear… amiright?! I feel so elegant in this floral midi skirt with just the perfect side slit. This fitted cream sweater has the most feminine neckline I've ever seen. Polish it off with some bit-embellished loafers and you are straight out of a European fairytale.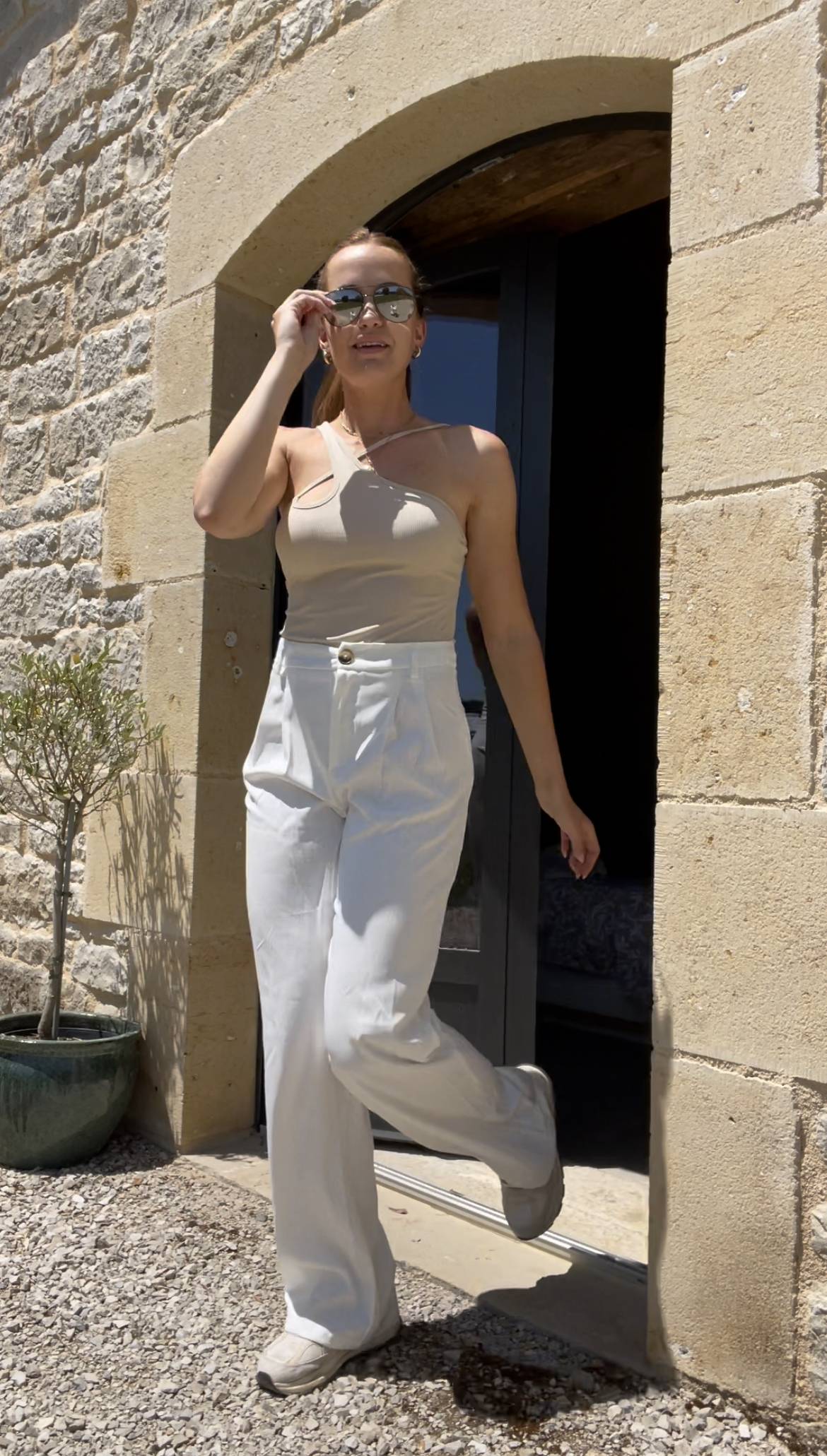 I was skeptical about all this oversized pant business and chunky sneaker combo that is so popular right now, but this… I can get behind. I think these trousers (stretchy and not see-through white trousers I should add) are perfectly oversized. With this cut I love to pair with a fitted bodysuit- this set of 4 are so versatile and so easy to pack.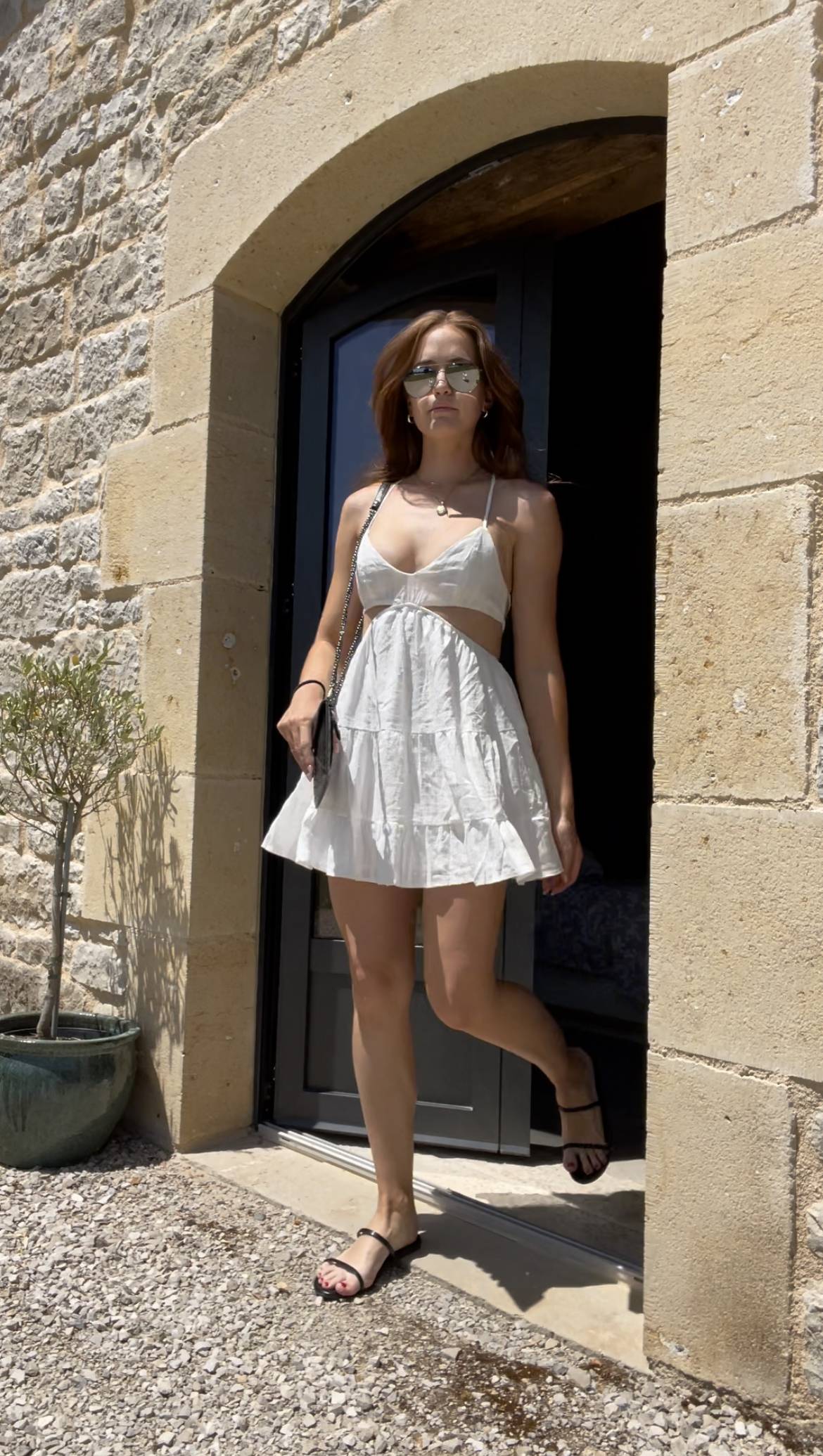 This is the LWD (little white dress, obvi) we all need. Don't worry, I still included a LBD but nothing screams summer like a cute little white number. The material makes so easy to dress up or dress down with heels or a sneakers and a denim jacket. The cut outs are so adorable and flirty and wait until you see the open strappy back!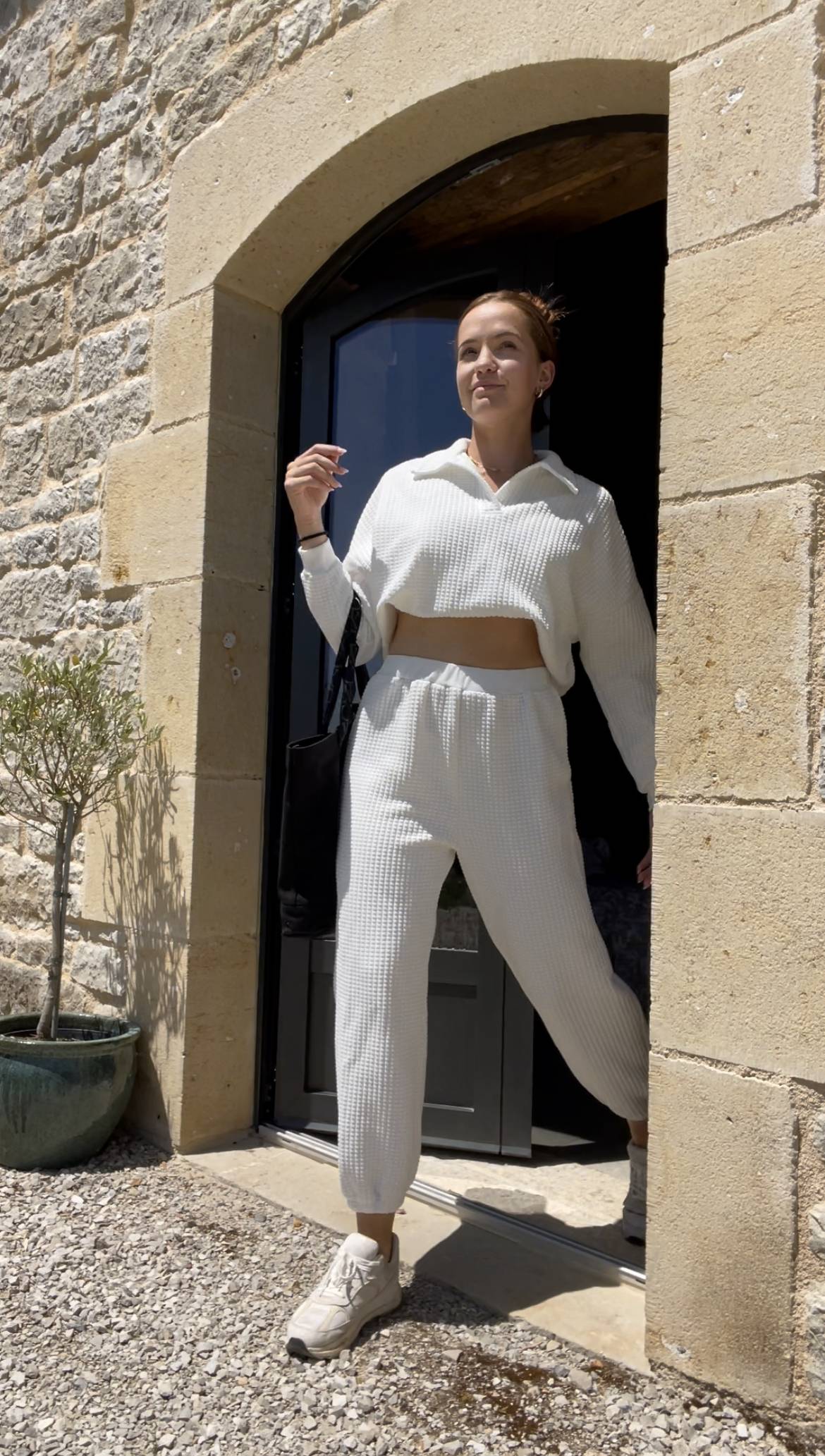 Ahh, the best airport outfit.. but also, who doesn't need a matching lounge set for hanging out at home, running errands, etc etc etc? The waffle texture is so luxe, it feels like you are actually wearing a comforter… in the best way imaginable. I tucked the front of the top into a fitted cropped tank, but it is actually a full length top.
SHOP: Jogger Set $37 | Sneakers $32