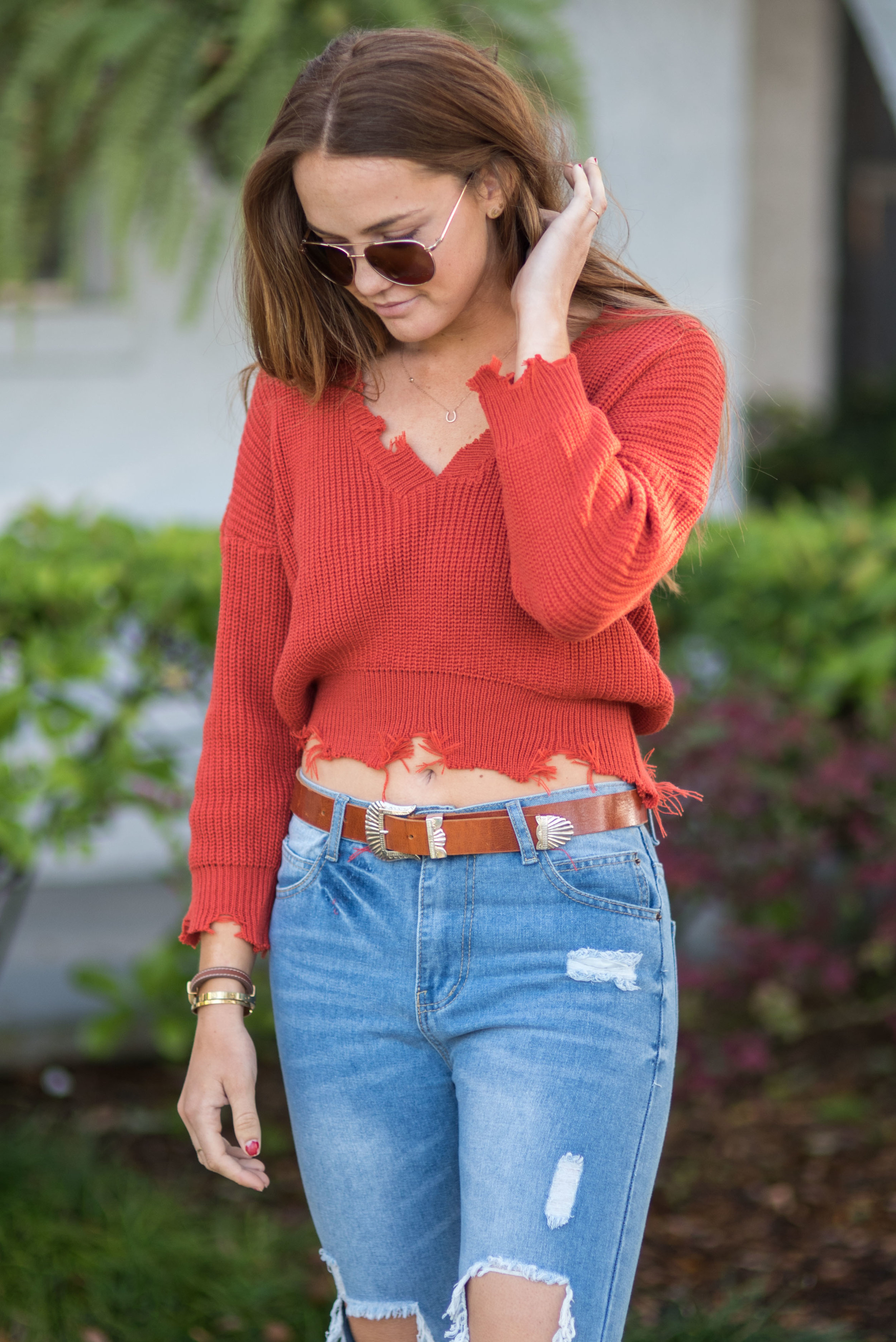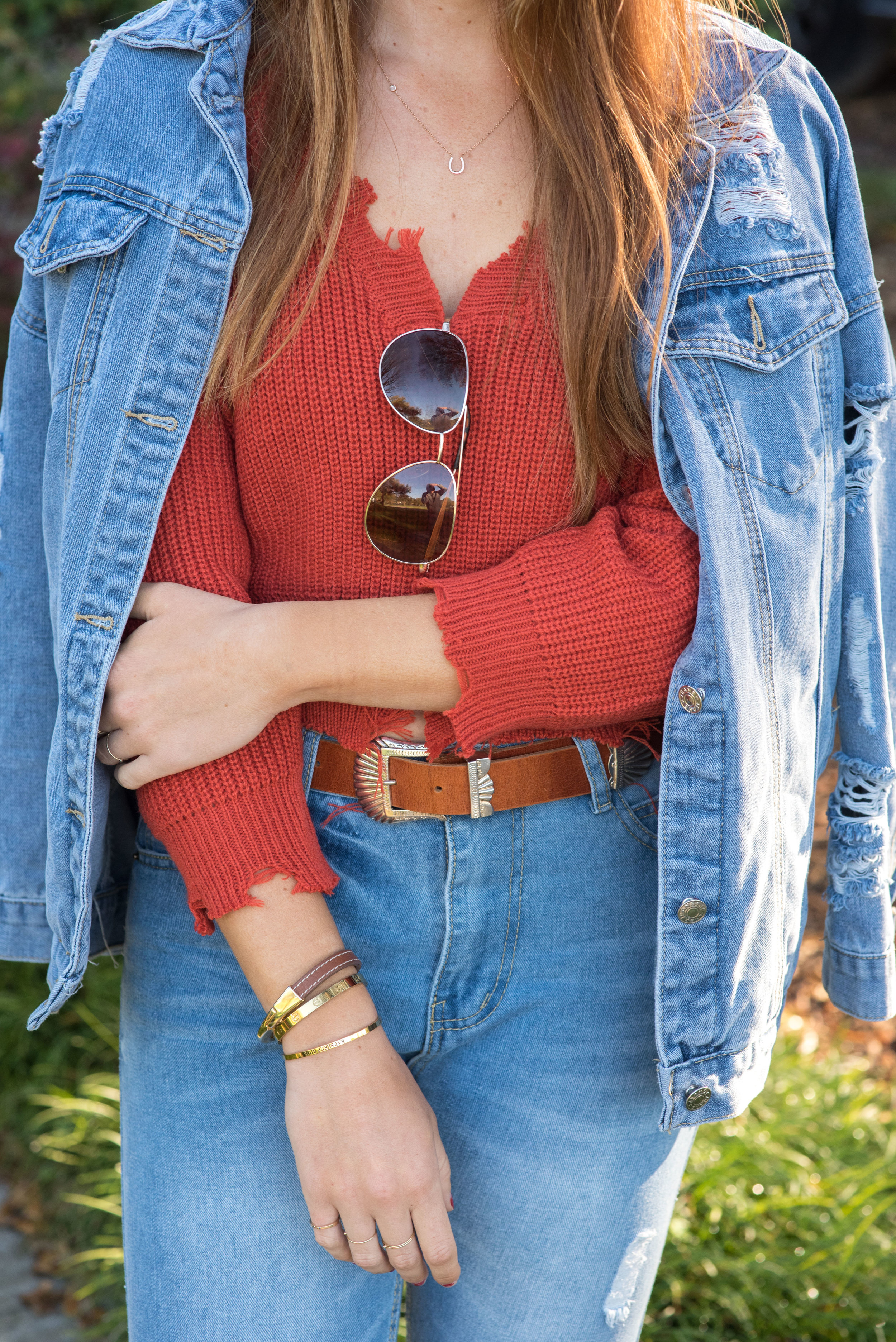 There's a reason this saying is so famous! The key to a great wardrobe is the details. I love wearing basics like this look: Distressed denim, sweater and denim jacket (shop these super inexpensive pieces HERE) and then adding subtle equestrian details to it. I got all three pieces from SheIn and I seriously love their stuff.. crazy cheap and they're always on trend. I also have a 15% off promo code that you're welcome to use:
TYPE IN CODE:
1myequ15
FOR 15% off your ORDER 🙂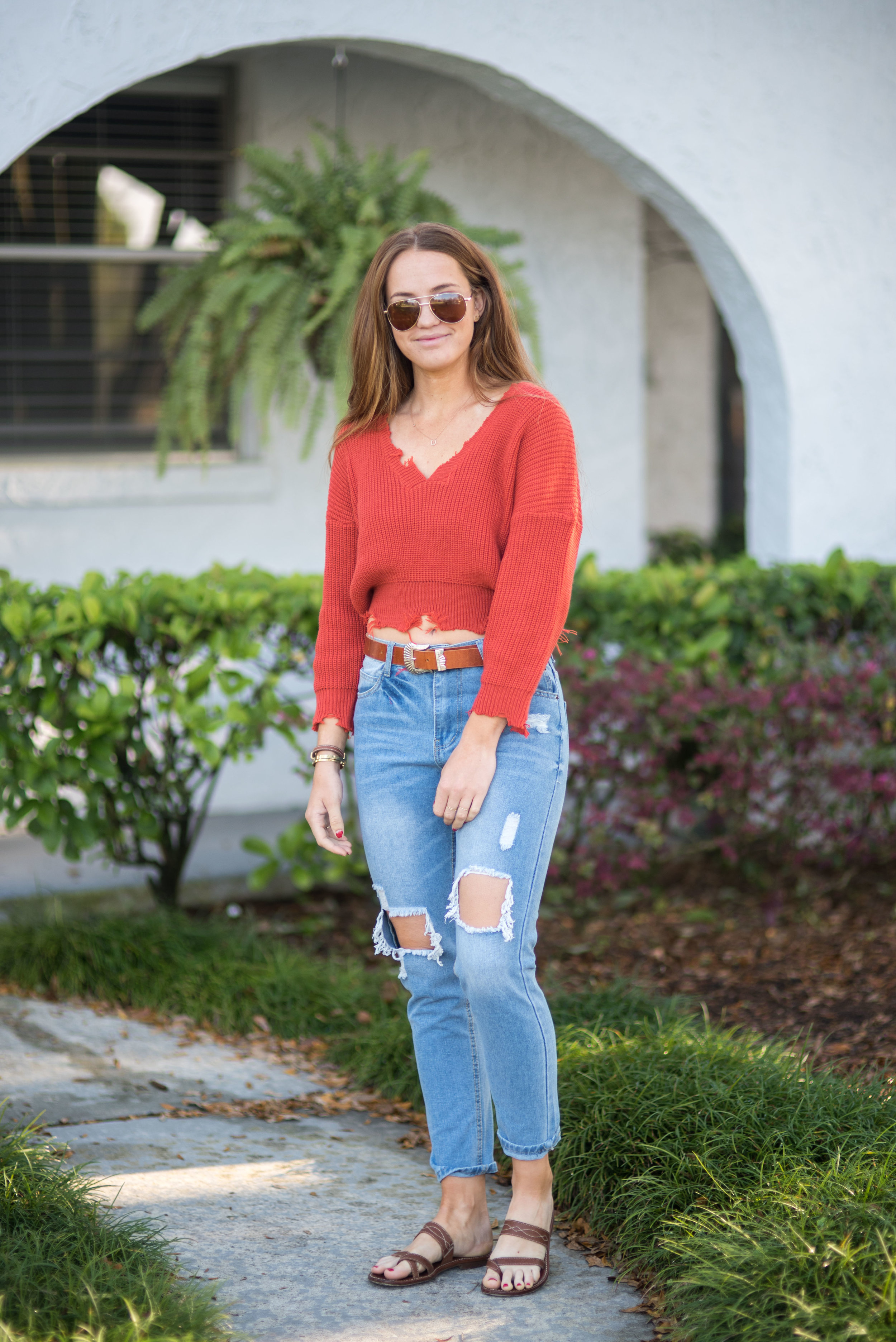 You may think I wear my Katharine Page sandals too much- maybe I do- but it's only because they are so comfortable and never fail to add a little equestrian style to any outfit. These Fairfield sandals in Bridle Brown are one of my favorite investment accessories ever because they are real leather (so they last forever) and the equestrian stitching is just to die for. (You can shop this pair and other KP sandals right here)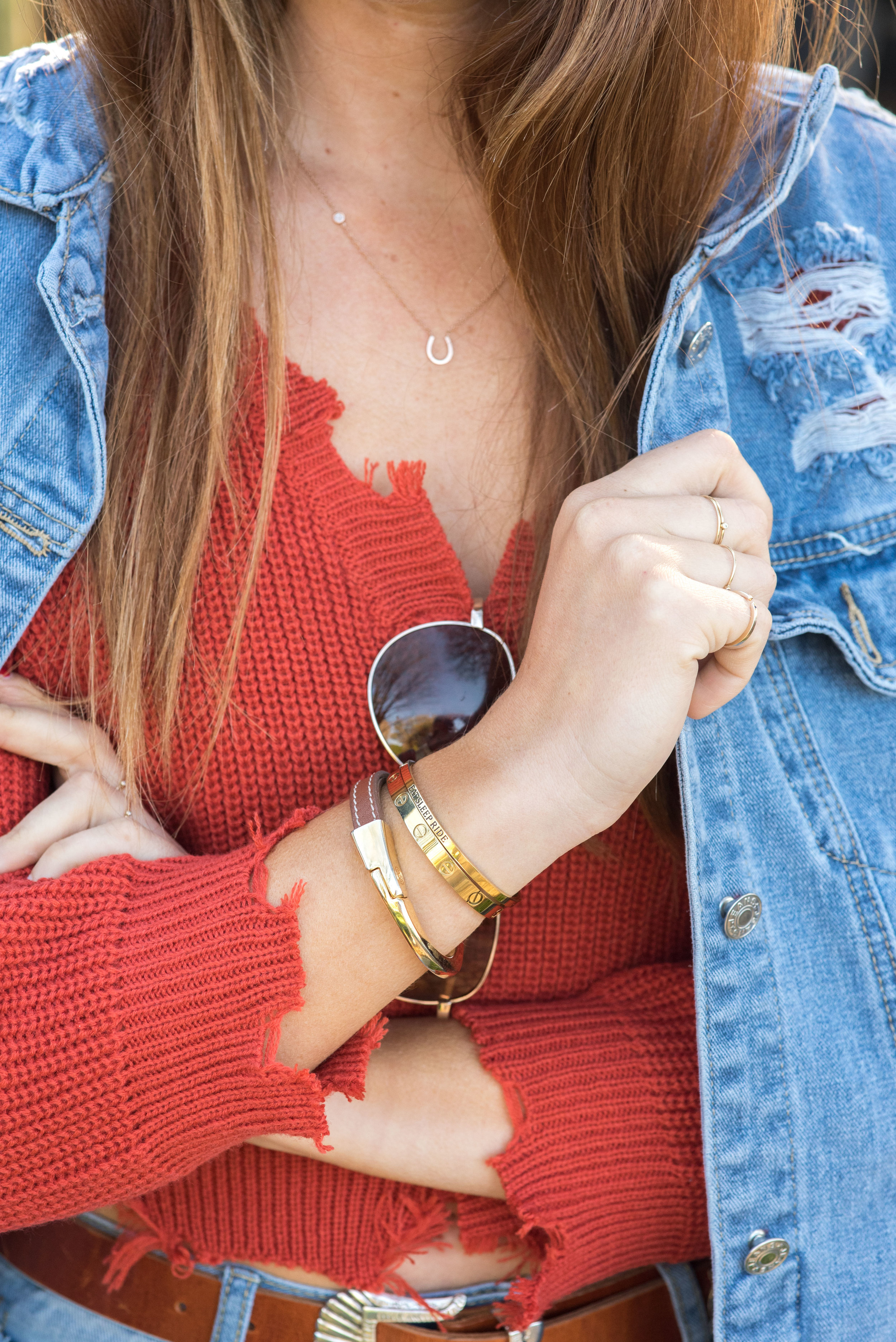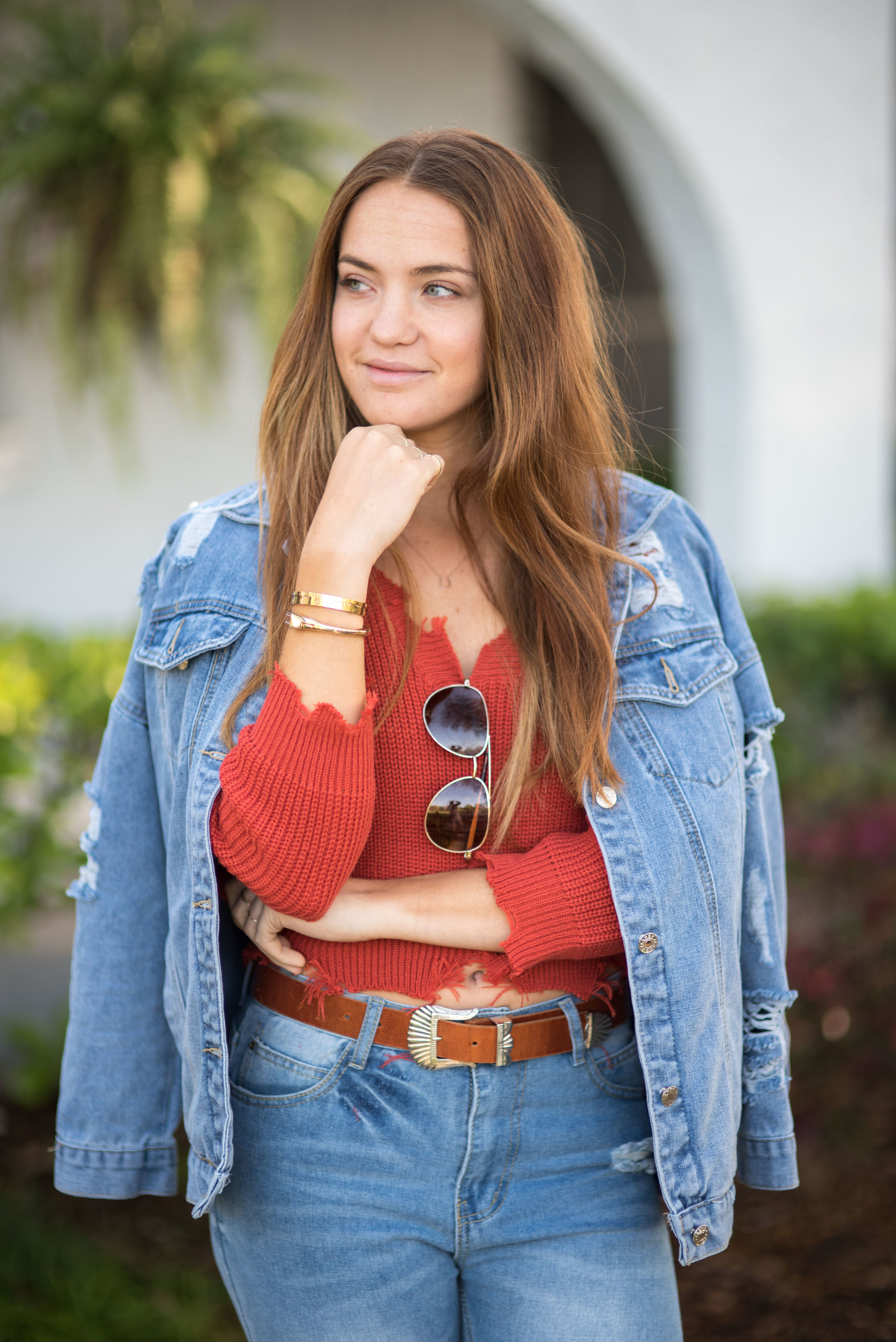 I'm also rocking one of my favorite belts from Street and Saddle: the Chestnut Italian Wrangler Belt. It is just so simple and really helps me look like I'm cooler than I am 😉 It also comes in black which I am currently ordering, BRB!
Last but not least, the jewelry in my opinion seals the deal. I live for a stack of yellow gold bracelets. The little gold bangle says, "Eat. Sleep. Ride" which is just perfect for me because its small and delicate but clearly equestrian. The Cartier Love bracelet is one of my favorite dupes because it is SO durable and will save you SO much money instead of buying the real deal. The best one I've found you shop right HERE! Finally one of my all-time faves, the Surpiqure yellow gold and leather Half Moon Bracelet. I am like it so much because of the leather and the stitching and how it is so modern and chic while still being horsey- very hard line to walk if you ask me! It also has a magnetic closure which is really convenient for popping on and off.
My little stacking rings are by Jen Meyer (used to work for Jen, love love love her jewelry), but my pinky ring is something I wear 24/7 along with my horseshoe necklace. It's no coincidence they are from the same brand, Hattie Banks!
These are all pieces I've collected over time. My advice to you would be to take your time with it. Try to only buy accessories that will stand the test of time- both quality and style. Now don't get me wrong, I love a good deal on fashion, but accessories can be really tricky to fake sometimes. Wouldn't you rather have a great leather bag for 15+ years that was double the cost of a lesser material bag that was only going to be popular for 4 months? While the investment may be steep at first, I feel like you end up spending less in the long run.
xo B