With spring approaching, I am so excited to start adding color to my outfits! When the sun starts shining and weather gets warmer (for some of us anyway), I always love to use more color, but it can be difficult to decide what my skin tone really is and which colors look best with it. Today I've put together a guide to help you use the best colors for your skin.
An easy way to start to learn about your skin tone is to decide if it is warm or cool. To do this, all you need to do is look at your veins! Blue veins mean that you have a cool skin tone, and green veins indicate a warm tone. Your veins are actually always blue, but with yellow pigment in the skin, they look green. If you're not sure what your skin tone is, check out the short quiz below.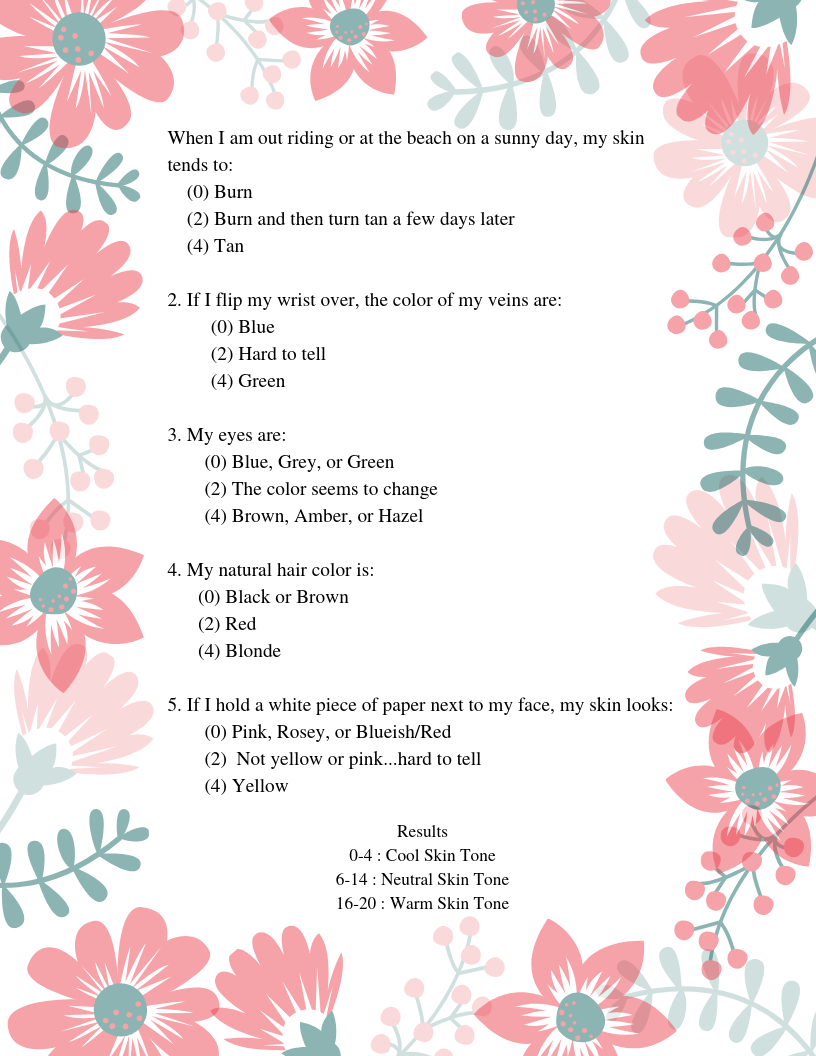 If you've determined that you have a cool skin tone, the best cool colors for you are those "inspired by the sea" like blues and deep purples or colors like frosty greys or whites and light pinks. For these "inspired by the sea" type of colors, I love these Cavalleria Toscana breeches and top, and this gorgeous lighter blue top by Anique. The colors of these are on the cool spectrum, and highlight cooler skin tones super well. If you're looking to add grey or white to your outfit, I really like pairing these white Equiline breeches with the grey Aztec Diamond shirt, but if you're wanting a bit of color, this collared t-shirt by Horse Pilot will do just the trick. And of course even in sunny FL it can get chilly, so for those days this Alessandro Albanese jacket is the perfect addition.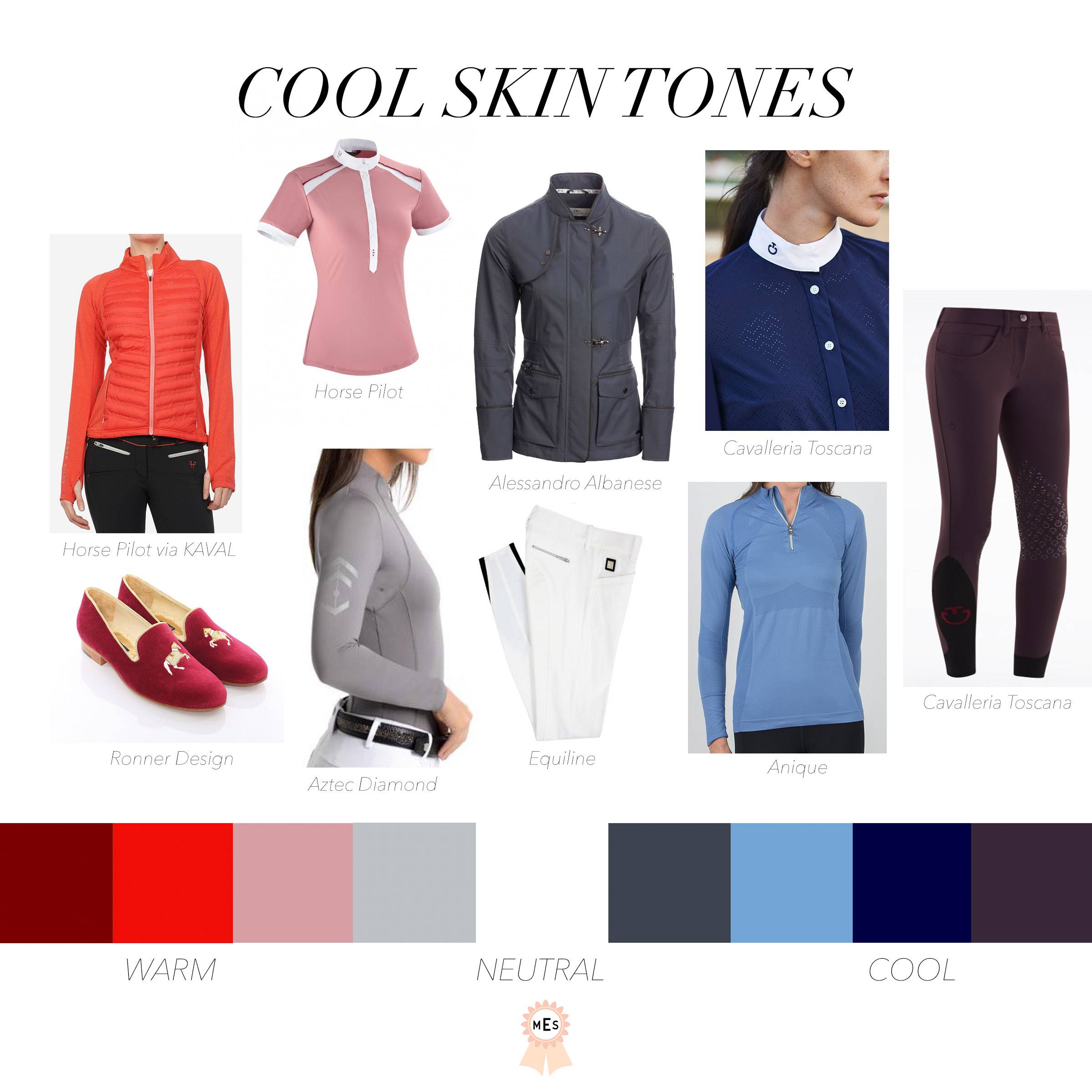 If you're looking for some warmer colors a cool skin tone, bright red colors will look great on you. Just be sure to wear this color sparingly as a whole outfit of it may overpower you. This Horse Pilot jacket from KAVAL is perfect to add this pop of warm color, without overpowering your skin tone, and for days when you may not need a jacket, I love these Ronner Design shoes. The color on them is perfect for any outfit and they are very equestrian chic.
---
If you're like me and have a more neutral skin tone, it's best to choose softened colors like raspberry, lavender, or lemon. True red is also a great color for you! Sometimes I have trouble adding different colors to my outfits, but it always looks so nice in the spring so I will definitely be adding these pieces to my regular spring wardrobe!
These tops by Aztec Diamond and Free x Rein add beautiful tones to any outfit. If you're looking for a more subtle way to add some color, this clutch from Free x Rein will do just the trick. I also am a huge fan of these RJ breeches in Dove Grey because not only do they look great on my skin tone, but they also match well with almost any top I pair them with. I especially love this Le Fash top with them, very chic!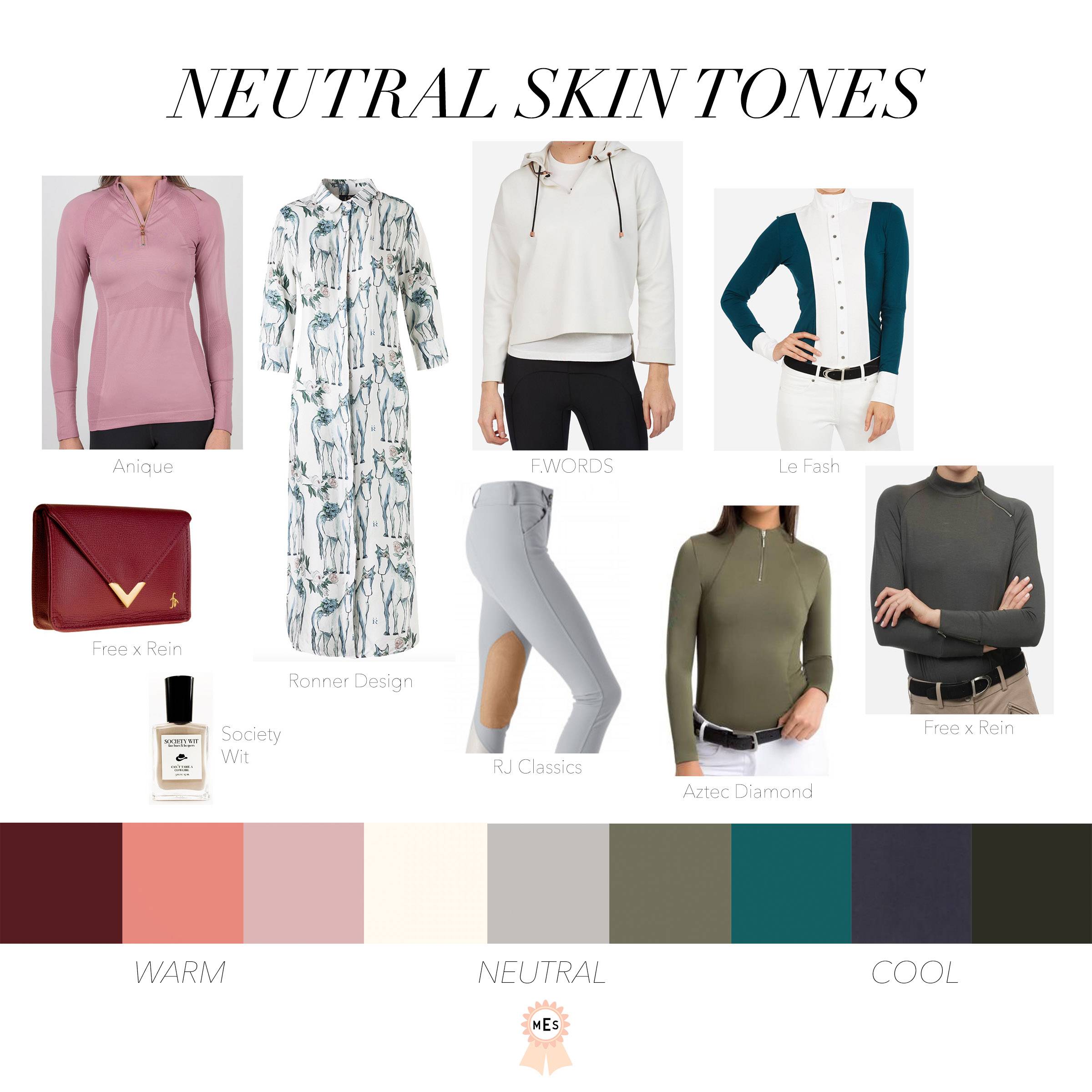 For days when I'm feeling more casual or I'm not riding (is there ever a day that I don't ride!?), I love these tops by Anique and F.WORDS. Each of them can be paired with breeches for a day with the ponies or with leggings for days away from the barn.
Whether you're at a horse show or out for the day, I absolutely love this Ronner Design maxi dress, it has just the right amount of color for neutral skin tones and is perfect for any occasion.
---
Last, but certainly not least, if you have a warm skin tone, rich, earthy shades will look great on you. You can easily pull off peach and coral, as well as different shades of brown, so I've put together some pieces that will look amazing on you!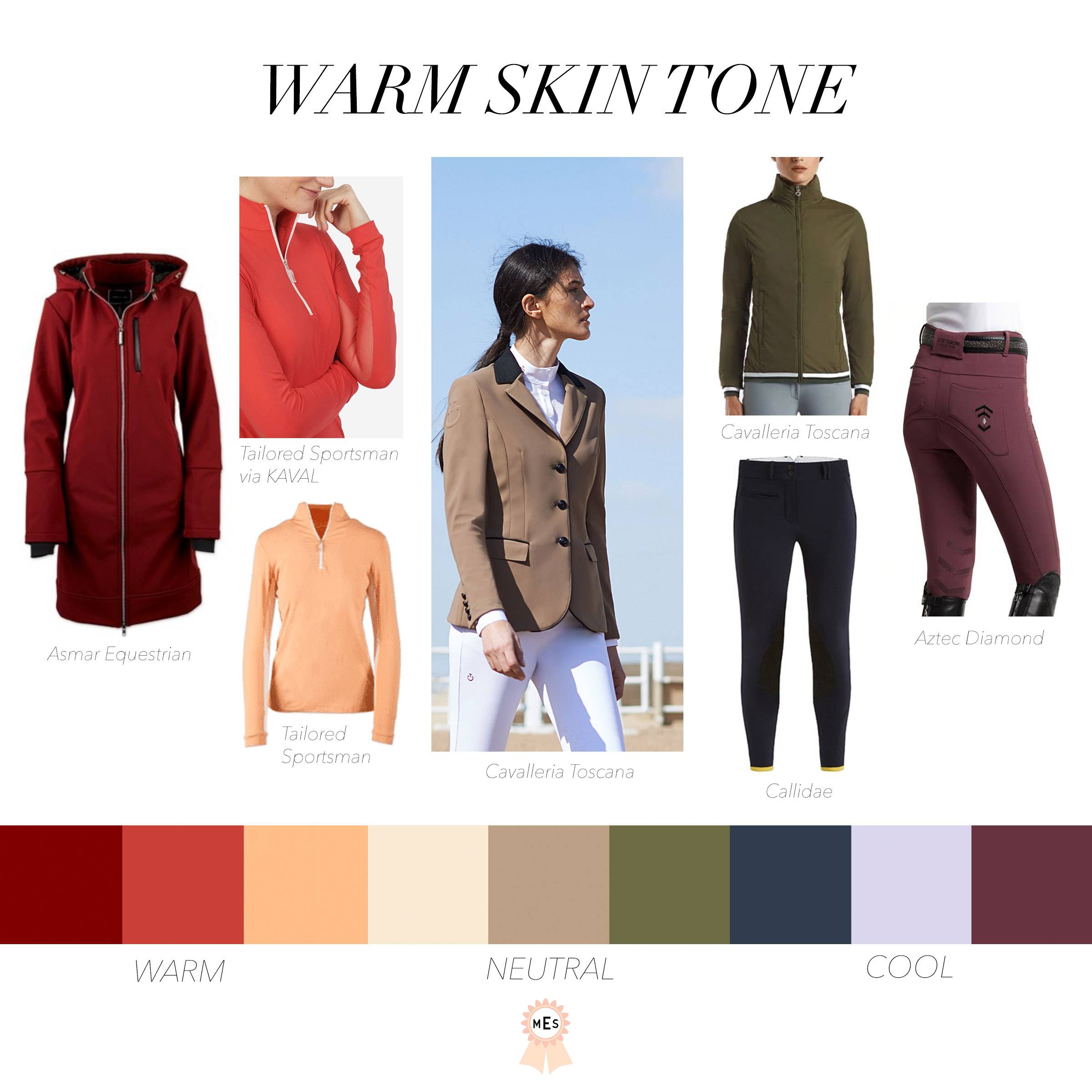 If you can't tell, I love Cavalleria Toscana, so I couldn't resist putting a few more of their pieces in here. This show coat and olive green top are gorgeous and will highlight warm skin tones super well.
With spring coming, that means it's almost sun shirt season, so I had to add two Tailored sun shirts that will look amazing at home or in the schooling ring at a spring show. And, since in some places it isn't quite warm enough to wear sun shirts yet, this Asmar Equestrian jacket is perfect for those colder days.
These Callidae and Aztec Diamond breeches will look great with almost any top and will be the perfect cool colored accent for warmer skin tones. Both pairs are super quality, not to mention gorgeous!
As a good rule of thumb, if your skin tone is very pale, it's best to avoid stark black or white colors, those with a more medium skin tone have more freedom when choosing clothing colors. Anyone with darker skin should avoid darker colors, especially during spring.
As much as I love the winter in Southern Florida, I can't wait for spring to come! I hope you love these outfits and fun colors that go with them. Happy Spring!
xo, Bethany