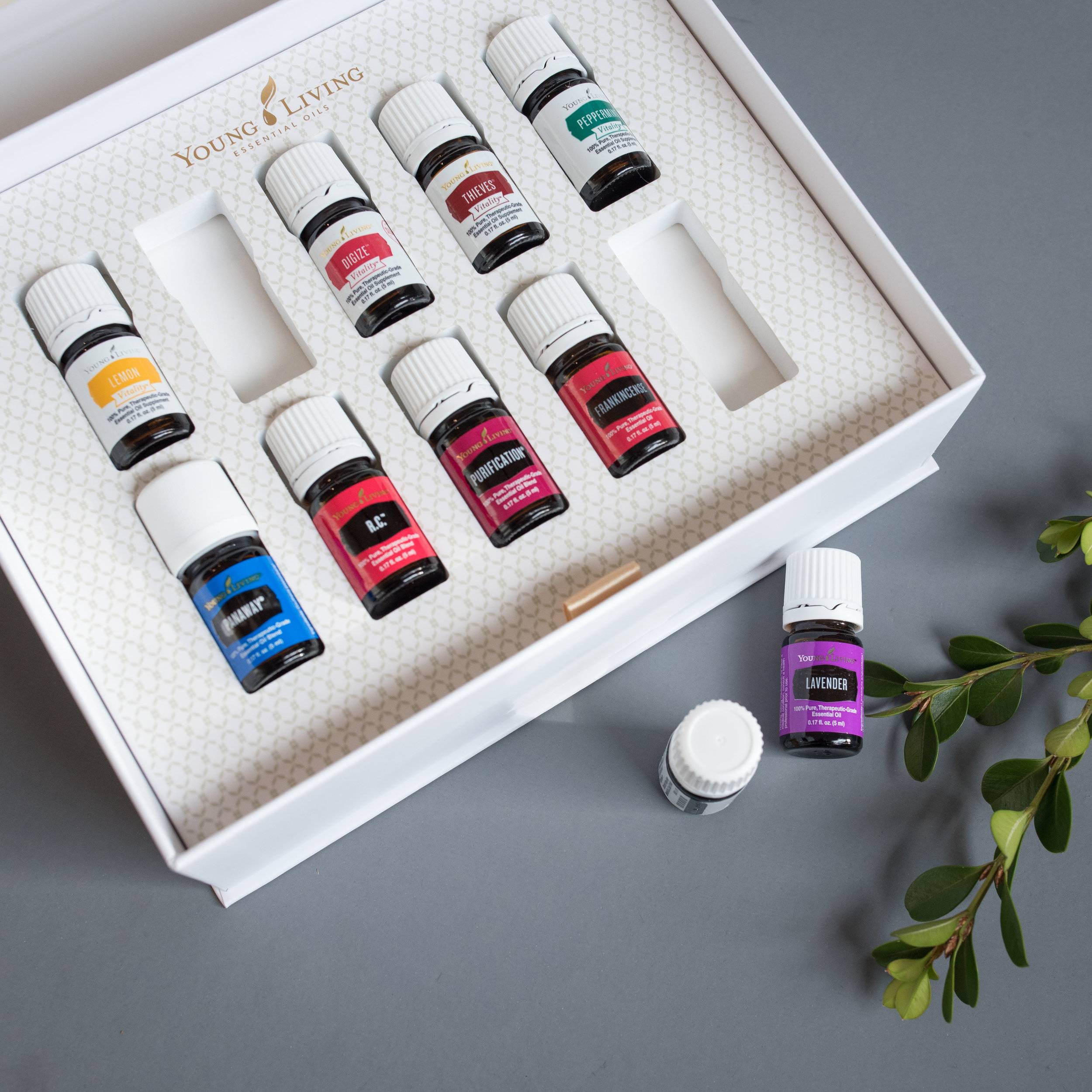 Over the last several years, essential oils have gained popularity immensely. When they first started coming out, I wasn't very convinced of their effectiveness. Now, I see how they can truly help both humans and horses. My sister, Bridget, sells Young Living Essential Oils and is also a horse rider. I first saw the effects of essential oils when she was able to ride our HOT HOT HOT chestnut thoroughbred mare around bareback in a field. We could never, ever do that before and when I asked her secret? She told me, "Essential oils!"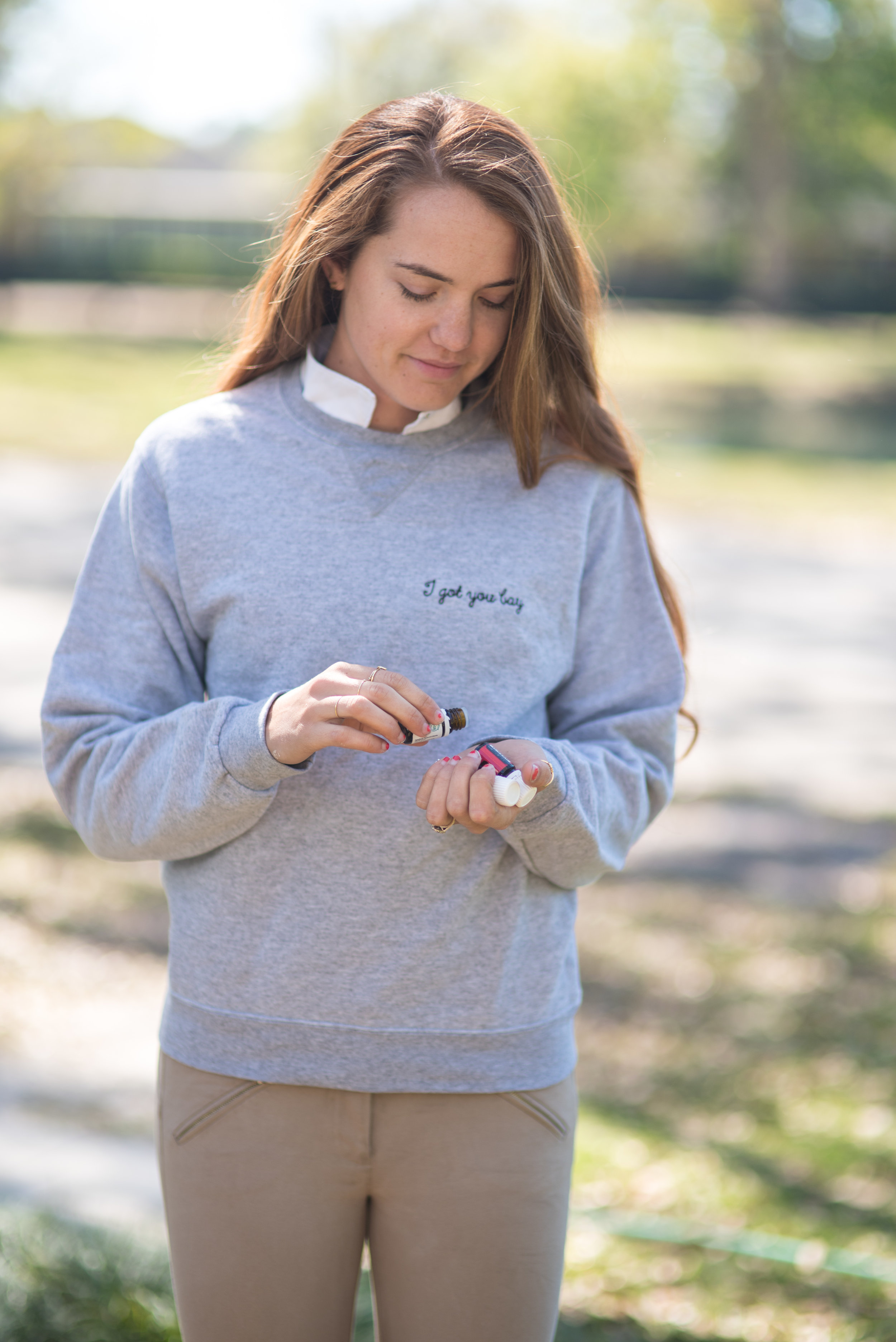 Not only do essential oils smell great, Young Living has an oil to support every system in your body. I have the starter kit because it comes with all of the most popular oils AND a diffuser AND some other great products, too. What sets Young Living apart from every other oil company is the fact that they have an FDA approved vitality line of oils that you can ingest, not just diffuse or set on your skin. This makes the oils that much more effective and healthy for your body… and they are the only oil company on the market that can do that!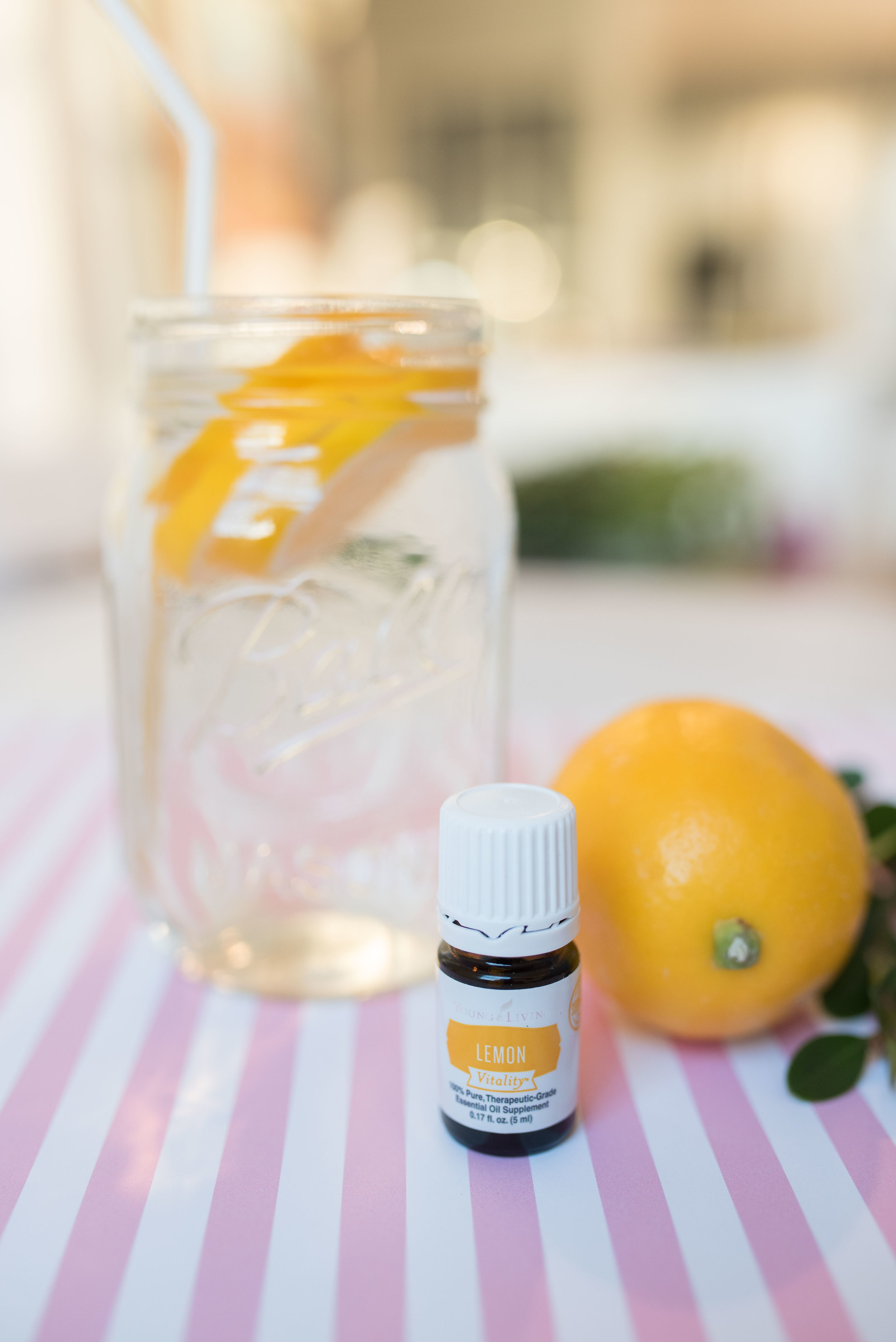 For me, I am obsessed with the Lemon essential oil. There are so many great uses for it, too. I love to throw a couple drops in my diffuser because the smell is heavenly. My sister also taught me to add one drop (75 drops in one bottle!) into my water. It's actually way better than a wedge of lemon because in one bottle of lemon essential oil, you get 75 organic, cold pressed oil from 75 rinds of lemon. This quantity and quality of lemon in a single drop supports your liver and has amazing digestive benefits.
There are so many incredible oils, but I think we should move on to the ponies. I included this Young Living animal guide of Do's and Don't's to safely apply.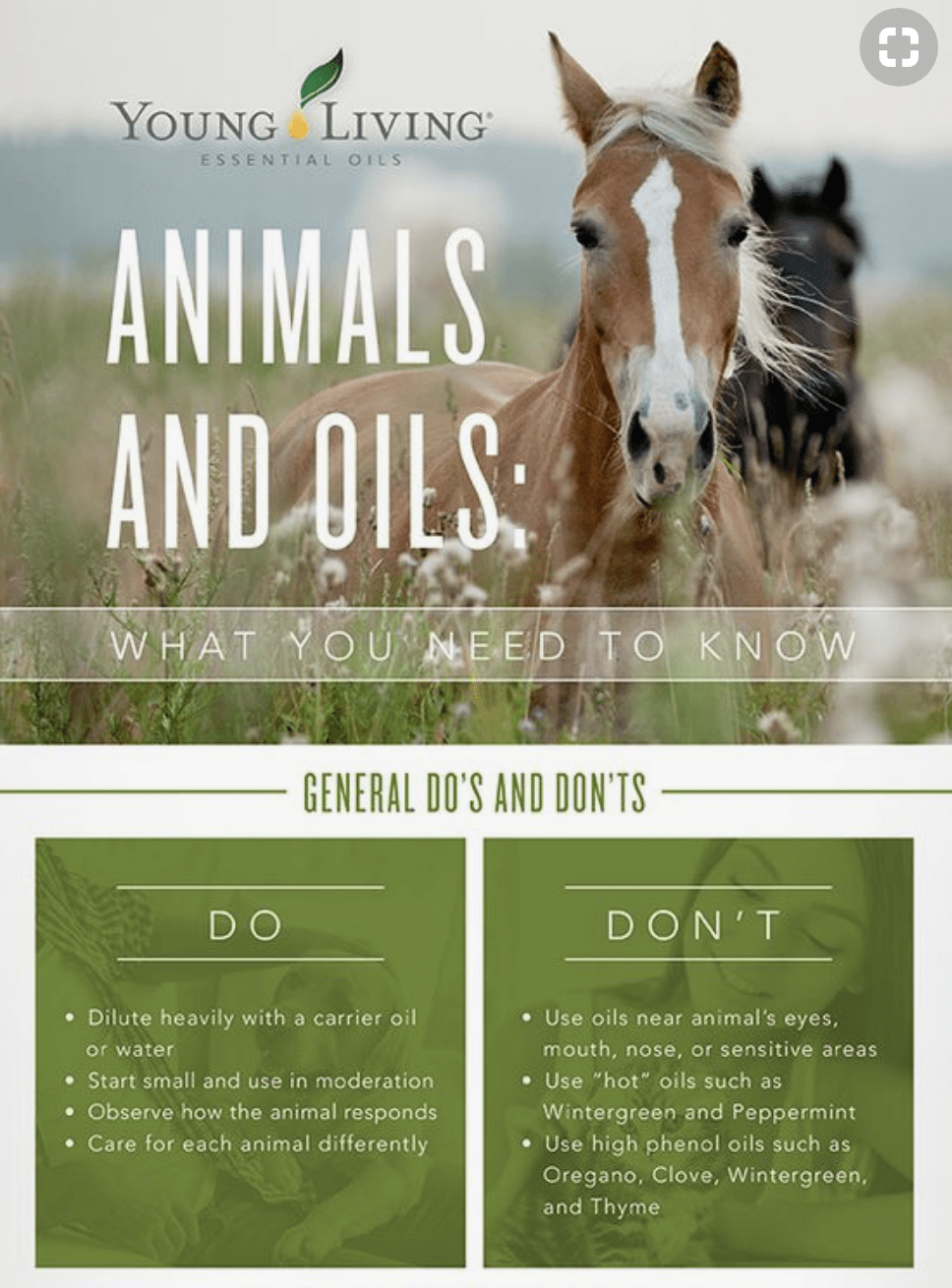 Note: While this chart tells you to avoid Peppermint, there are actually numerous benefits to using this oil on horses. I'll show you below how to safely use Peppermint Oil on your horse. Here are some of my favorite Young Living oils and concoctions:
FLY SPRAY. At the barn, we are always in constant need of fly spray. Flies just love horses and during certain times of the year, the fly infestation can get really bad. However, lots of the fly sprays on the market are filled with harmful chemicals. If you're looking for a natural recipe, try adding 2 cups of white vinegar, 4 capfuls of baby oil and 10 drops each of lavender, eucalyptus and peppermint essential oils. Shake before each use and you have yourself a natural and effective fly spray! (Lavender and Peppermint are included in the starter kit!)
INFECTIONS. Whether your horse was playing too hard outside or an allergic reaction, infected areas are fairly common for your horse to have. Soothe and support these wounds naturally with Thieves. There are tons of benefits of thieves for you too. This is my sister's favorite oil at home for her family as well. (Thieves will be in your starter kit!)
COLIC. I have not had a horse colic since using Young Living Essential Oils, but there are loads of people online who have had amazing results from using the oil DiGize on their horse while showing symptoms of colic. For humans, DiGize helps your digestive tract, so it makes sense that DiGize could aid in colic. Consult your vet first, but if you are interested in using DiGize for colic, read this article here! (DiGize is a newer addition to the starter kit)
SORE MUSCLES. Peppermint oil is amazing for sore and tired muscles among other things. I like to add a few drops to a bucket of water and epsom salt. I will put that mixture on a horse's legs and back after a hard lesson or at the horse show. The combination of the salt and oil is a cooling and anti-inflammatory effect that is natural and smells great!
CALMING. Do you have a high-strung or nervous horse? (This is the oil my sister used on our crazy thoroughbred mare!) The oil Vetiver is an oil blend made up of several different oils that really supports calming and focus. My sister would rub Vetiver on her hands and cup her hands over our horse's nose and she would actually inhale the Vetiver off Bridget's hands. We wished we knew about this oil sooner for horse shows or days we were jumping at home! You can also add a few drops to a carrier oil and rub direction on your horse's nose for the same effect.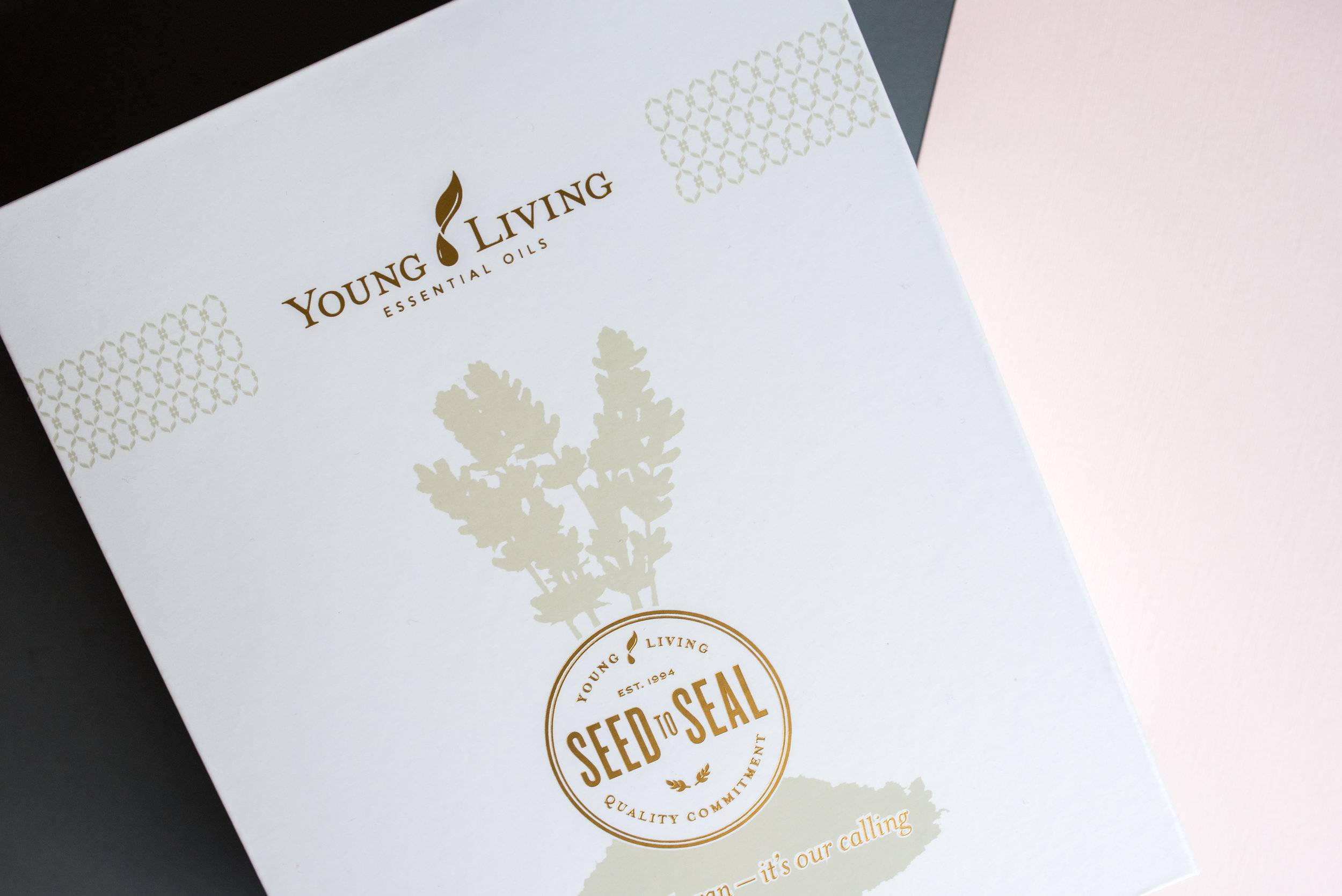 There are many more benefits to Young Living Essential Oils for hoses. Go follow Bridget on Instagram (we are doing a GIVEAWAY on our IG accounts for some free oils!)- she talks about different oils almost daily and gives tips on their uses and what their benefits are. If you are interested in purchasing these oils or even the starter kit like me, you can click on her link here and get started— Bridget will include in a free gift just for going through her!
xo, B