KAVAL x My Equestrian Style Series 1:
How To Match Any TS Top and Pair of Breeches Together
The Tailored Sportsman is clearly a beloved brand among the Hunter and Equitation riders of today, and who can blame them? TS tops are buttery soft and breathable. The breeches come in every color under the sun with the iconic vintage knee patches. The Tailored Sportsman has been the riding habit staple for decades! While this is the case, I often receive requests on how to pair a certain Tailored Sportsman item with another, and I'm here to tell you you can throw the misconceptions of conventional matching out the window! KAVAL carries the most relevant and up to date colors that you can virtually pair any TS top with a pair of breeches KAVAL has. Or are you on a budget? I'll show you the best Kaval TS colors to go with everything in your current wardrobe. But don't take my word for it; keep reading and I'll prove it!
In the equestrian industry today, I believe we have gotten a bit too conservative with our matching habits. For instance, you may own a pair of gray breeches and whenever you wear them, only two potential tops come to mind as potential "matches." Well I'm here to tell you that with KAVAL's Tailored Sportsman color selection, your pair nearly every color combination together. Still not convinced? Let me start by showing you the KAVAL x TS colors that- I promise- will go with everything you already own.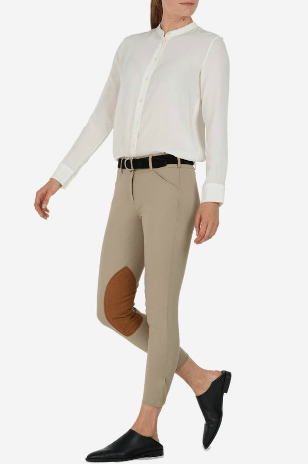 Let's start by the obvious: The Tailored Sportsman Trophy Hunter Tan Breeches.
In the Hunter/Equitation world, these tan breeches are an absolute must in your riding wardrobe. KAVAL carries the classic tan TS Trophy Hunter in a front zip low rise (pictured here) as well as a side zip mid rise. The zip and rise is completely based on your comfort and style preference, but as of right now, the front zip low rise is most popular. This pair is equally great for at-home hacks and entering the show ring, which makes it an obvious first purchase if you have a specific budget. Another great thing about this tan? It goes with every single TS top KAVAL offers. Go ahead- go on their Tailored Sportsman selection and I dare you to find a TS top these breeches won't match beautifully with!
I had a hard time picking a #1 go-to TS top color, so I you can choose from my 3 favorite:
If you are able to buy three TS tops, these are the three to start with. If only two, I'd go with this TS white top and either navy or black depending on which you color you enjoy wearing more often. My absolute favorite color? May sound boring, but it would have to be white if I could only purchase one! It goes with everything; keeps every look crisp and classic; and surprising machine washes very bright and clean no matter what messy situation I get myself in at the barn. These three colors shown above go with black, navy, gray, hunter green and the brighter colored breeches KAVAL carries. You truly cannot go wrong!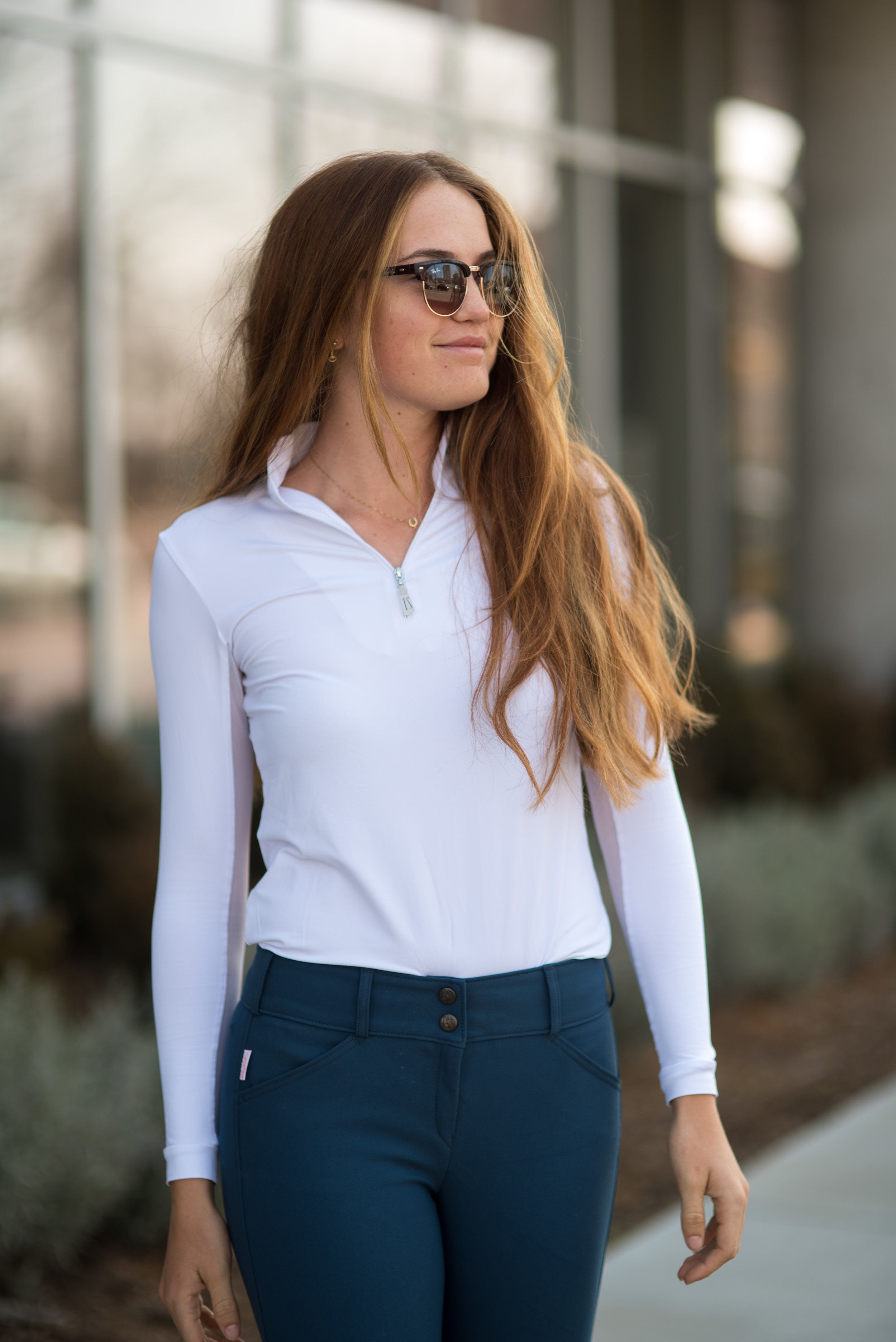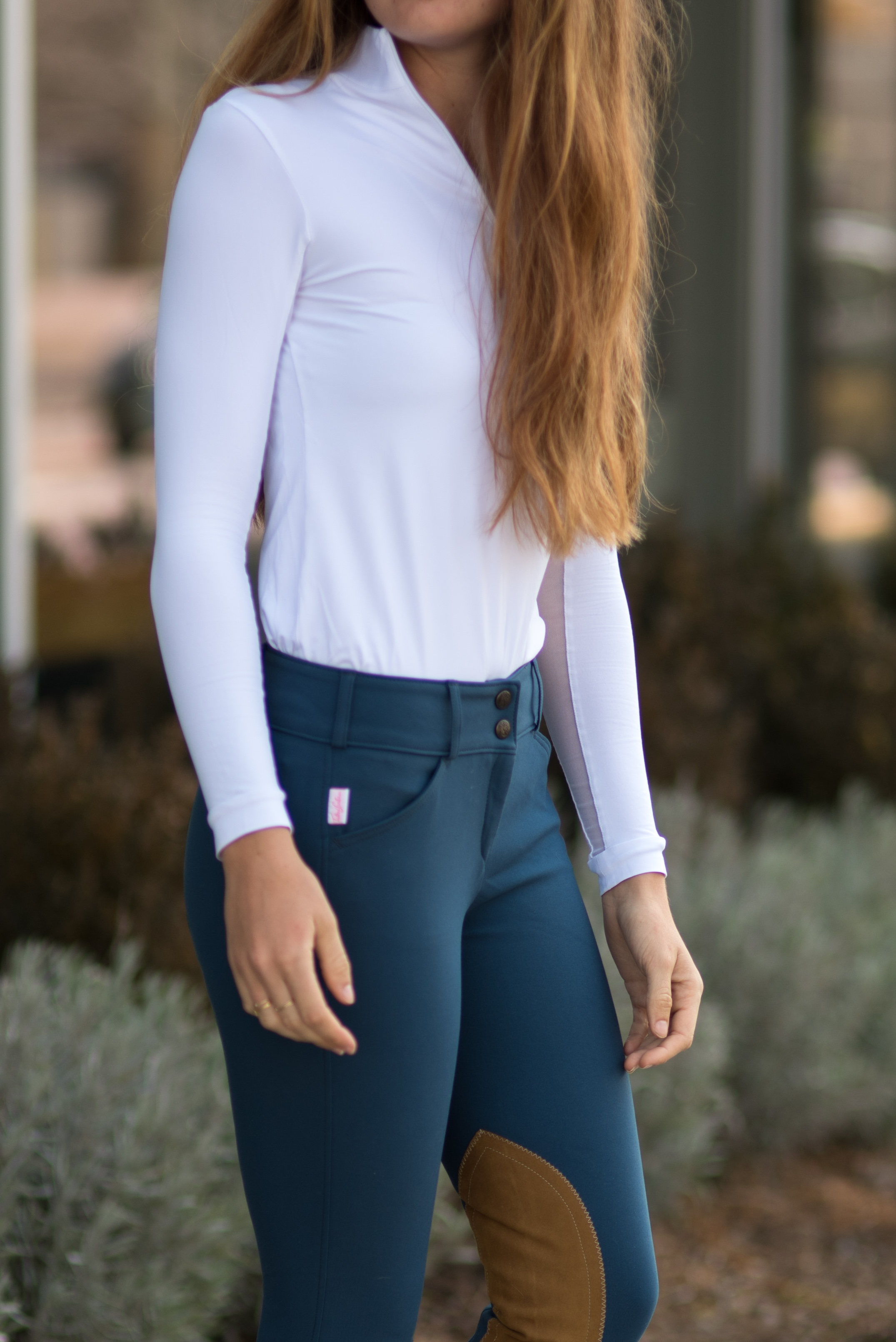 Feeling a bit more empowered and ambitious? Let's talk colors!! KAVAL offers some of the most fashion-forward colors TS offers. I have the free KAVAL x TS color guide available below, but here are a few favorites. I usually like to start with my breeches color when putting an outfit together:
These two pairs of colored breeches are some of my go-to's as far as breeches are concerned. I don't typically wear flashy breeches colors, but when I'm looking to add a little color to my look, these are two pairs that I always gravitate towards because they are so versatile. I've worn the gorgeous green-gray Rosemary color with white, black, navy, blue, tan/camel, mint/aqua, maroon/burgundy, brown and ivory tops and belts. I've styled the muted blue Bluesy breeches with all of those Rosemary color pairings plus some reds, orange, yellow, other shades of blue and purple. If you are pairing TS colored breeches with a TS colored top, I usually go with a basic leather belt in black or brown.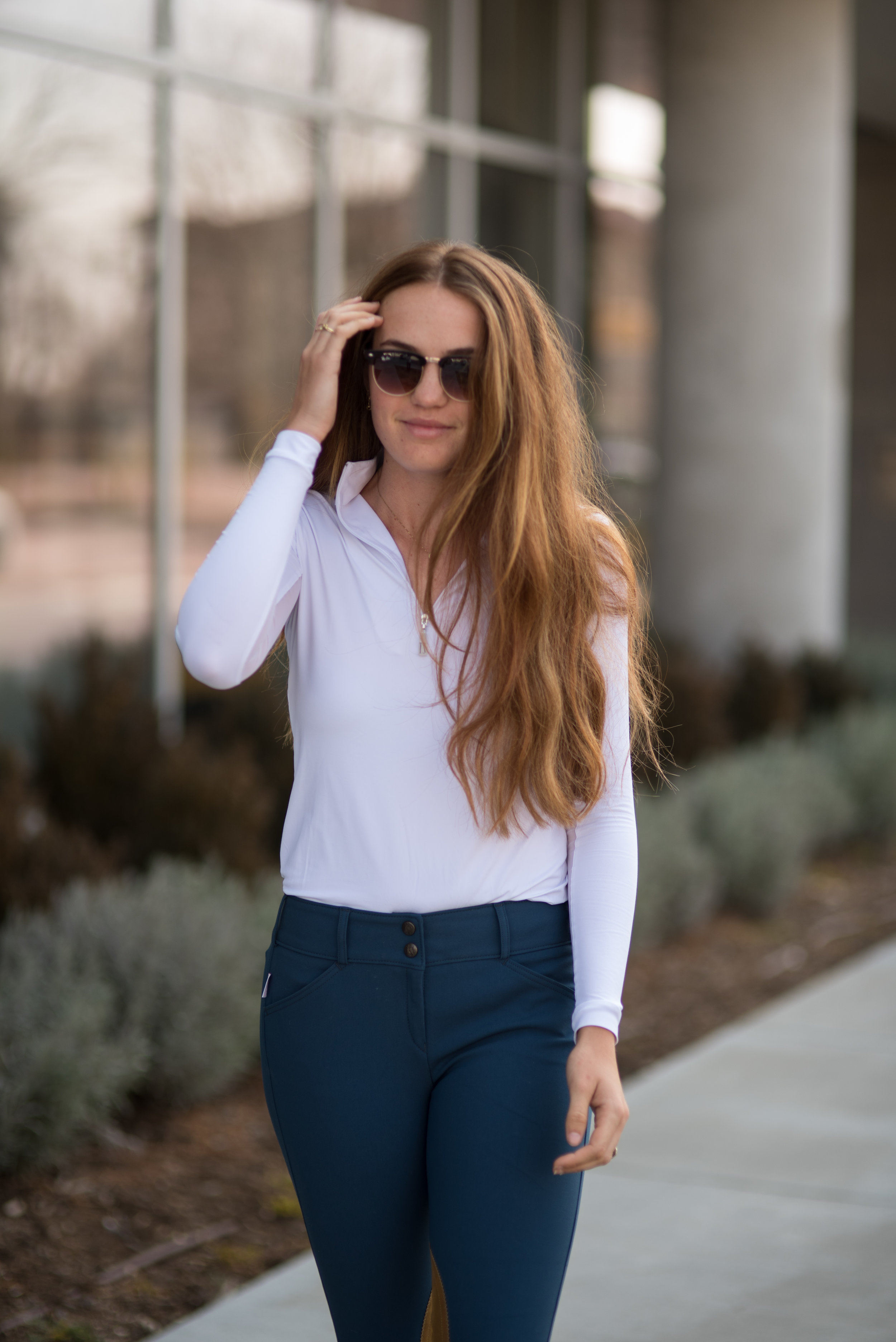 Do you own a few TS colors that are tricky to match?
Click HERE to sign up for my totally free KAVAL x TS Matching Guide!
Stay tuned for Series 2 of KAVAL x My Equestrian Style coming soon! Until then-
xo, Bethany
myequestrianstyle.com | @myequestrianstyle
In this post: Styled images by My Equestrian Style, Stock images by KAVAL Inc.