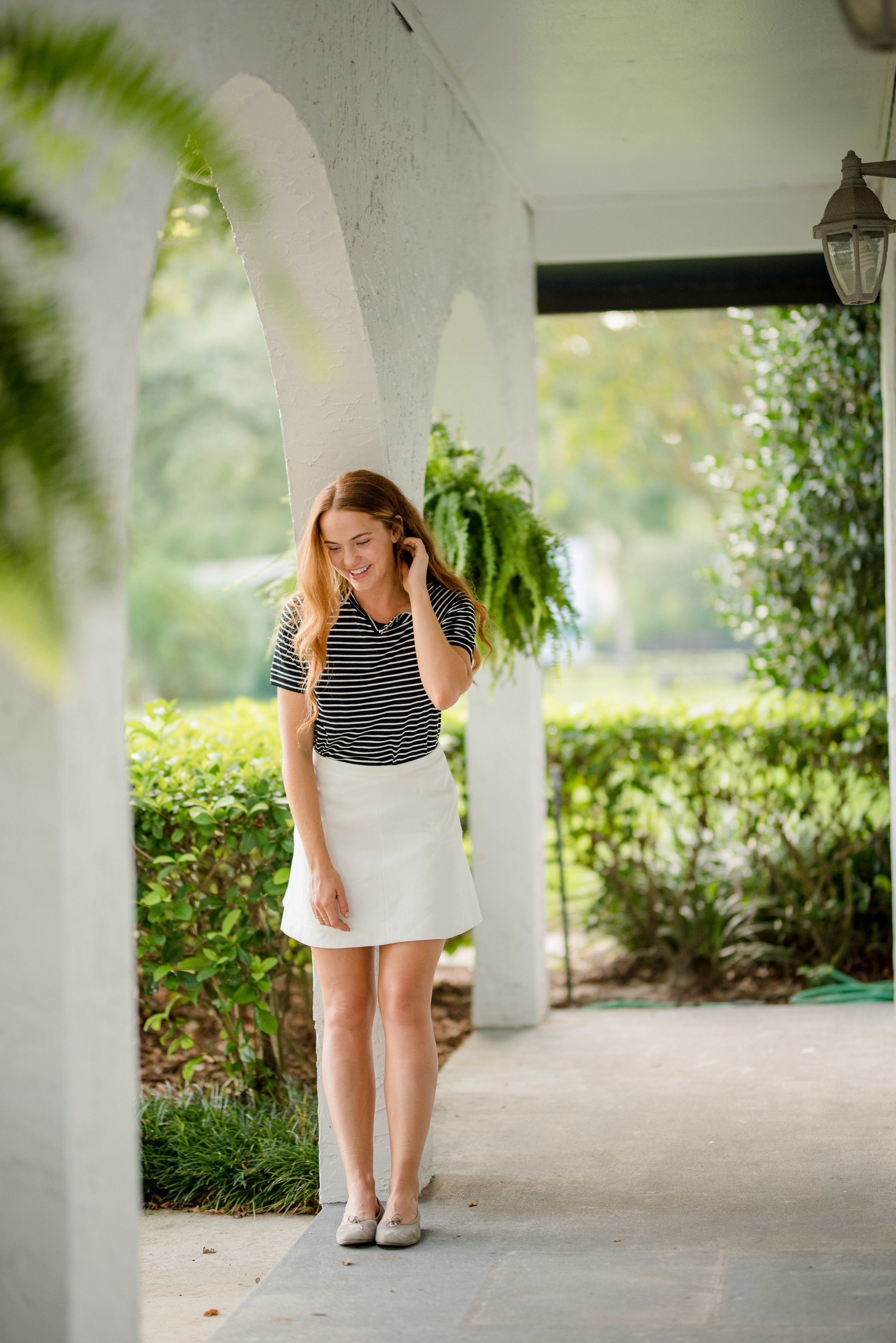 For some of the cuter pieces in my riding wardrobe, it almost seems like a waste to only wear around the barn! There are plenty of ways to style riding tops and breeches into everyday outfits, which is especially helpful if you are super busy like me and have to run from errands to stable or vice versa! FreexRein is one of my absolute favorite brands to wear out and about because of how versatile their pieces are. Their bodysuits are insanely comfortable and look equally great in or out of the saddle.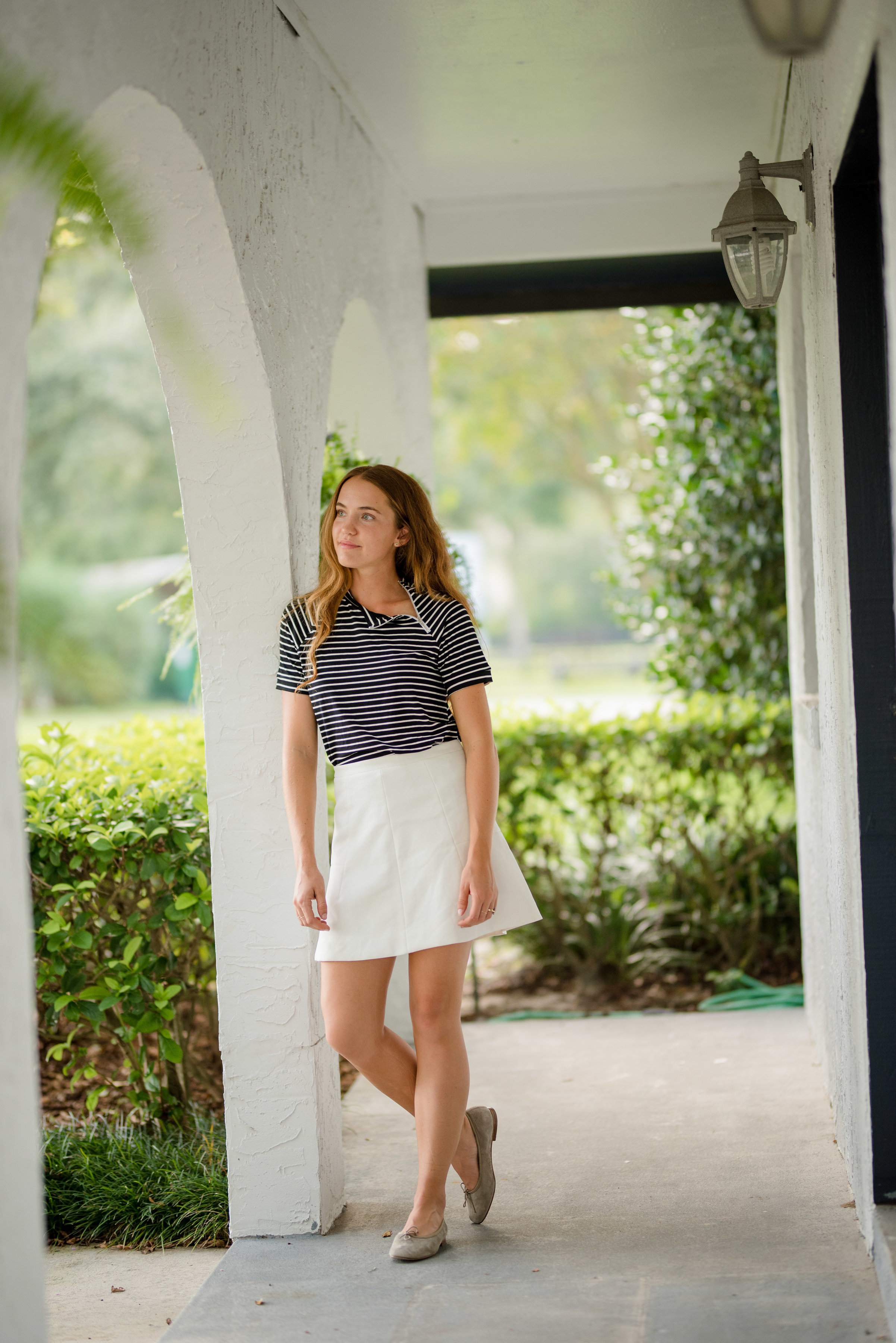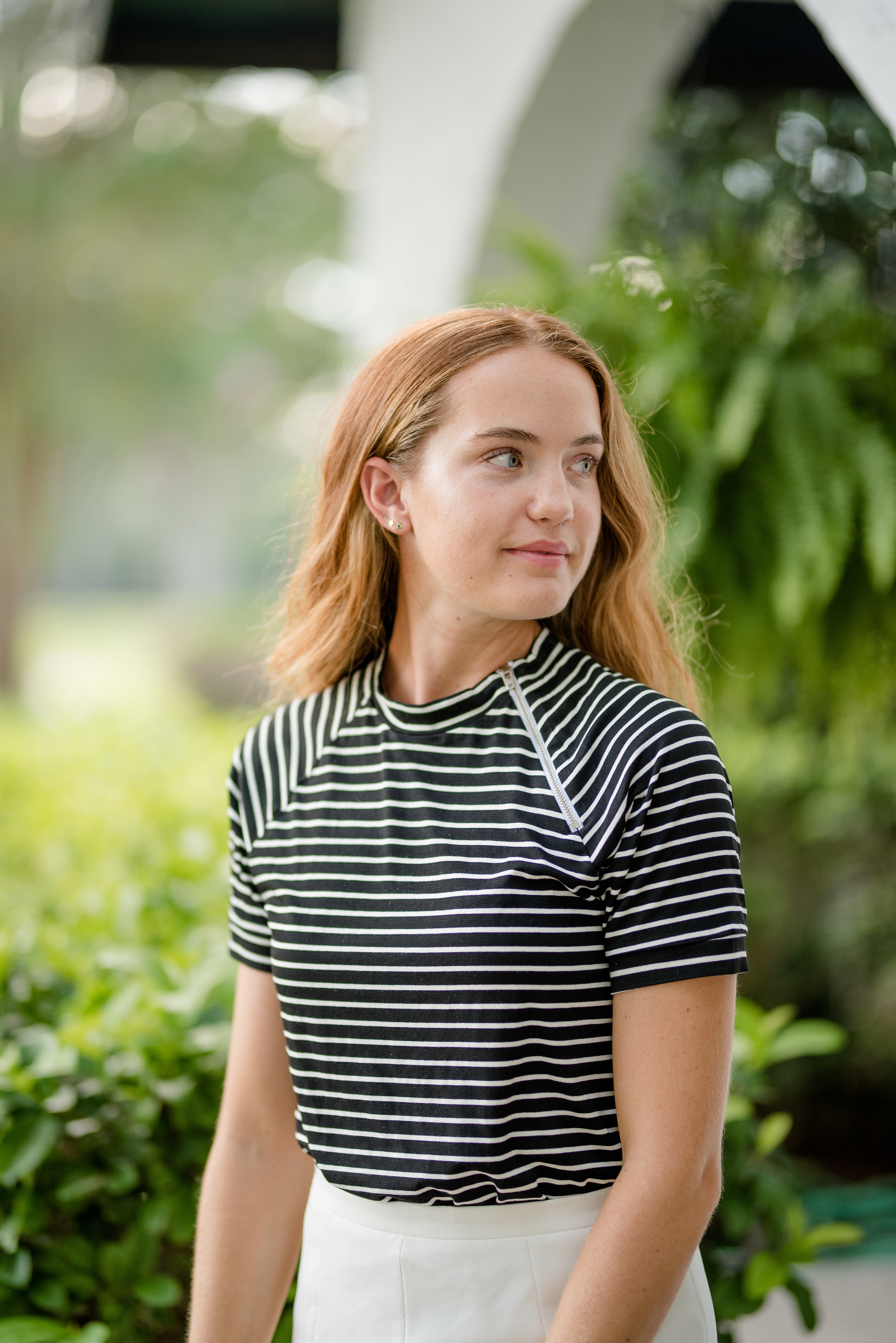 I like to start by picking out the riding piece I want to style. For this example, I'll use the FreexRein short sleeve moto bodysuit in this chic black and white stipe. It is made of a super comfortable jersey material with mesh under the arms and it is easy to pair! I usually identify the riding piece I want to style and build from there! If it's a top, I'll see what cute bottoms I have that match, then choose my accessories. If it's bottoms, vice versa. Depending on what type of cut the top is, I will pick bottoms with a good waistline. For this bodysuit, I LOVE the look of a higher waisted pair of pants or skirt. A note for styling breeches into everyday outfits: If you are wearing shoes that do not cover your ankles like flats, sandals, or sneakers, I try to wear breeches that have elastic ankle bottoms instead of Velcro. FreexRein makes an incredible pair of breeches that have the most subtle ankle elastic ever, making it ideal to keep uncovered. This just really helps the breeches look more like a normal pant! If you are trying to style Velcro closing breeches, try to wear shoes like ankle boots or knee high boots that will cover the Velcro. Boots of all heights are perfect for fall anyways!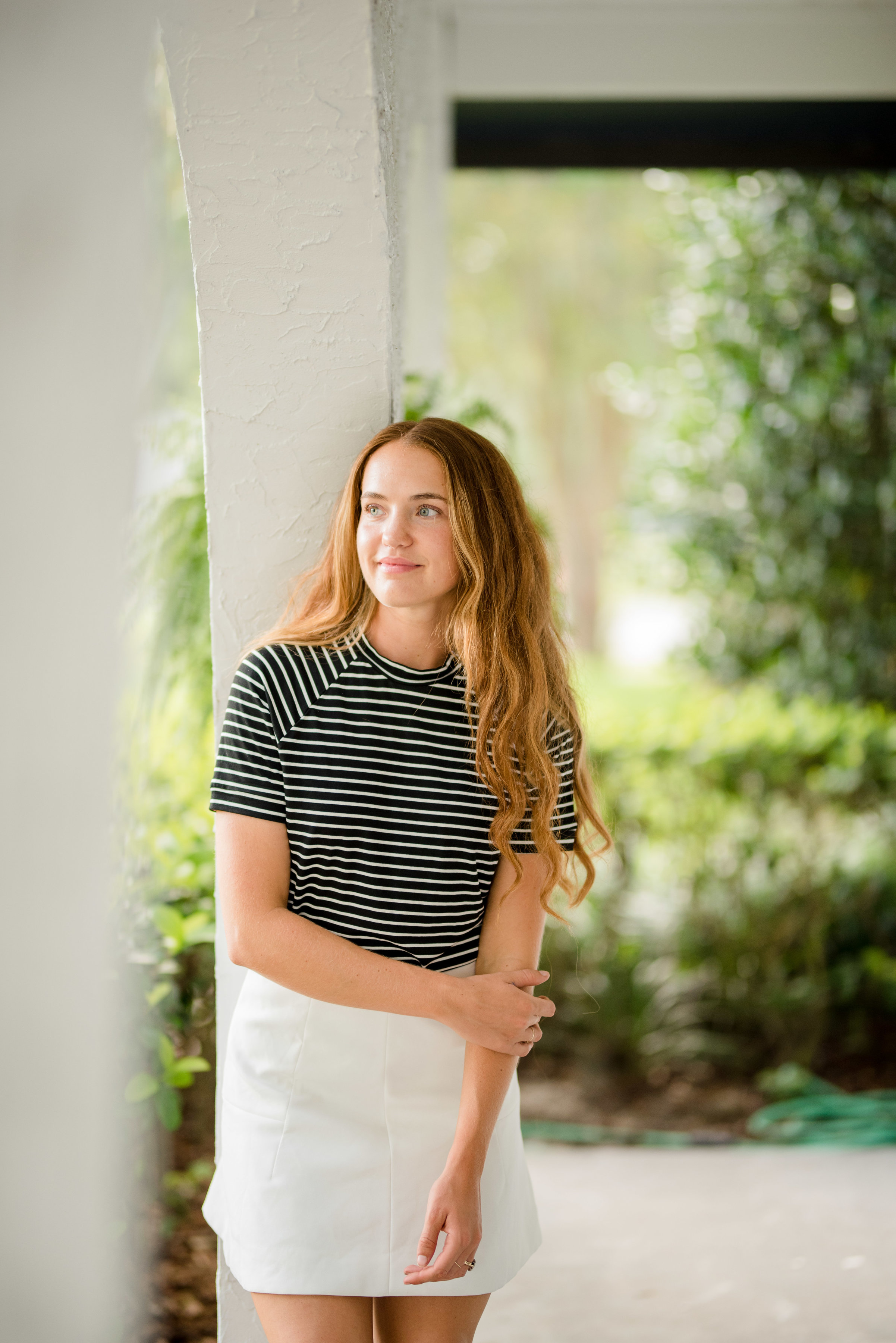 The next thing I try to keep in mind is to keep it simple! Neutrals are your best friends. Colors like black, white, browns and beiges make matching and accessorizing that much easier! With the striped moto bodysuit, I have this cute white skirt I felt matched perfectly. If you like a more feminine look, skirts are an easy way to class things up and make it seem like you put more effort into your outfit than you did.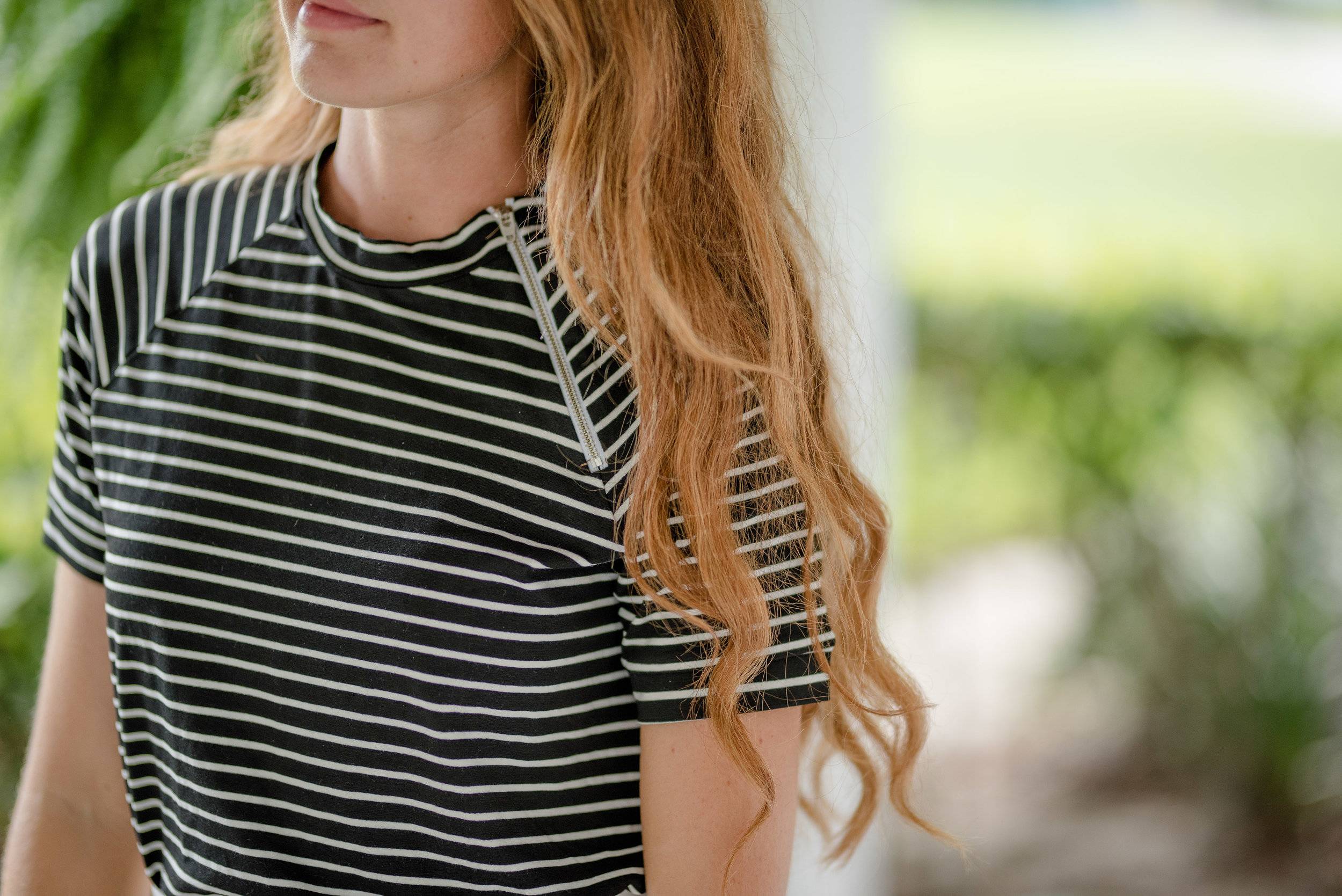 Once your outfit is established, the final touch is finding accessories. Equestrian inspired accessories are an easy and subtle way to show your love of all thing horses while out and about. I love my Lustiano Gray flats from Katharine Page! The color matches everything, including my outfit with the striped bodysuit, and they are simple yet elegant. Lately I've been seeing loafers everywhere that have bits on them which are nice classic shoe. In addition to shoes, I also love equestrian inspired jewelry, purses, and scarves! Scarves are a cute accessory that can be worn multiple ways and go with multiple outfits! You can wear them in your hair, around your neck, or as a belt. Equestrian accessories are easier than ever to find because there are now so many new brands and small business popping up that cater to the equestrian niche.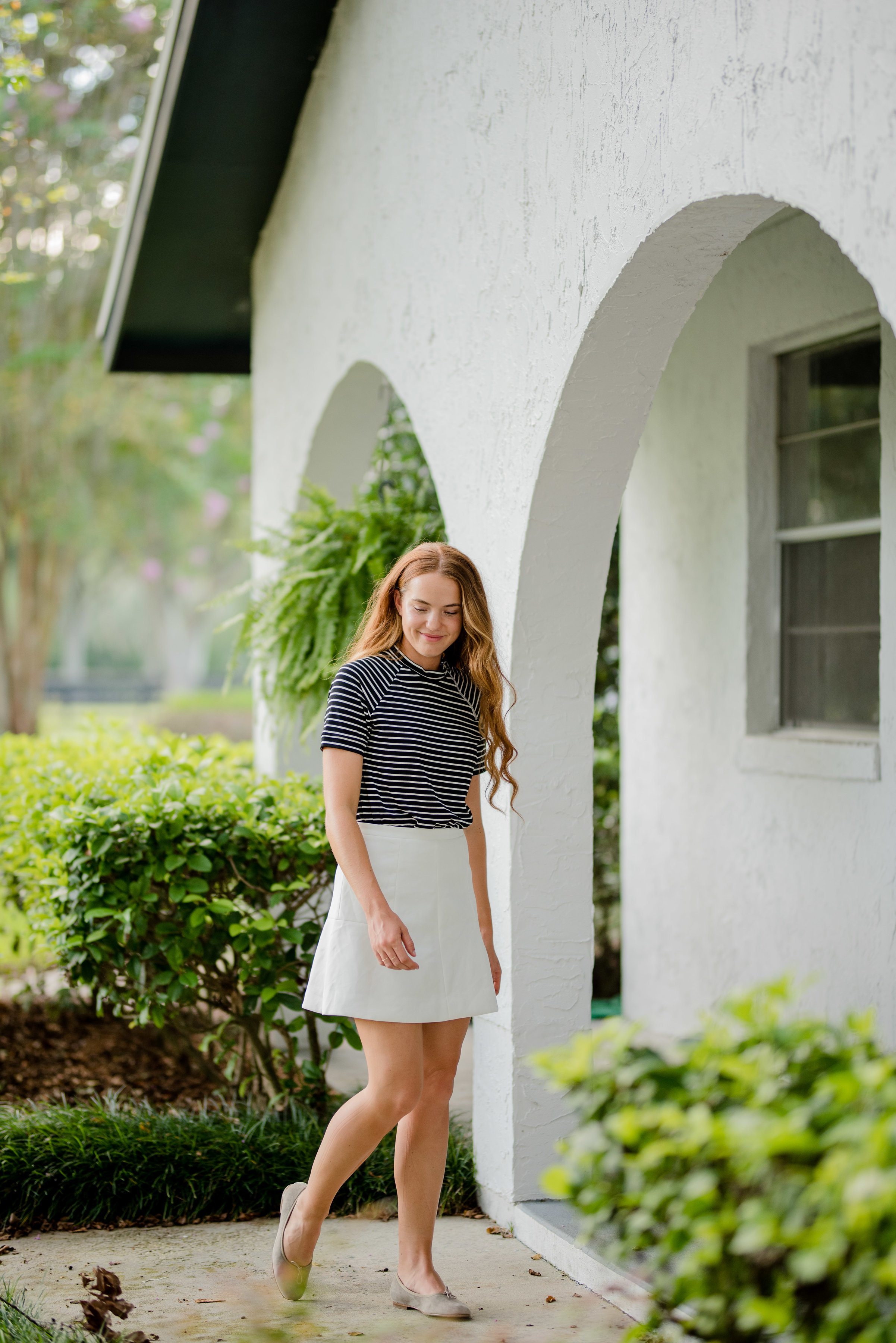 Now that I've shared my tips for styling riding clothes into your everyday outfits, I hope you will get good use out of your favorite riding pieces! Remember: build from your riding piece, keep it simple, and then accessorize! Next week I am styling the baby pink moto bodysuit by FreexRein, so stay tuned for that!!
xo MES