After many requests, I have compiled my complete packing list for a horse show along with recommendations of my favorite brands! Quantities are listed for a horse show weekend of Friday, Saturday and Sunday, so adjust accordingly for your show!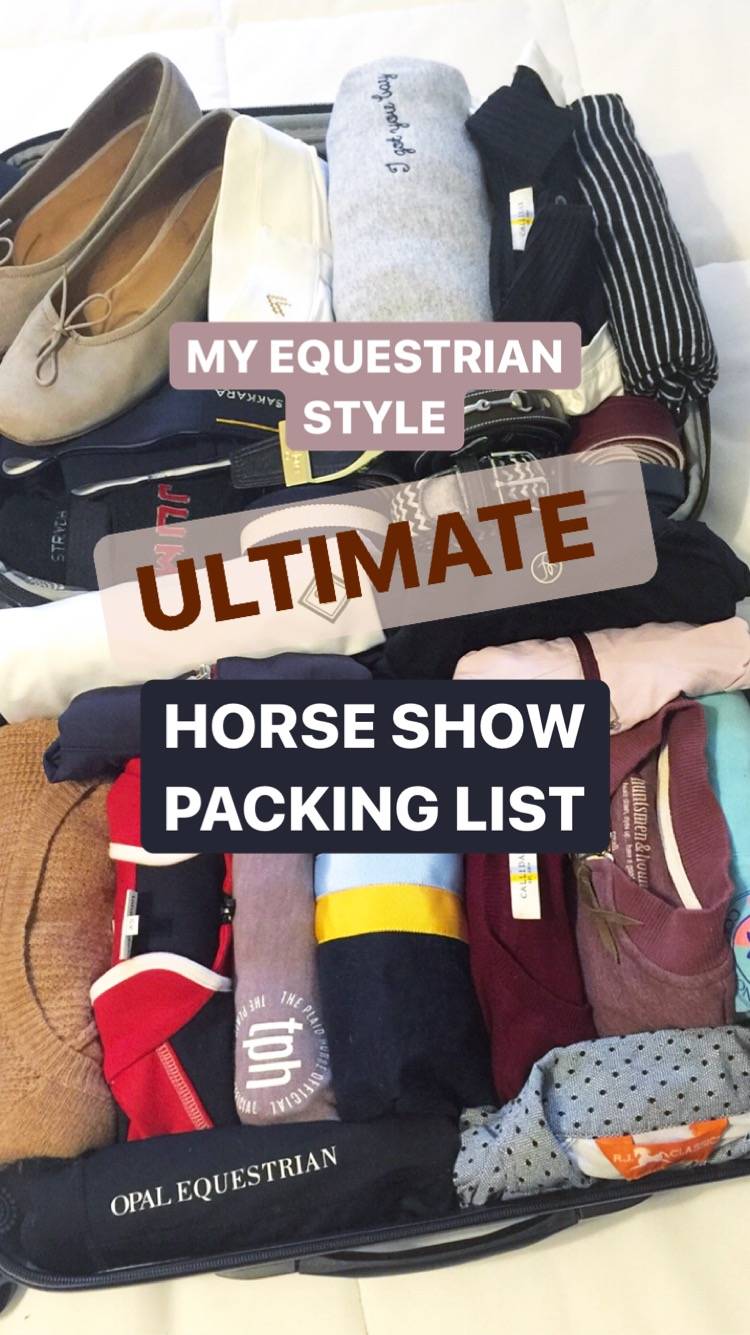 Riding Clothes
(1-2) Schooling Breeches // I typically wear grey, navy or hunter green, but it is totally preference! I only bring 1 pair per non-showing day, plus one extra just in case. My favorite schooling breeches are: Sakkara Equestrian and RJ Classics.
(3) Show Breeches // I always pack one pair of tan breeches for the number of days I am showing. I normally wear Callidae, Free Rein and The Polished Rider.
(1-2) Practice Shirts // For days I am not in the show ring, I like to wear a long sleeve 1/4 zip top with the tech/clima cool fabric. I usually match with whatever schooling breeches I bring, but tend to wear white, grey and light colors. My absolute go-to practice shirts are: Free Rein, Ellany Equestrian, Paragon Equestrian, Shop Hunt Club and Red Scarf Equestrian.
(3-4) Sweaters/Long Sleeve Tops // Depending on the weather, I will bring long sleeve tops or sweaters to go with each day's outfit. If it's going to end up in the 80s or 90s, I will bring a long sleeve cotton tee like Equestrian Prep Collection or The Plaid Horse pullovers! If it is any cooler, I'll wear a sweater over my practice shirt or show shirt for warming up. My favorites are: Callidae and Eqwine Co.
(3) Show Shirts // I typically bring white show shirts for the number of days I show plus one extra. I always bring: Lotus Romeo, Sakkara Equestrian and Ariat.
(2) Show Coat // No matter how many days I show, I always bring an extra show coat. I love having black and navy on hand, but I also LOVE green and gray jackets. I'm obsessed with my Lotus Romeo jacket I got from Tack N Rider.
(1) Rain Jacket // You never know when you need it! Also doubles as an outer shell for the cooler AM temps! I wear a Pikeur rain jacket that is fantastic!
(1-2) Vest // I am a major fan of vests! Especially when it is cooler out or if you are starting your morning early cleaning stalls or feeding or just a sunrise hack, vests keep you warm without allowing you to bake! I love my Horseware hunter green vest I got from The Polished Rider!
(2) Jackets (depending on weather) // Added layers for morning or evenings. I always pack: Huntsman & Hounds Bomber Jacket, Callidae Team Jacket and Lotus Romeo Jacket.
(3-4) Belts // I pack one per day plus- you guessed it- an extra! I'm especially into belts so I switch it up each day, but if you have one or two solid belts you always wear, no big deal. I 100% condone Mane Jane, C4 Belts, C&C Signature and Shop Hunt Club.
(4) Socks // One extra always, you already know how much I love Strydh and Foot Huggies!
Underwear/Sports Bras // Knix are my FAVORITE underwear and sports bras for riding!
(2-3) Hats, Visor // I love sun visors and baseball hats. I wear a generic visor that attaches to my helmet, and my favorite baseball hats are Sakkara Equestrian and Stick and Ball Co.
Lounging Clothes // For back at the hotel! I love Opal Equestrian Base Layer leggings and Equestrian Prep Collection long sleeve pocket tees with a Eqwine Sweatshirt!
Out-to-Dinner Clothes // For when the crew decides they have enough energy for a group dinner! I always wear my Katharine Page flats, a preppy All For Color dress, a Courtney Kennedy Shop clutch with some VQ Jewelry!
Riding Gear
Paddock Boots // For doing dirty work or for running around the show before your class, paddock boots are a great option. I have worn the same pair of Ariat paddock boots since I was 14, but I just got a pair of ONTYTE paddock boots (the ones with the magnets.. stay tuned on my review) that I'm dying to try!
Tall Boots // For schooling I wear my Wellesley Tuff Rider tall boots and for showing I just got a new pair of DeNiro's!
Helmet // Samshield– highly recommend, especially with the removable part you can throw into the laundry!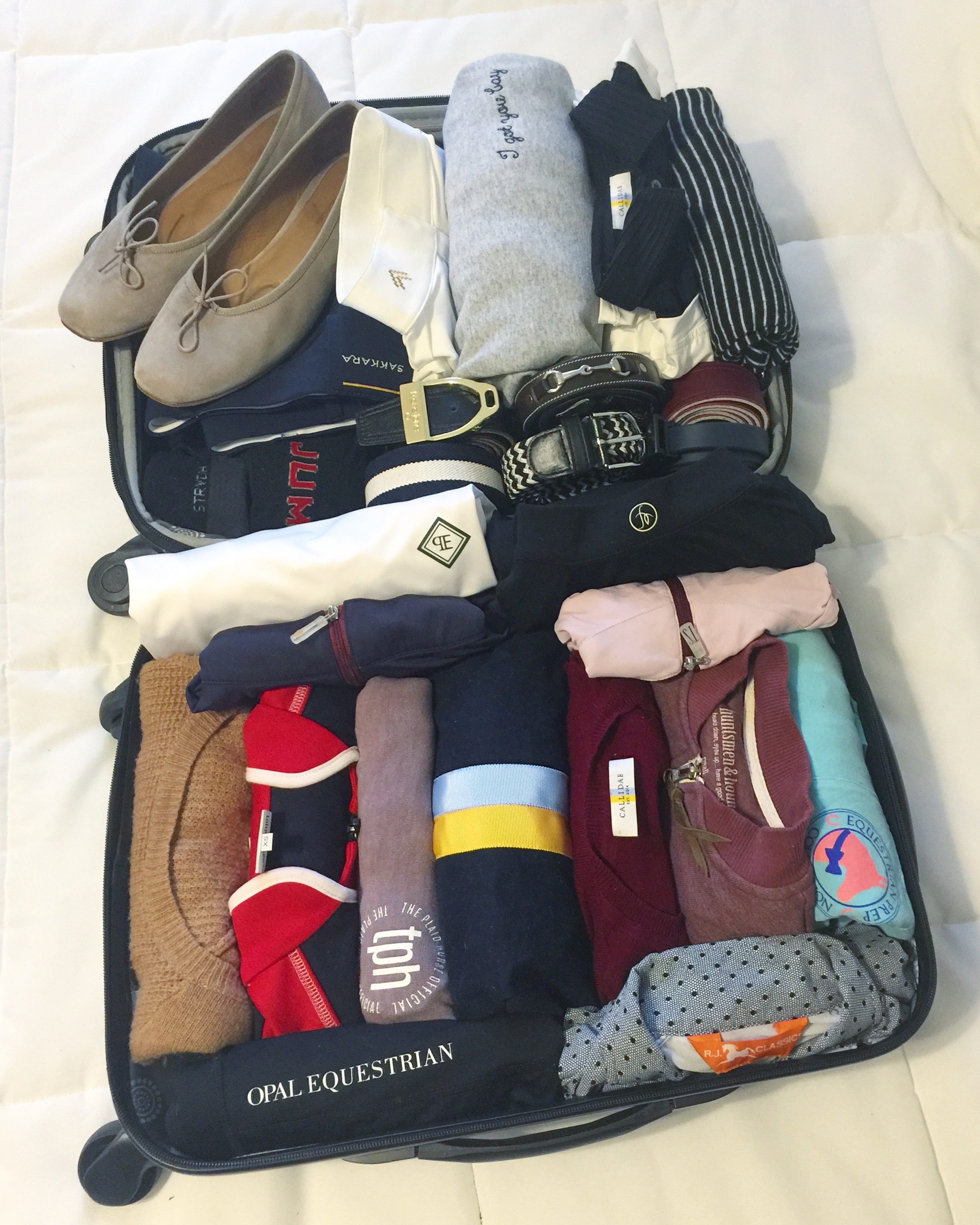 Hairnets // Can never have too many, always keep some in the tray of my tack trunk, in my car, and in my Maelort Ring Backpack.
Gloves // I always have two pairs of gloves and my favorites are Roeckl's!
Boot Inserts // I have boot inserts for all of my boots and I love Ellany Equestrian.
Ring bag // Love my jet black Maelort Ring Backpack. The chicest and most useful backpack in the industry!
Spurs // ABSOLUTE must purchase… Mane Jane Spur Straps and Color Tack Spurs. Trust me!
Balm // I would just get the balm based on your brand of boots/saddle, but my CWD balm works wonders. Definitely worth the price point.
Boot polish // I have a Kiwi boot polish set I always use.
Sunscreen // Trader Joe's has a great sunscreen I use because it doesn't have a lot of harmful chemicals!
Face wipes // Kleenex Facial Cleansing wipes are amazing to have in your show trunk to wipe your face down after a ride!
This list is a great start to have a stylish yet functional horse show weekend!
xo, B