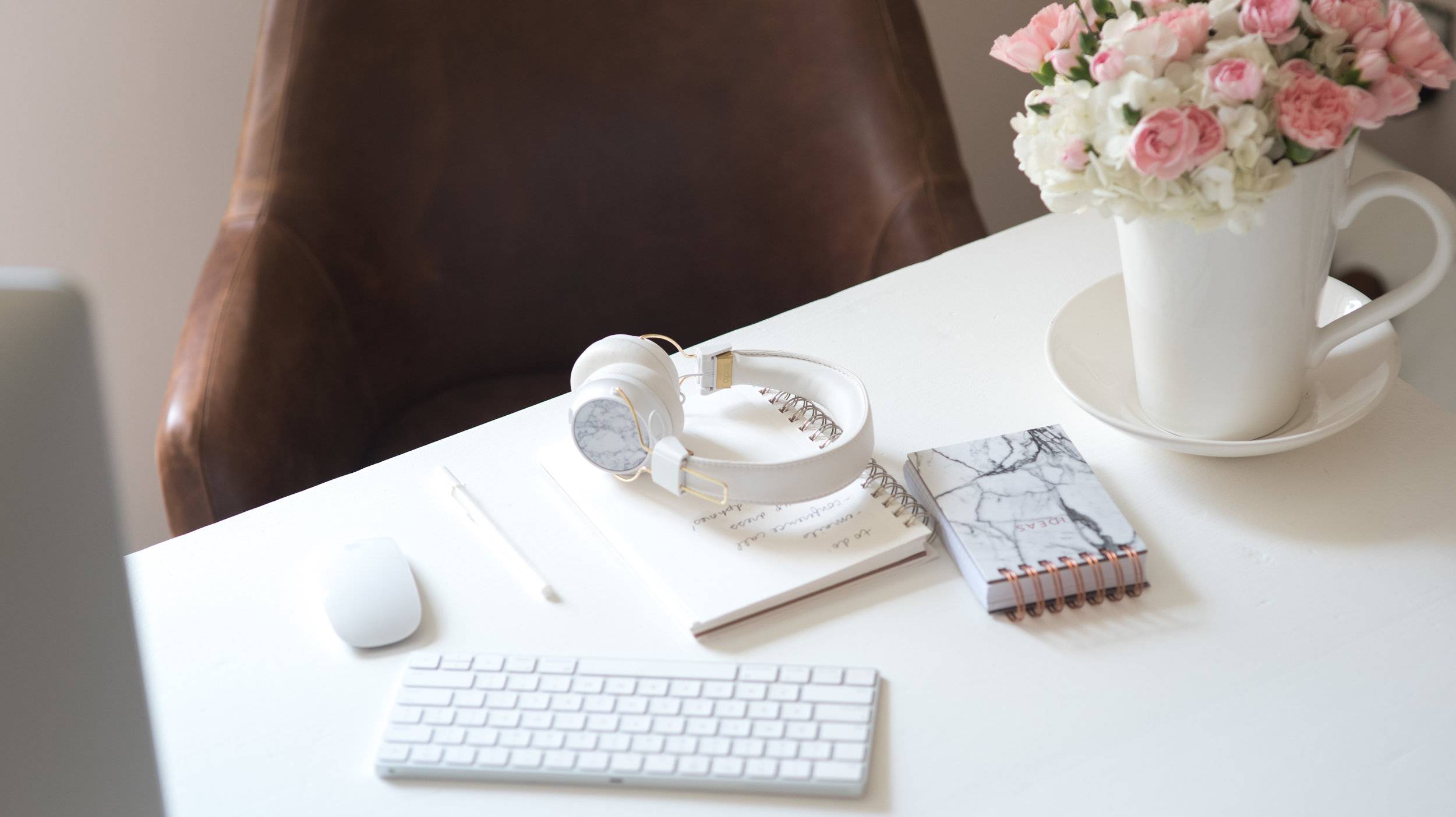 Since I am not in the saddle 100% of the time, it is important to me that my office gives me just as much inspiration as if I were riding. We moved into our new house a couple months ago and I am still trying to finalize details of my home office (full blog post coming up soon!) For now, I have the staples: my desk, computer, to-do list and my Sudio Sweden headphones.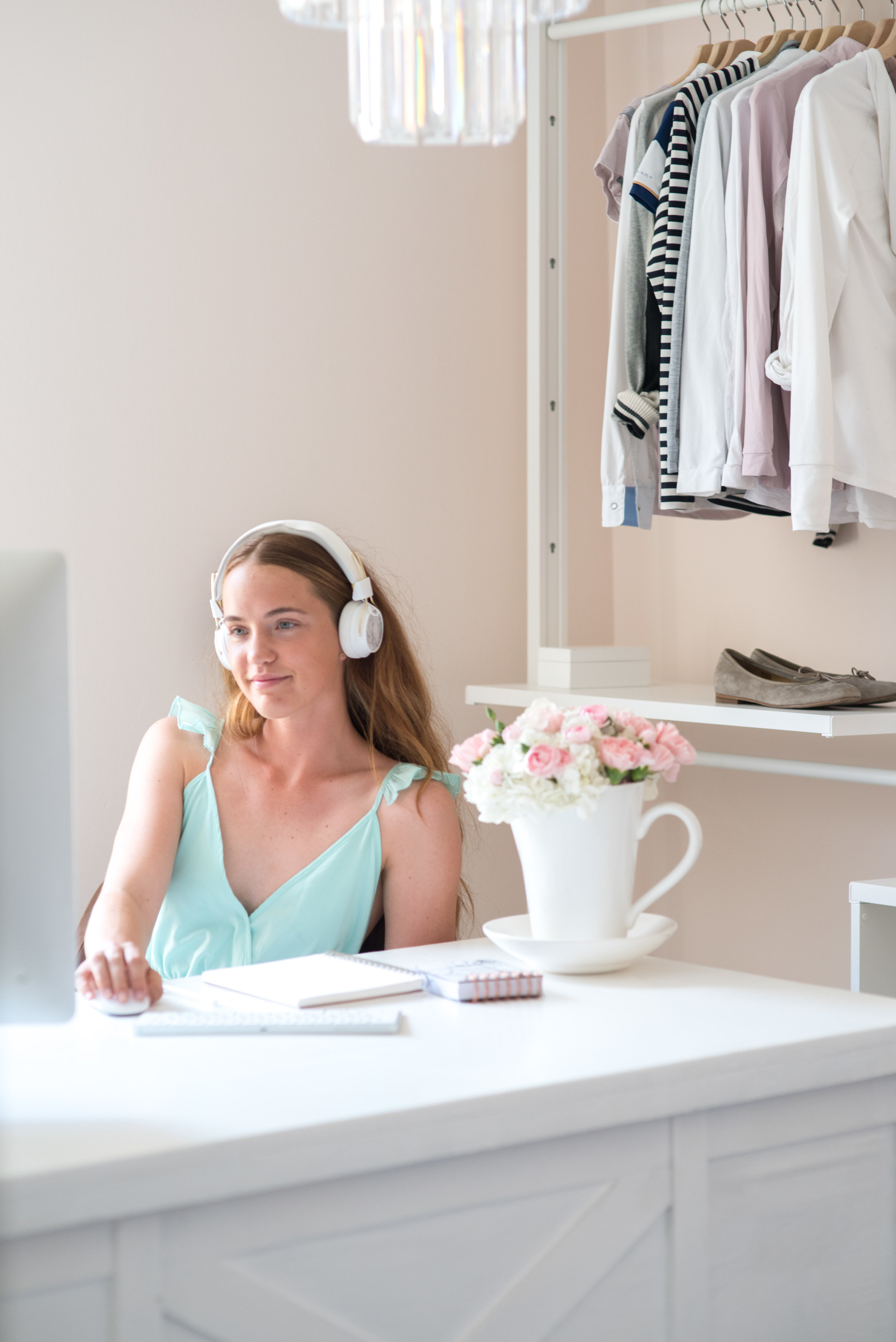 Now I will touch on my desk when I publish my big office blog post, but I refinished it from an old work desk that belonged to my husband's grandfather. It was solid and had great bones, but it was not my style wood finish. So naturally, I painted it white- and added some finishes to make it extra equestrian chic.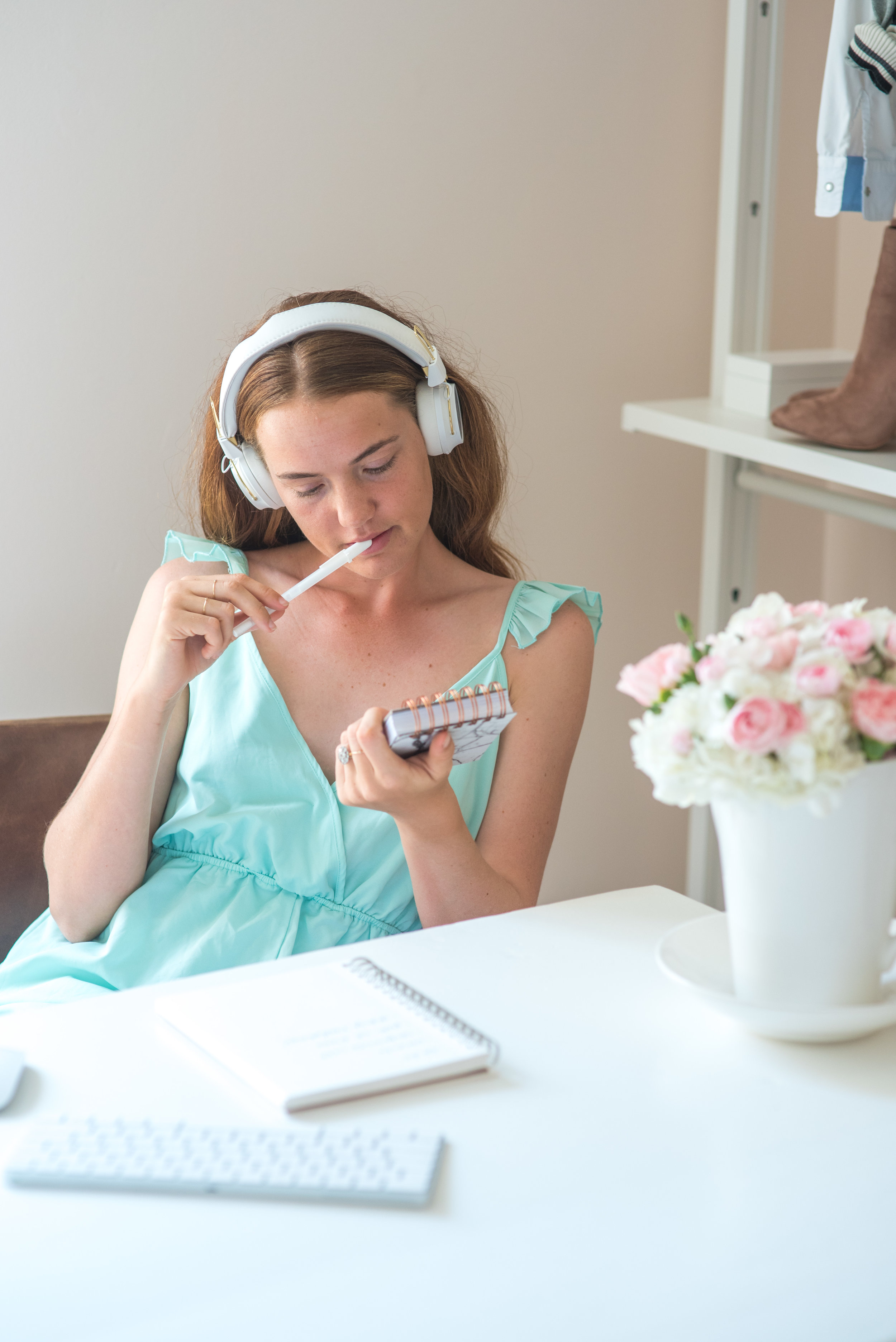 My desktop computer is my first-born child HAHA. Ethan and I bought it back when we lived in Santa Monica, CA and were wedding photographers working off of our little Mac Book Pro laptops, editing thousands of photos at a time. One night we looked at each other and were all like, "Want to go to the Apple Store?" We came back with a brand new 27″ desktop… which was so unlike us! It was definitely worth the investment!
My to-do lists help me stay sane. I like to write on non-lined bound sketchbooks because I sometimes make lists but other times I sketch pictures, make boxes or diagrams or even rotate to work landscape instead of portrait. A to-do list is so necessary in my office because I would get overwhelmed if I didn't have a place to get it down on paper.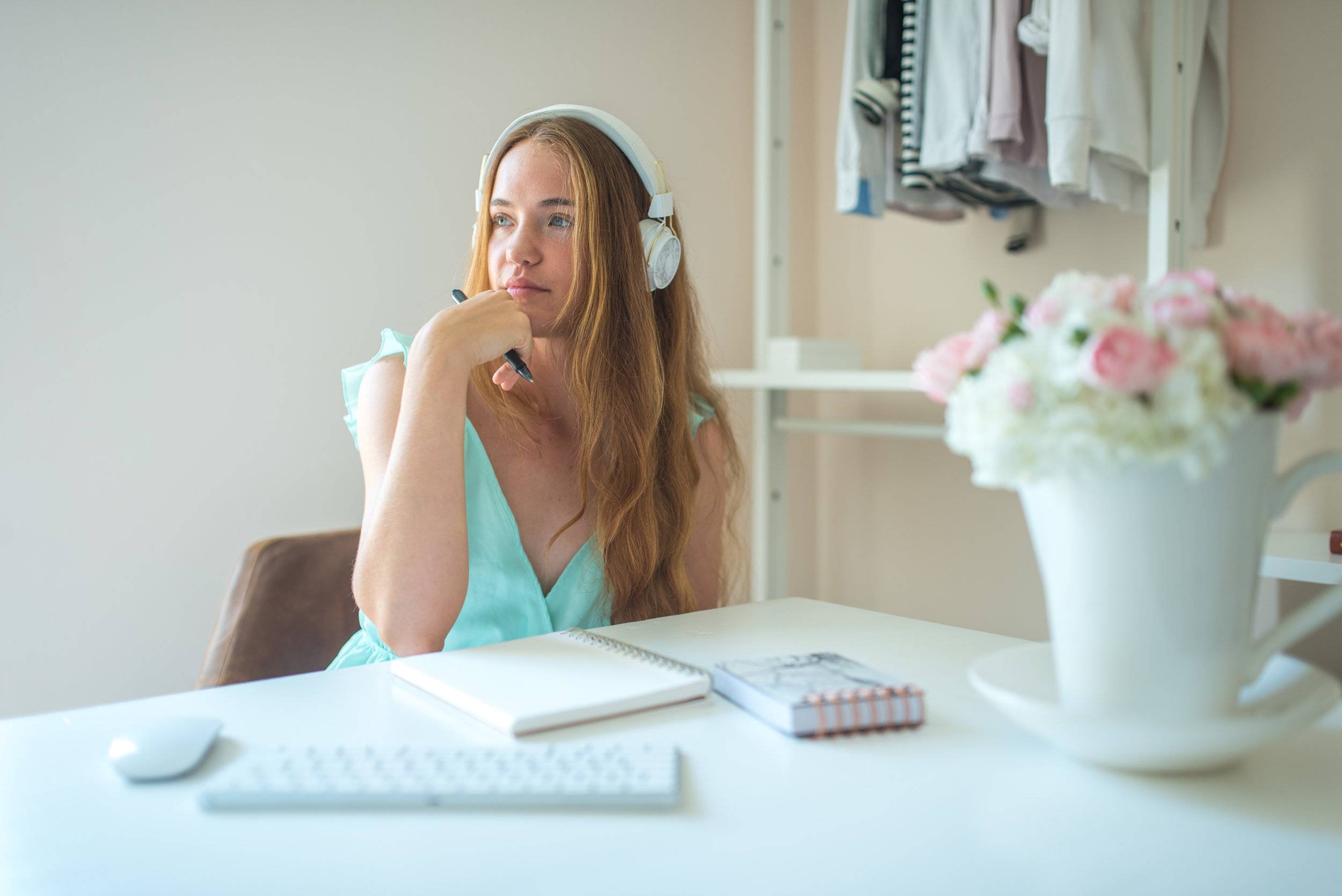 Last but certainly not least, my Sudio headphones are everything. (Wasn't even asked to write a blog post for Sudio Sweden, but I had to share with you guys!) These Sudio Regent headphones are a staple in my home office. When I am working without my intern, Alex, I am zoning in on my work and nothing helps me focus more than these headphones. The Regents are super noise-canceling so I sometimes don't even listen to music; I just put them on and it drowns out the noise of my puppy, my husband working from home or my housemates (we rent rooms out of our house!) But don't get me started about the sound quality! I also wear these everyday to the gym and I feel like I'm in my own little world… I probably look pretty embarrassing.. but I feel like a BOSS! That's the goal right?! The Regents also come in black and Sudio offers these super fun headphone cap covers . The white pair that I got include the white marble caps. Normally, they are solid black or white with a single gold strip. Totally cute just the way they are, but I really like these marble caps!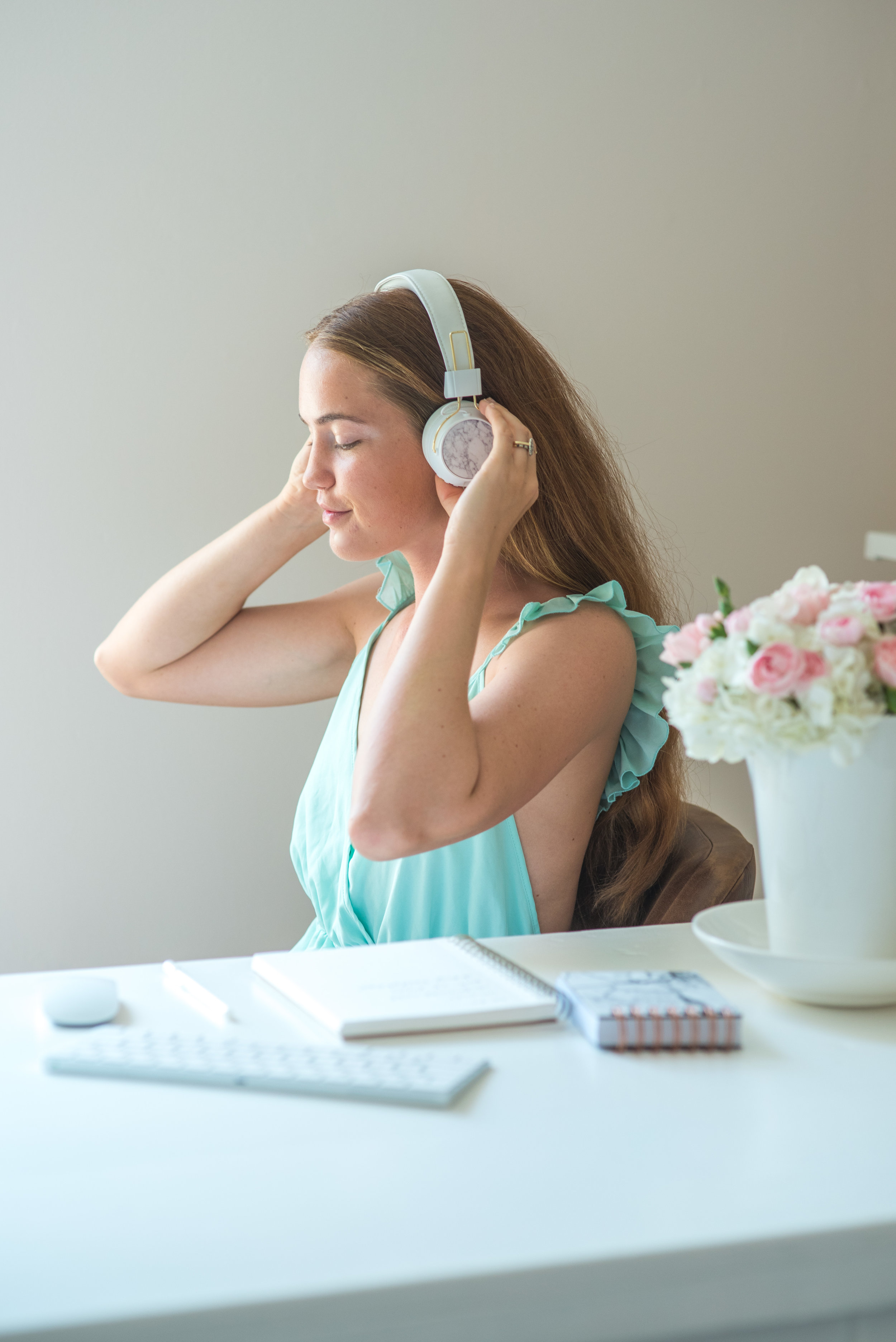 So those are the four items I need to really rock a day in the office. Excited to show you more as I finish up the final details! If you're at all interested in Sudio headphones, I'd love to chat about them more with you. I knew you'd like them so I have a coupon code to share with you—
Use code EQUESTRIAN for 15% off your order! You can shop here.
xo, B