Most of us have a lot more free time on our hands lately – I know I do! I've finally gotten to read all the equestrian magazines I have around the house, which has been so fun!
There are so many great magazines out there that cover everything from great products to rider education to horse care and beyond! Personally, I love to be able to flip through a magazine while sitting on the couch or outside in the yard. It's so relaxing and helps me keep my equine knowledge sharp.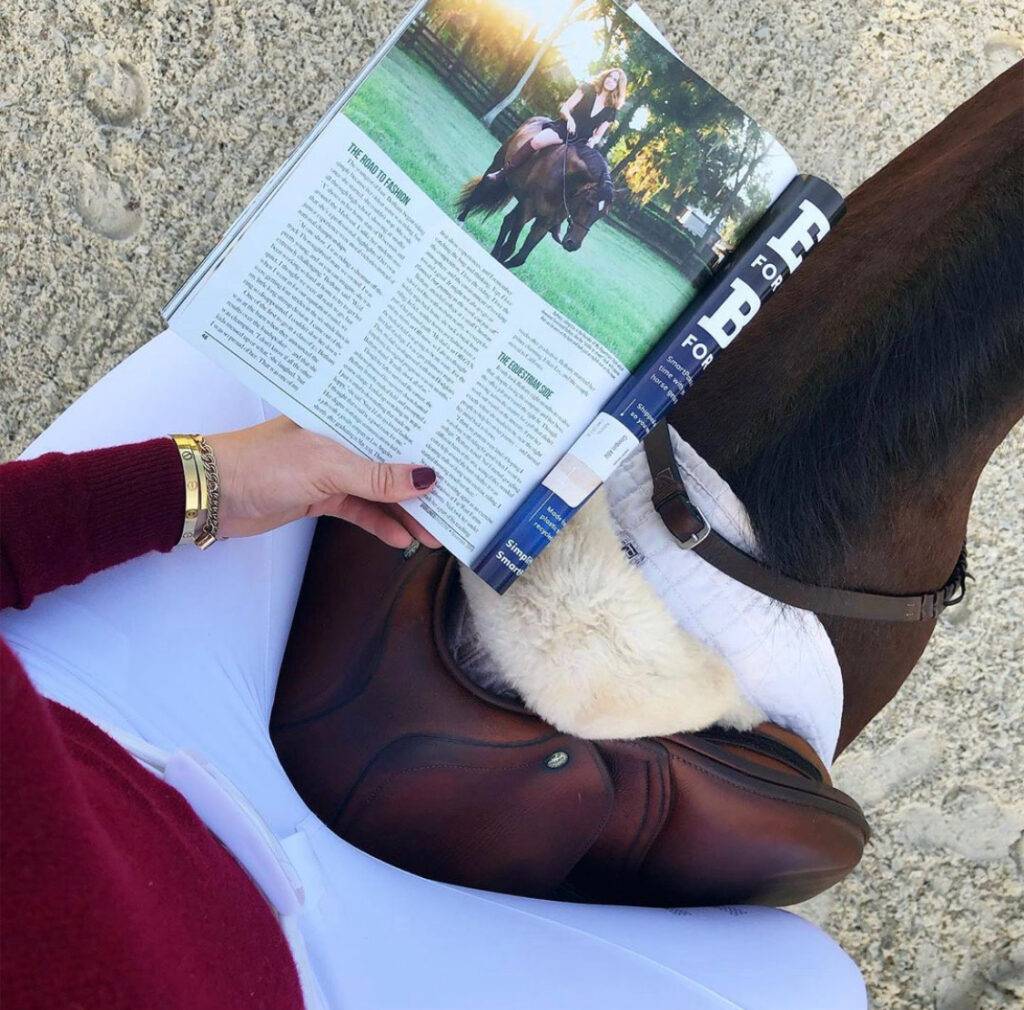 I like to read a variety of magazines, so I've made a list of some of my favorites. Check it out:
Sidelines Magazine is full of stories from real people in the horse world and their experiences. It always makes me feel so excited about this awesome equestrian community we're all in! They also did a story about the girls, so check that out if you haven't! You can get a 1 year subscription (12 magazines) for just $5 at this page, use the code sidelines50.
US Equestrian Magazine is full of educational articles and stories from the equestrian world. Their articles are always so helpful to keep my skills and horse care knowledge up to date! It's available online and in print, and is free for all USEF members! Use my code BETHANY2020 for a free fan membership.
InStride Magazine is USHJA's magazine and covers all things horse care, training, and competition. It's great for keeping up on the hunter's world! Best of all, it's free with a USHJA membership!
EQluxe Magazine is the most gorgeous. It is such a perfect blend between equestrian lifestyle and high fashion, luxury, and travel. EQLuxe is practically VOGUE for equestrians and I'm here for it. Snag your 4-issue subscription for $40.
The Plaid Horse covers all types of hunter/jumper events, on top of providing top notch lifestyle articles! There's a ton of awesome content on their site, and you can subscribe to the magazine and get 9 issues for $49/year. Also – I interviewed Piper Klemm, editor-in-chief, on The Equestrian Podcast, check it out:
Horse & Style Magazine is a lifestyle magazine highlighting equestrian style and fashion. There are so many fun articles that cover some of my favorite easy reading topics – equestrian lifestyle and fashion! They publish 4 issues a year (one per season) both online and in print. Get a full year of print magazines for $60.
Practical Horseman focuses on equestrian education across horse care, riding, and competing for English riders of all kinds. They're a great resource to learn more about all things equine! There is a bunch of free content on their site, or you can get a year subscriptions (4 magazines) for $15!
The Chronicle of the Horse has everything you could want, from horse education and training tips to lifestyle articles and news. There are tons of articles free on their website, and you can subscribe to their print edition for $46.95/year. Plus, they publish 24 magazines a year, so there's tons of content!
Horse & Rider is all about the western horse & rider from trail-riding insights, training tips, and more! I've found their horse care and training articles super interesting, even as an English rider and trainer. Get 4 issues for $15/year. As a bonus, you can add on Equus for an extra $10/year!
Equus Magazine aims to educate horse owners on horses' needs. They have a ton of research-backed articles that are so educational. A lot of their content is free online, or you can subscribe to the print edition and get 4 issues for just $15.
These magazines all offer so much entertainment and education, check them out and let me know what you think!
xo,
Bethany