If I haven't told you before, my husband Ethan owns rental properties and flips houses. This was one of the main reasons we moved from Los Angeles to Jacksonville this time last year! Let's just say you can't buy a 3 bedroom house in LA for $50k like you can here in Northern Florida! Currently, we are living in a house we are flipping. It got all new everything so for quite some time, we lived in a complete construction zone! Since parts of the house (third bedroom/office) isn't done yet, I designated this cute little spot in our living room for my home office space. *All of the main items of this blog post are linked at the bottom of this post if you're interested!*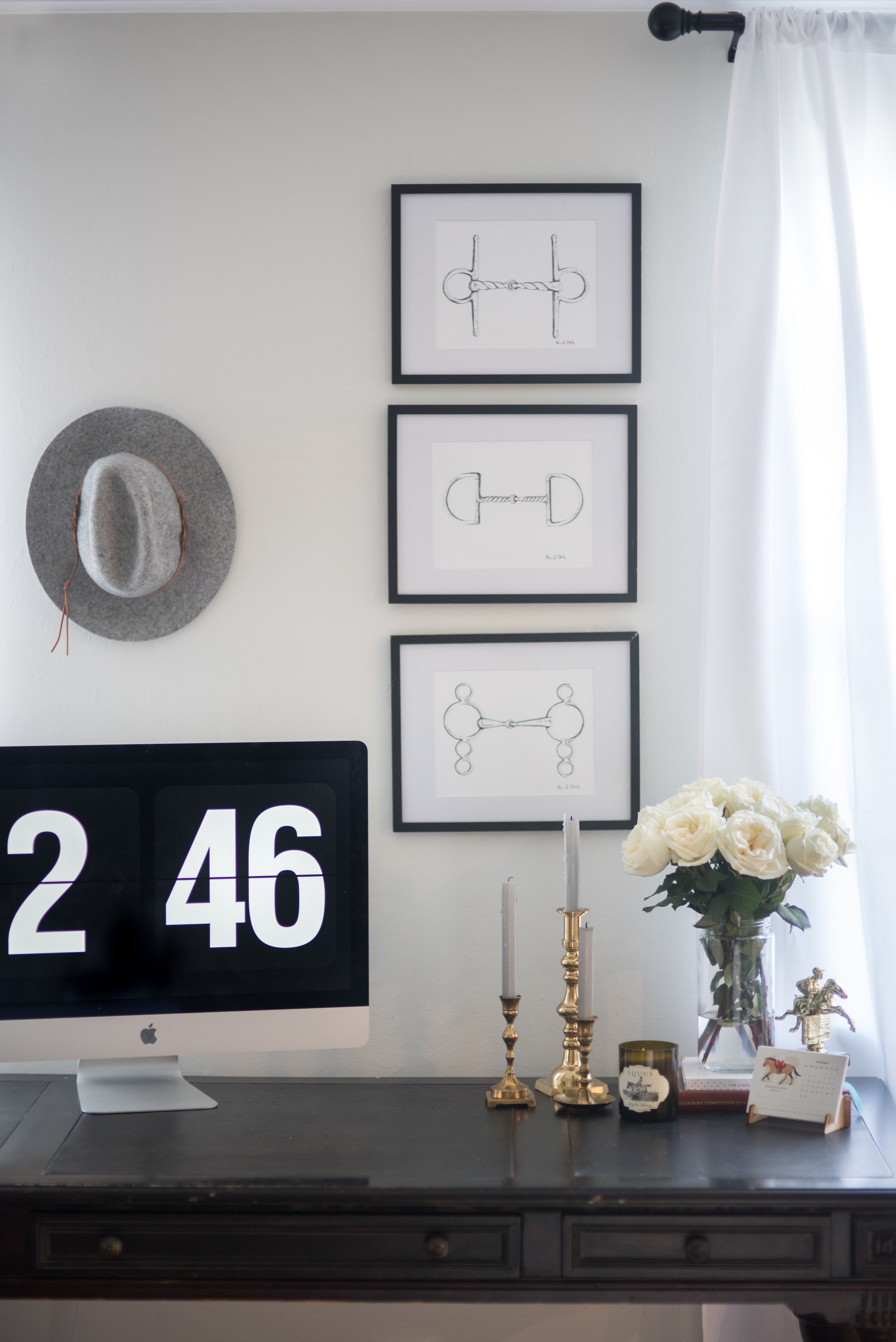 Being a photographer, I tend to be a little snobby when it comes to natural interior lighting! When we look at potential house flips, I always look for big windows and natural light! I thought my office space would be perfect in between these two big windows! Probably my favorite part of this space are the Kharah Lee prints on the wall. Kharah hand draws any bit you can think of and so I chose three I use often in my ridimg. They are so simple yet are total conversation pieces.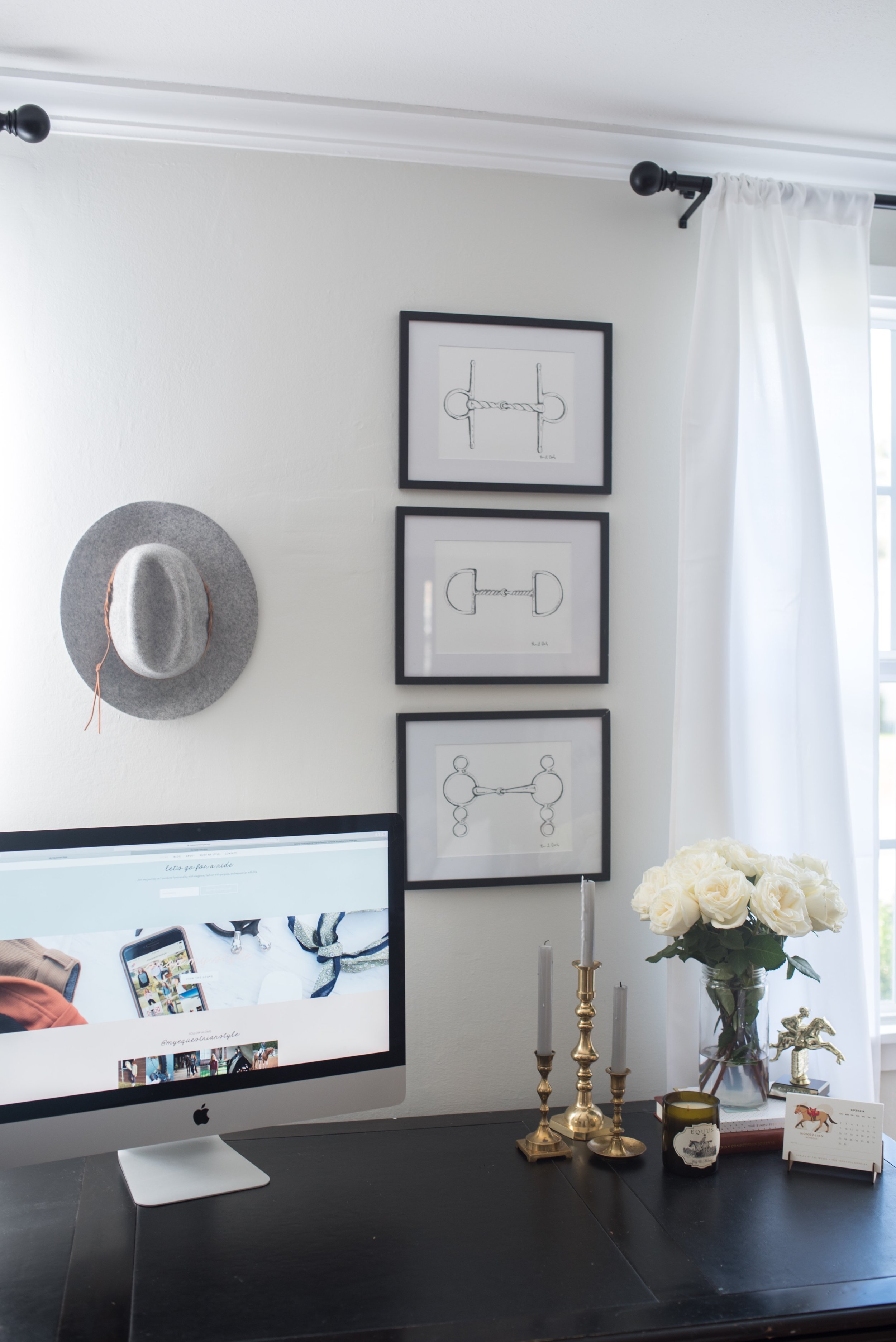 One of our best business decisions as photographers and a blogger was to invest in a Mac desktop computer. This thing is our first born child! The size and Retina display are insane and make for an ideal workspace. The black desk is kind of a work in progress; I got it at a garage sale for $40 and originally was going to strip it to a natural wood Restoriatiom Hardware vibe. I still might do that one day, but for now I am loving this rugged black finish.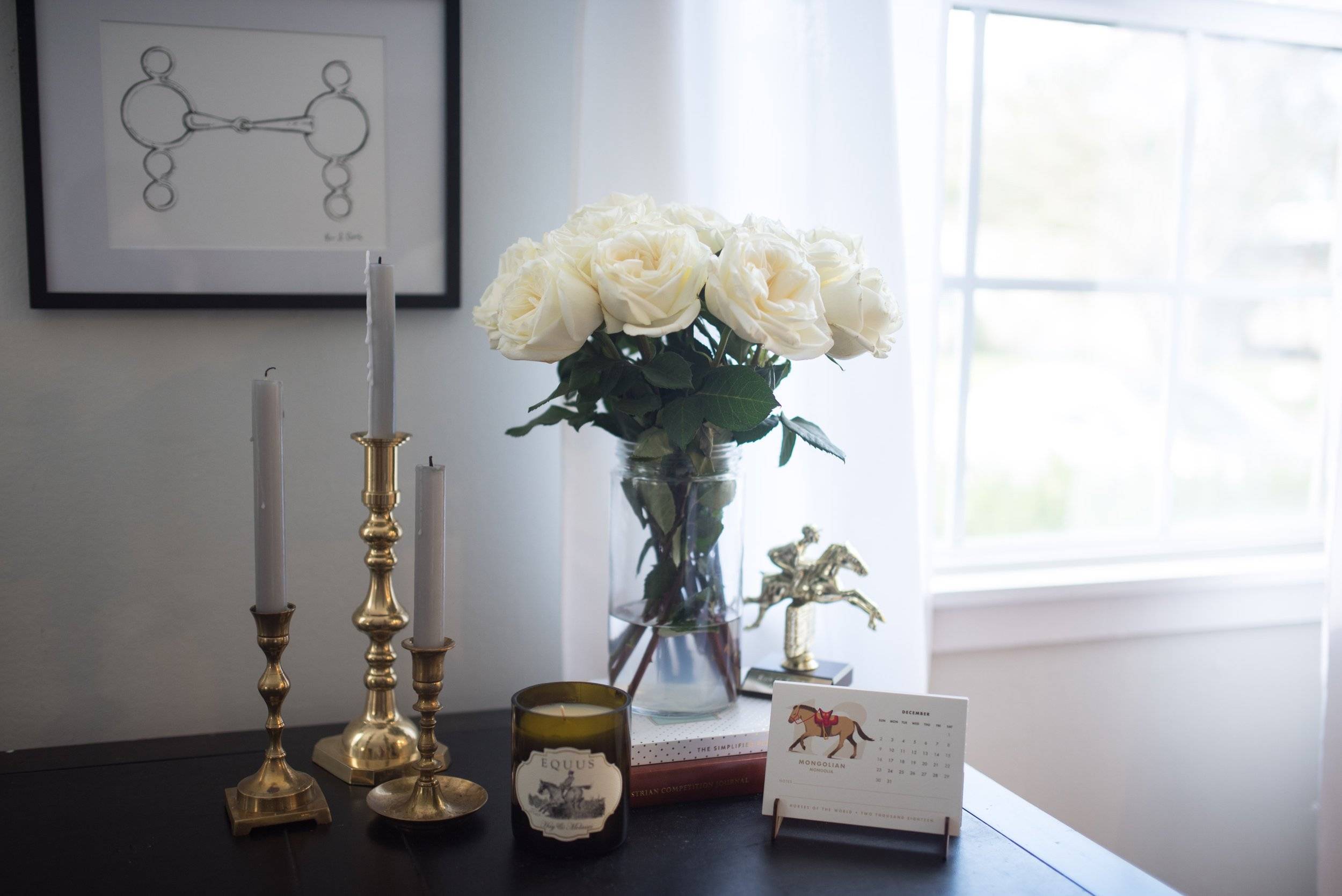 My desk top is ever changing depending on what I'm feeling! I'm a huge fan of fresh flowers, so if I see a good bunch at the grocery store, I love to splurge. It adds a softness and femininity to the desk that I just love. They also remind me of the rose garlands the race horse winners get at the Kentucky Derby! These gold candlesticks are family pieces given to me by my mother-in-law and I finished them off with a soft gray candles from Magnolia's new line with Target. Then front of center, the Equus candle is my absolutely favorite. The scents are all equestrian related and are so delicious! Go check out their website to see all of their scents. I also recently found one of my little trophies I won when I rode in the Short Stirrip division and wanted to show it off. 🙂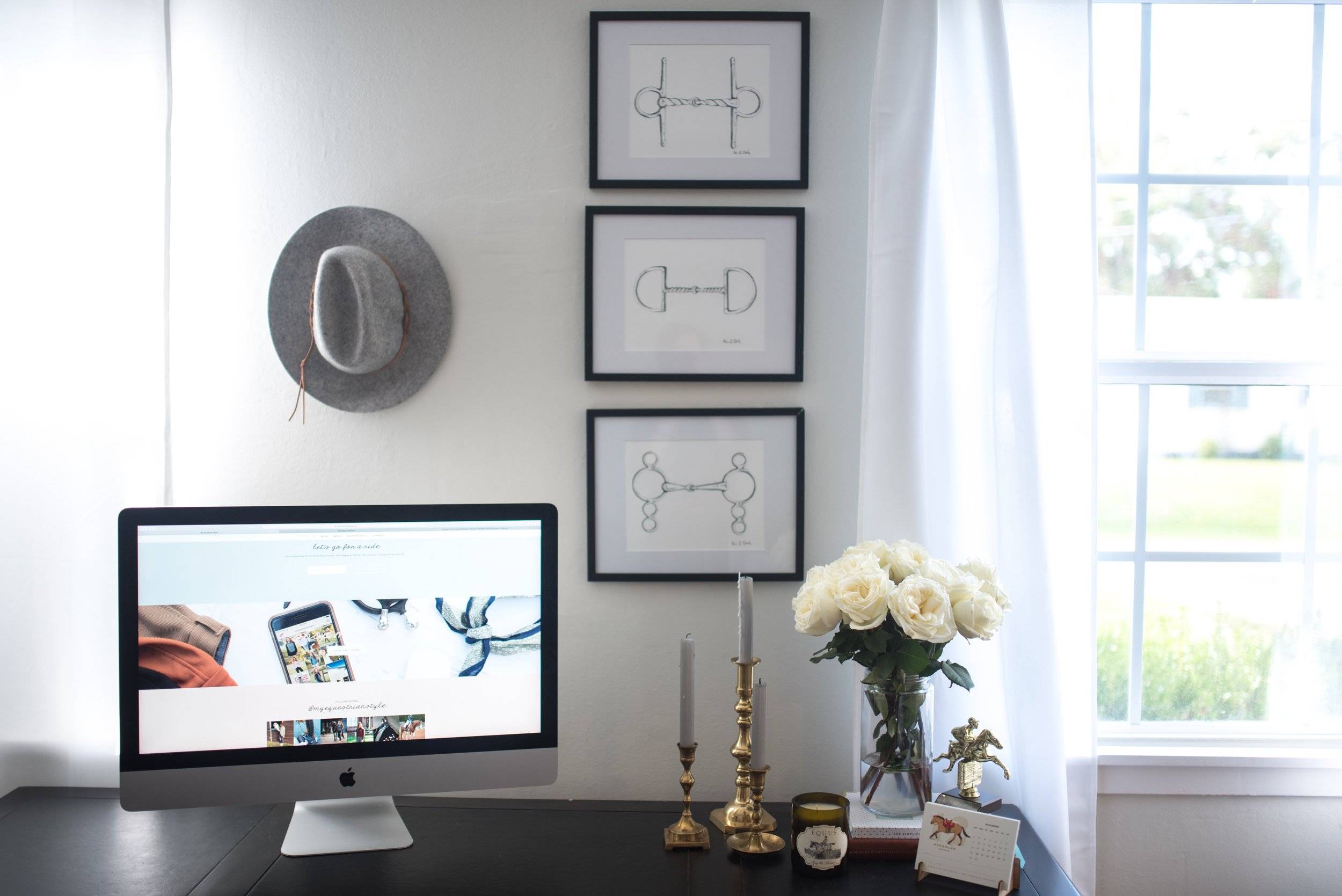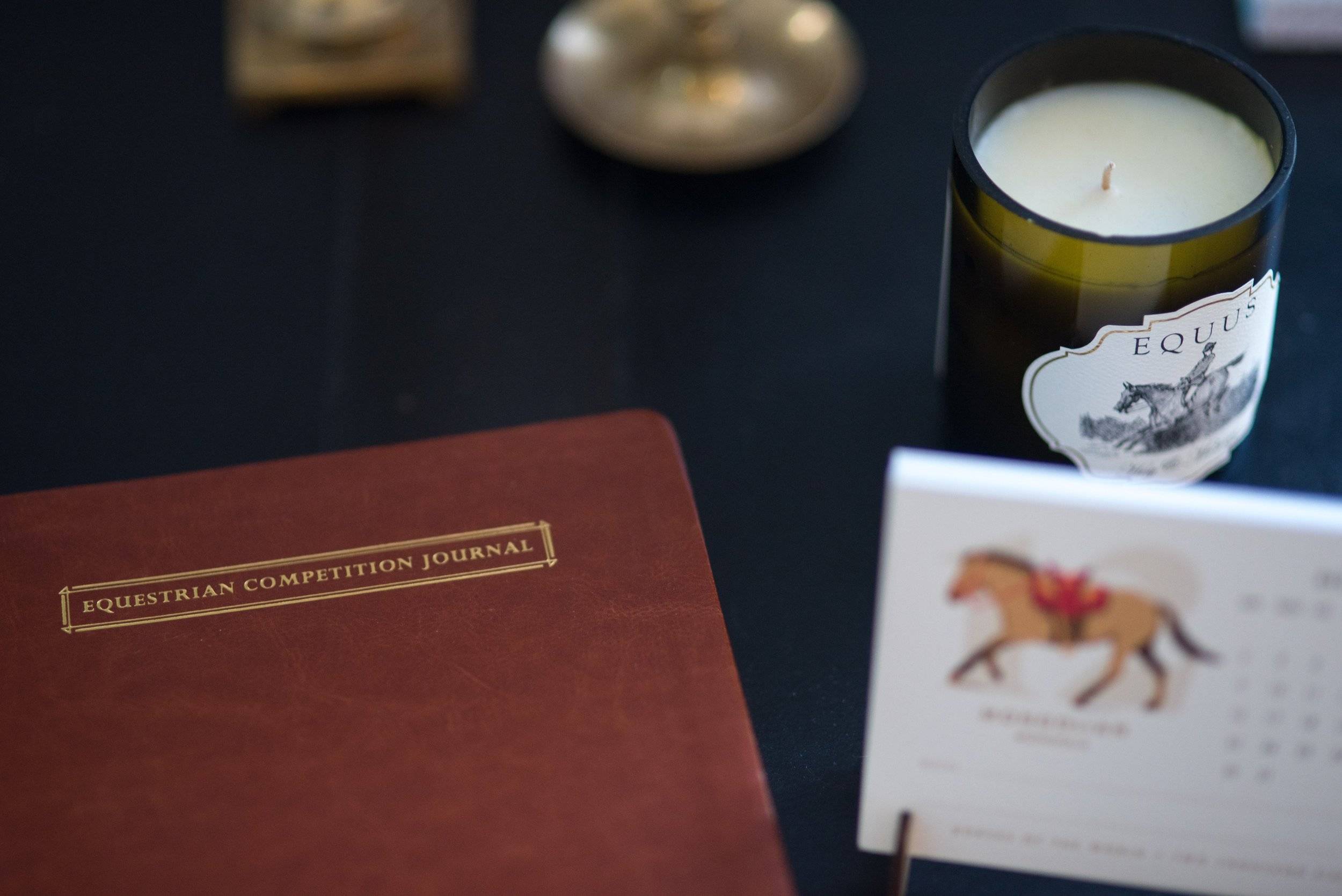 I also have the incredible desk calendar by Paper Pony Co. I adore all of the illustrations; each month is a horse that originated from a different part of the world! I also have the dog version! The same company also has my favorite wrapping paper so you should see what they all have to offer on their website. Finally to the left is such a luxurious equestrian competition by View Halloo. Seriously they thought of everything; from the saddle brown cover to the attention to detail within the pages of the book, the competition journal is the ideal keepsake for you or a loved one. I told all of my students that they need a View Halloo journal!
So that about covers my current office situation! We are moving again in March to a home where I will have my very own office! Can't wait to deck that out in equestrian goodness and share it with you this spring! Until then, shop my office style by clicking the links below:
Kharah Lee Print Shop : Bit Prints
Equus Candle : Hay & Molasses Candle
Paper Pony Co. : Desk Calendar
View Halloo : Competition Journal
xo, B