***pssst… exclusive 20% coupon code to SHEIN below…
Every year, we spend $60, $80, $100 on a costume from the Halloween store, just to throw it to the back of our closets come November 1st, and never use it again. I'm not about that life!
For one: if I am dressing up for Halloween, it is going to be for much less than $60; heck, its going to be as cheap as possible! Why spend so much cash on something you only wear once?
Which brings me to my second reason: I only like to wear Halloween costumes that are made up of clothing I can wear the rest of the year! I can totally justify a $40 Halloween costume that I can sport all of the pieces for the rest of the year… especially if I can wear something to the barn!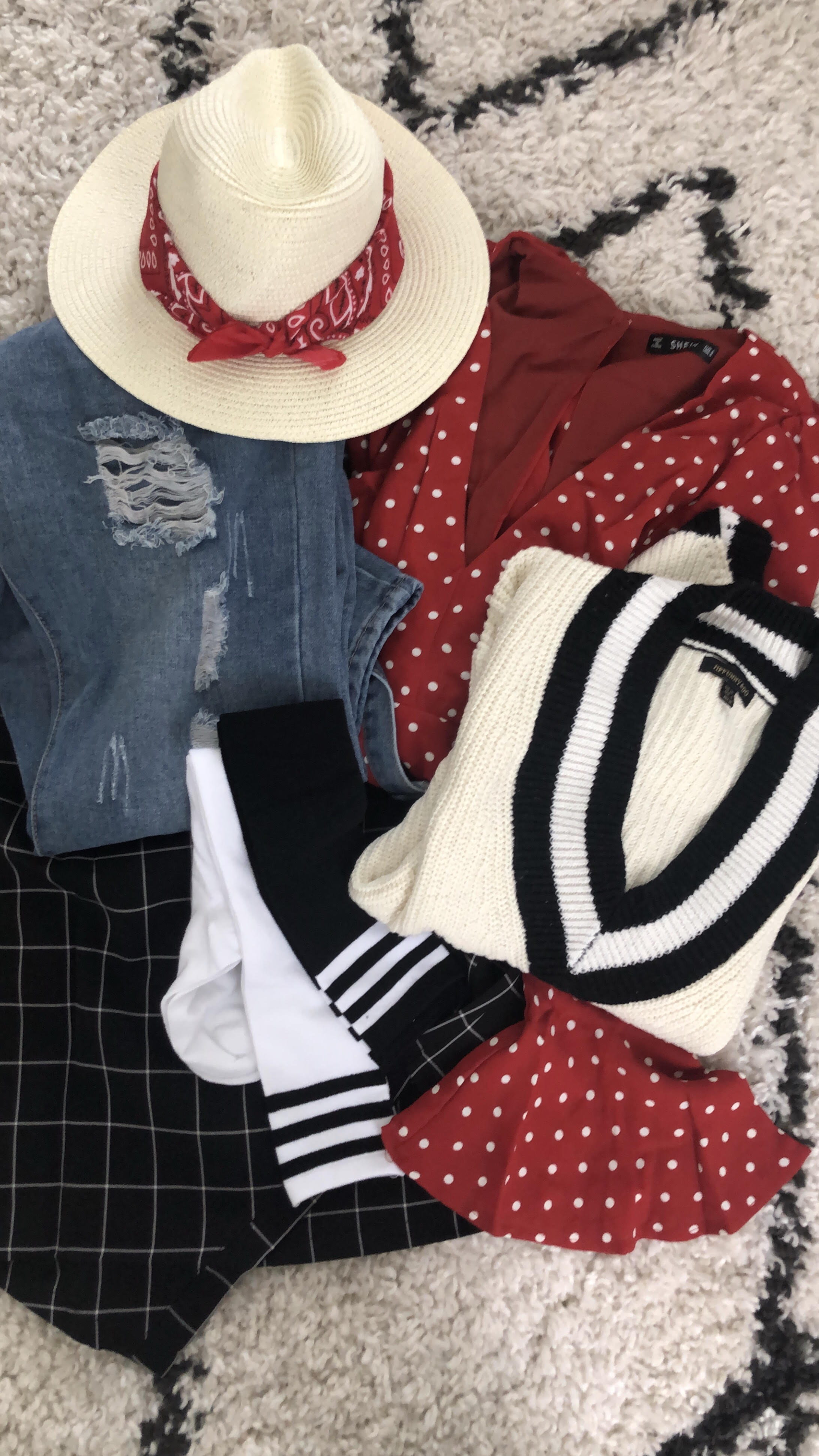 So with the help of SHEIN (my favorite one-stop-shop for all things cheap and trendy) I came up with three simple and cute Halloween costumes that are very easy to replicate with pieces you may already have at home! If you don't own something that you see here, all three outfits are under $40 and purchased from SHEIN! PLUS — SHEIN gave me a special coupon code for 20% OFF YOUR PURCHASE… keep reading to snag that code!
So not only are all three outfits under $40, you're going to be able to take another 20% off on top of that! I'm telling you, if you haven't shopped at SHEIN before, you're going to be able to find EVERYTHING you need on this website. The prices are jaw-dropping and the quality is great. The customer service and shipping is easy-breezy, too. I really buy all of my non-equestrian clothing from SHEIN because it doesn't break the bank and all of their pieces are so on-trend. Plus, with this 20% off promo code, you're going to be able to really go crazy— I'm thinking you don't just buy your Halloween outfit, but go ahead and get all your Christmas shopping done while you're at it! Scroll down and check out these three outfits.. you'll find the coupon code down there, too!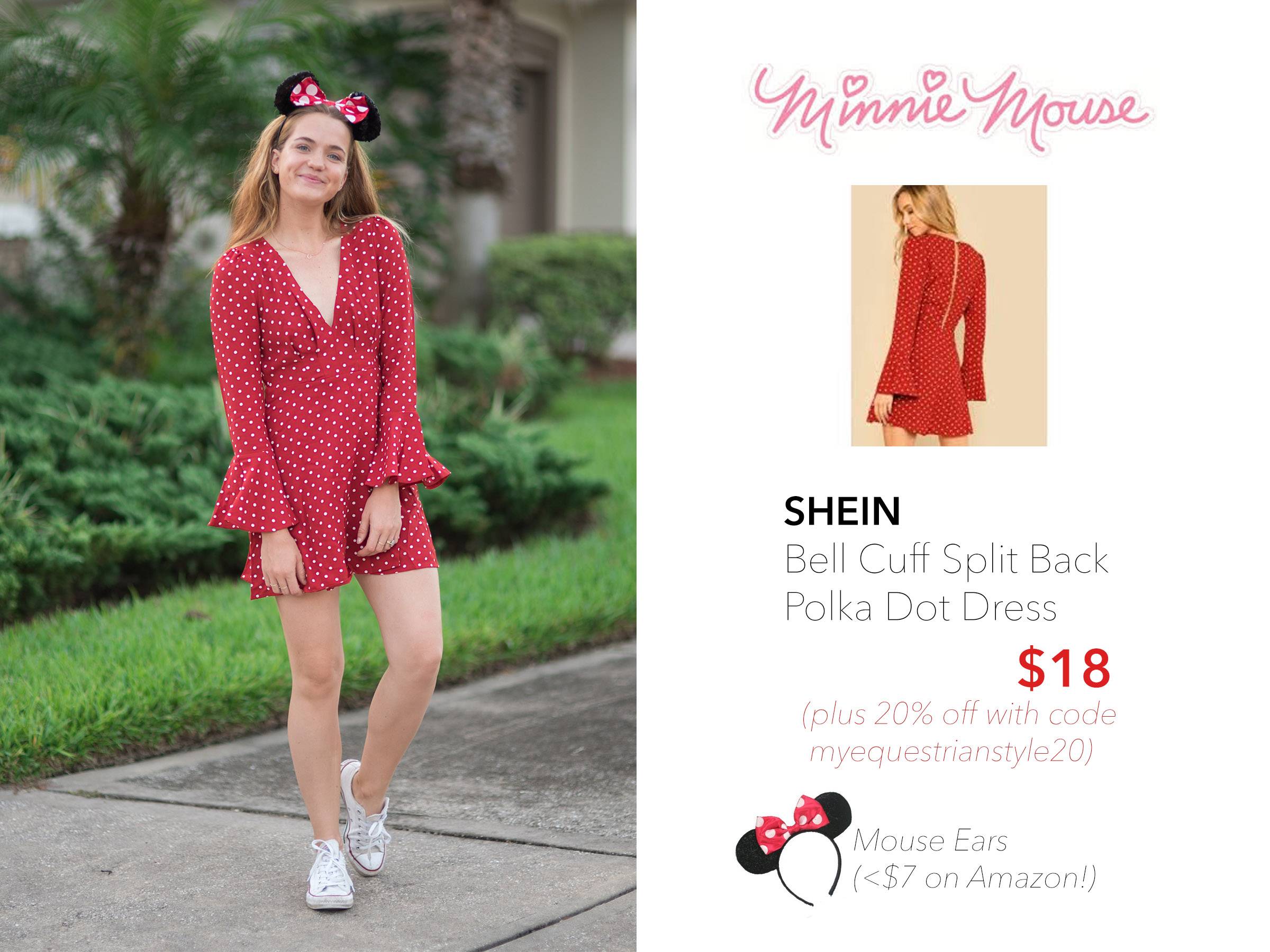 How iconic is Minnie Mouse for Halloween? Sweet, simple, and I had to have this dress anyway! If you own some red polka dots, you're already set! SHEIN has pages of red polka dot dresses (see for yourself) for you to choose from. I loved this SHEIN Bell Cuff Split Back Polka Dot Dress… and for $18 I was sold. The dress is so fun!! The sleeves and neckline are perfect, and the back slit is really fun, too. (I ordered mine in a size Small) If you're not really a dress girl, SHEIN also has tons of red polka dot tops you can pair with some black leggings or jeans. I snagged a pair of Minnie Mouse ears on Amazon for a few bucks. With my 20% off coupon code, myequestrianstyle20, this outfit is totally cheap, easy and this dress is perfect to wear again to dinner or GNO!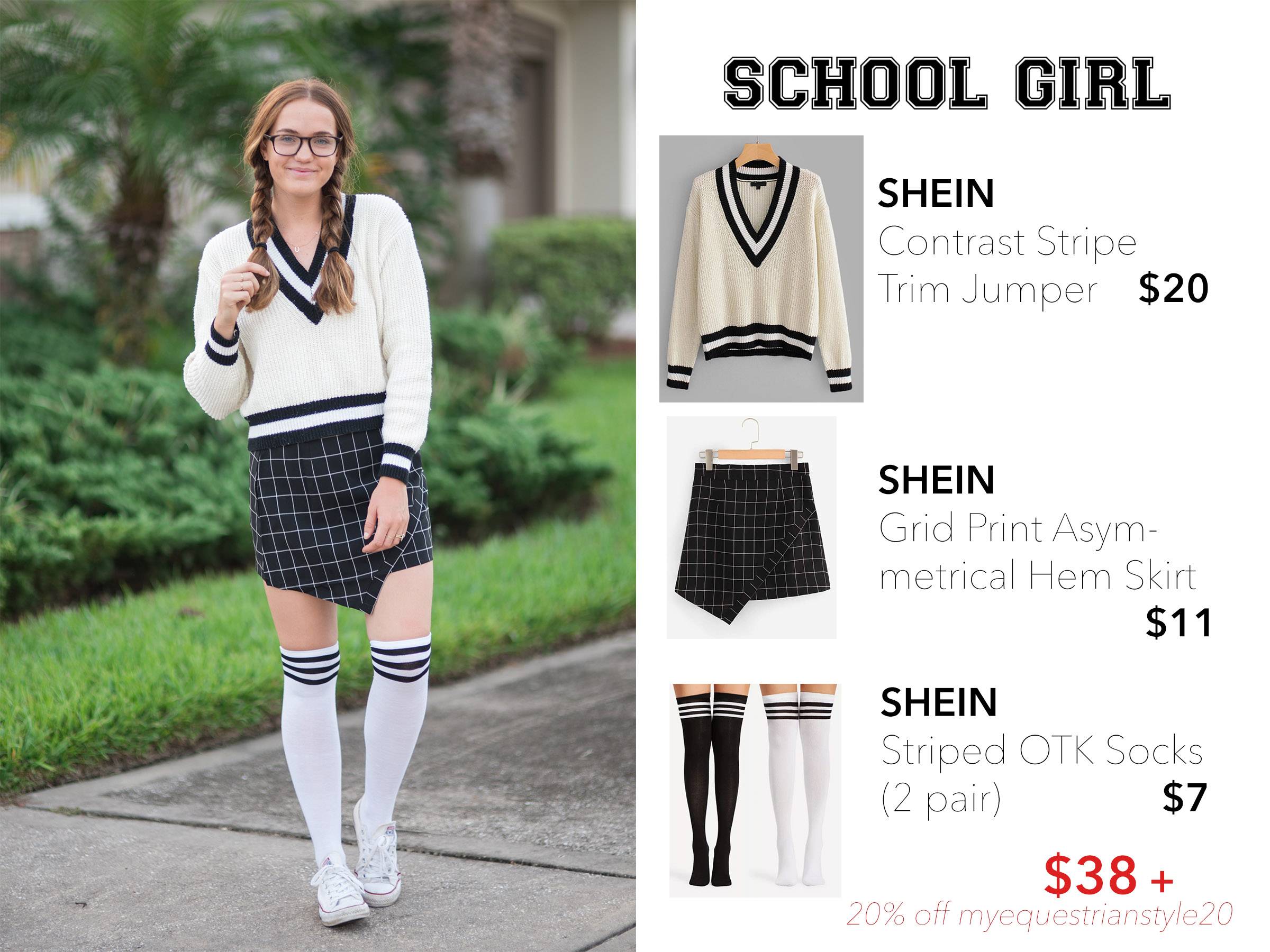 Ah, you have to be the classic school girl once in your life! I was going to go for something a little cropped for the top, but then I found this amazing SHEIN Contrast Stripe Trim Jumper and thought it would be PERFECT to wear over a riding shirt at the barn. I'm a sucker for varsity striping! (I am wearing size Small) I also loved this SHEIN Grid Print Asymmetrical Hem Skirt (especially the price tag!) because I recently bought a pair of over-the-knee boots that it will look perfect with this winter! (I got it in a Medium) Lastly, the SHEIN Striped Over-the-Knee Socks were an essential to the school girl look, and only seven bucks for two pairs of socks. (I've already worn the other pair under my tall boots at the barn!) For a grand total of $38 without even counting the myequestrianstyle20 20% off, this look is a no-brainer if you don't already have something like it at home!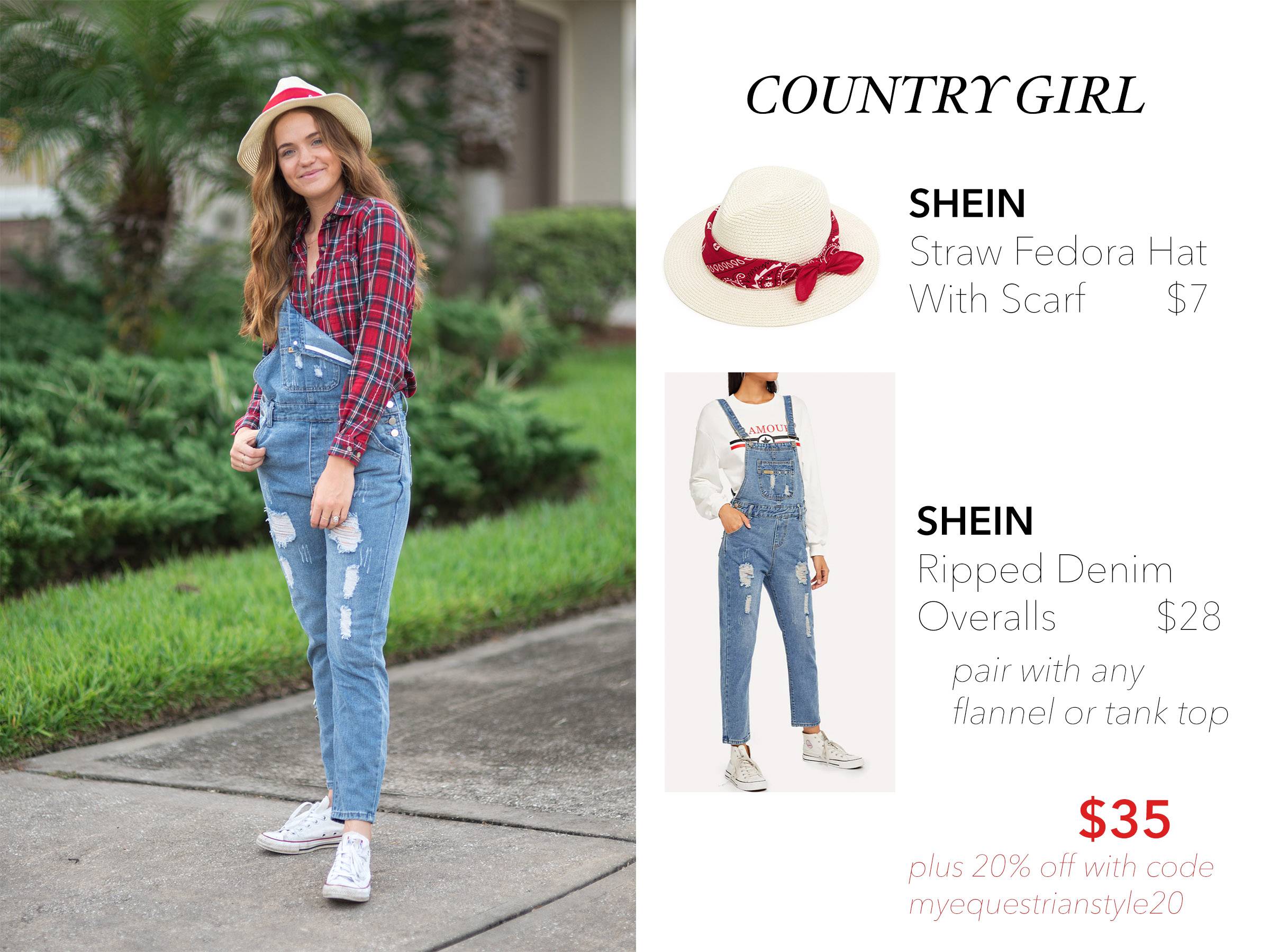 Okay confession- I went with a country-redneck-scarecrow-farmer kinda vibe for my last Halloween costume for one reason only: I wanted these SHEIN Ripped Denim Overalls! HAHA I saw them on the website and literally asked myself, "How can I turn these into a costume?!" I love the rips and the wash of these overalls. (I ordered a size Medium because I wanted to make sure they were a more relaxed fit) I already owned this flannel, but you could also sport a tank top for the look! I linked some plaid shirts here if you need to grab one! Lastly for $7, this SHEIN Straw Fedora Hat with the bandana Scarf completed the look. You could grab some hay from the barn and to stuff under your hat and in the legs of your jeans for a scarecrow look, or pop some black construction paper over a few teeth for the hillbilly route! I can't wait to wear the overalls with a sweater or cute blouse out and about this fall. This look was a grand total of $35 plus 20% using myequestrianstyle20.
---
myequestrianstyle20
I hope this Halloween Guide was helpful to you! Please message me if you need any help sizing or if you have questions about a look! Also- if you know what you want to be for Halloween but need inspiration, let me help you put your outfit together… but please feel free to use this promo code and let me know what you find!
xo B